We Finally Know When Rollins Will Be Back On Law & Order: SVU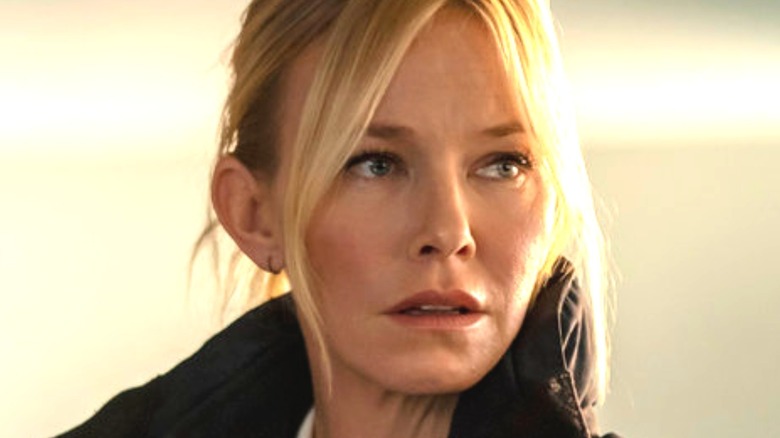 Zach Dilgard/NBC
"Law & Order: Special Victims Unit" is currently nearing the end of its 23rd season, surpassing its own record as the longest-running primetime drama in TV history. In that time, the show has aired more than 500 episodes. "SVU's" main cast members always try to be available to film each episode, but obviously life gets in the way.
The latest cast member to temporarily disappear from "SVU" is Kelli Giddish, who plays Detective Amanda Rollins. Giddish has been part of the "SVU" cast since 2007 (via IMDb). She's taken brief breaks before, fueling speculation that she might be leaving the show. There's nothing to suggest Giddish's latest break is anything more than a temporary one, but for fans of the show, it's still nice to know when she'll be back.
Giddish has been absent since Season 23 episode 14, "Video Killed the Radio Star," and after last night she's now missed the last four episodes of Season 23 ("SVU" went on hiatus for the last two weeks of March). Within the show, "SVU" has offered multiple explanations for her absence. At first, Rollins was said to be helping her mother recover from an injury (via CinemaBlend). In the latest episode, "Once Upon a Time in the Barrio," Benson explained that Rollins' boyfriend, Assistant District Attorney Dominick Carisi (Peter Scanavino), had taken Rollins and her daughters to Orlando (via CinemaBlend). (Speaking of Carisi, he's also been absent from the show).
Now, we know when Amanda Rollins will return.
Rollins will be back for the Season 23 episode, Eighteen Wheels a Predator
Based on latest "SVU" promo, Kelli Giddish will be back for next week's episode, which is called "Eighteen Wheels a Predator." Rollins will return on April 14, 2022.
The episode description for "Eighteen Wheels a Predator" reads: "Rollins and Fin investigate an assault in Kentucky that has striking similarities to victim found in Central Park. Benson receives intel that turns the case upside down." The promo, which can be viewed on YouTube, confirms that Rollins and Detective Fin Tutuola (Ice-T) will be working together to bring down the latest perpetrator, a serial assaulter who makes taunting phone calls after committing his crimes. The promo doesn't confirm whether Carisi will be back yet, but since he doesn't necessarily appear in each episode of "SVU," he could well be back in the city working on other matters.
Neither Giddish nor NBC have explained why she took a brief hiatus, but again, Giddish taking a break is nothing new. For now, it appears Giddish will be part of the show for the foreseeable future.