Get Your First Look At Smallville's Tom Welling On Lucifer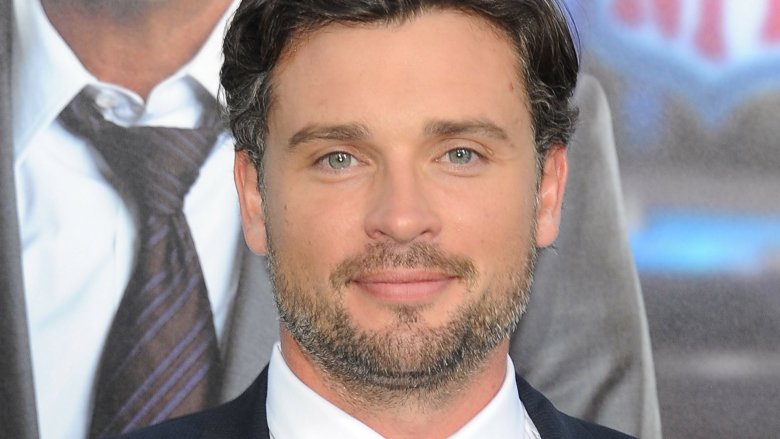 Getty Images
Smallville star Tom Welling is finally making a return to TV, and we have our first look at his devilishly handsome character. The image, released to Entertainment Weekly, shows Welling sitting in front of a computer and looking concerned for his upcoming part as Marcus Pierce on Fox's Lucifer.
It was announced at San Diego Comic-Con that Welling would be stopping by the procedural, which brings him back to DC fare after his starring role as a young Clark Kent on the superhero origin series. Welling is set to play Marcus Pierce, a strategic, reserved, and well-respected police lieutenant. Although that sounds like the exact opposite of Tom Ellis' title character, they actually end up having a lot in common, with both men being charming, handsome, and charismatic. 
However, despite their similarities, the two don't get along, as Pierce develops a connection with Decker (Lauren German) that brings out some of Lucifer's more devilish traits. It won't be love at first sight for Pierce and Decker, though, with co-showrunner Joe Henderson telling EW that the pair are at odds when they first meet.
"When Decker first meets Marcus Pierce, he is very much someone that rubs her the wrong way, because he's very much a no-nonsense, calling-it-like-it-is guy, and he's not much for social mores, if you will," Henderson said. "But what's interesting is he also represents a lot of truth and justice and very much a lot of the things that draw Chloe to the side of law. So Pierce is very much the exact opposite of Lucifer, but also very similar, and so that duality is a big reason for them to start coming together."
While Welling is best known for being a teenage man of steel, he says that viewers shouldn't expect to see many shades of Clark Kent in his portrayal of Pierce. "The great thing about Clark is he didn't know who he was and he didn't know what he was supposed to do with what he had and his abilities," Welling said. "This character very much knows what he's capable of and knows what he wants to do and knows how to do it." The actor added that he's excited to play something "very different" than the character for which he is most known.
Lucifer, which also stars D.B. Woodside, Rachael Harris, Lesley-Ann Brandt, Kevin Alejandro, Aimee Garcia, and Scarlett Estevez, will return for season three on Oct. 2. For now, see Lucifer and some other villains who we'd like to have on our side in a fight.