Lockjaw Is Adorable In New Inhumans Poster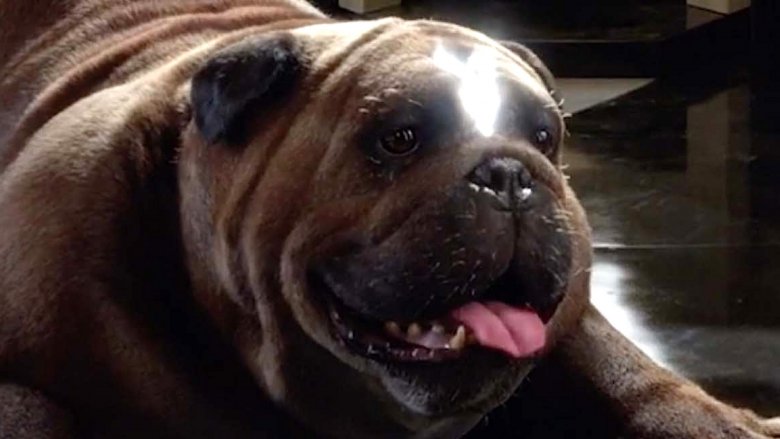 The royal protector has arrived in the new character poster for Marvel's Inhumans. The poster, which you can view at the bottom of this article, features the family pet Lockjaw, a 2,000 pound bulldog who can teleport himself and others through dimensions. 
Lockjaw got an adorable moment at the end of the show's first trailer, and Inhumans showrunner Scott Buck has said that that won't be the only time that the powerful pet steals the audience's hearts. Buck previously revealed that he thinks that Lockjaw will be "the audience's favorite character" and added that he is going to be "a standout on the show."
While Lockjaw is clearly the cutest of the Inhumans, there's lots to know about the rest of the royal family, who got their own character posters earlier last week. Those posters kicked off with Black Bolt (Anson Mount), the royal family's silent leader whose voice is so powerful that even a whisper can level a city. Black Bolt is able to speak through his wife, Medusa (Serinda Swan), who has prehensile hair that she uses to ward off her enemies.
Those enemies will be led by Iwan Rheon's Maximus, Black Bolt's ambitious brother who launches a military coup that eventually sends his brother and his allies fleeing to Hawaii. Those allies include Crystal (Isabelle Cornish), Medusa's younger sister who has the ability to control the elements. There's also Gorgon (Eme Ikwuakor), the leader of the Attilan military who can generate seismic waves with his hooves, and Karnak (Ken Leung), a visionary with the ability to see flaws in all things who serves as Black Bolt's advisor. Filling out the cast is Triton (Mike Moh), who has the fish-like ability to live underwater.
Inhumans will premiere its first two episodes for two weeks in IMAX theaters starting on Sept. 1, with tickets available now. The show will then move over to the small screen on Sept. 29, airing at 9 p.m. on Friday nights on ABC for the remainder of its eight-episode run. While we wait for the show to premiere, see all of the other entertainment events you have to look forward to next month.
Behold the Royal Protector of "Marvel's #Inhumans." Lockjaw has arrived to kick off #NationalDogDay! 🐶 pic.twitter.com/huibBfVHeN

— Marvel Entertainment (@Marvel) August 26, 2017