The Blue Bloods Star You Likely Forgot Played A Character In Bumblebee
Scan some big film franchises, and you'd be surprised to see how many of them home some familiar faces from the hit TV series "Blue Bloods." During his time getting a seat at the Reagan family table, Donnie Wahlberg was handling bloody affairs in the "Saw" franchise, and even Robert Clohessy got involved in the battle of New York in "The Avengers." Besides superheroes and psychopaths sharing the screen with New York's finest, the building-breaking robots in disguise, the "Transformers," also earned space for one of the "Blue Bloods" alumni. More specifically, one the franchise's best installments to date: Travis Knight's prequel spin-off "Bumblebee."
It might be hard to spot among the '80s power ballads and Hailee Steinfeld trying to teach a giant robot how to hide, but it's thanks to one person in particular that this action-packed adventure unfolds. In fact, it's thanks to a former NYPD Commissioner and head of the Reagan family that we have a "Transformers" franchise at all.
Len Cariou is Uncle Hank in Bumblebee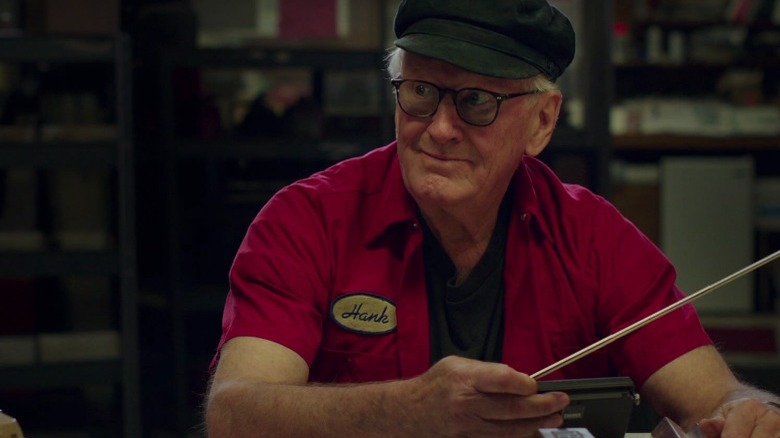 Paramount Pictures
Appearing in every season of "Blue Bloods" so far, Len Cariou stars as Henry Reagan, the former Commissioner of the NYPD and the grandfather of the Reagan family. He has always played a significant part in the family and law-related affairs of the show. Now, while he's not necessarily a prominent figure in Travis Knight's metal-smashing movie, he's unquestionably a valuable one in the grand scheme of things.
While it's a well-known rule in the "Transformers" that the driver doesn't pick the car, and the car picks the driver, it's thanks to Cariou's character in "Bumblebee" that the spritely bot has anyone to pick at all. In the 2018 film, Cariou plays Charlie's (Hailee Steinfeld) dear old Uncle Hank, the owner of the junkyard where our hero retrieves her new set of wheels with a life of its own. Bringing the same charming level of a performance as has always been consistent with Cariou, it's a brief but welcome addition to fans of the Reagan family and Cybertronians alike.