What You Never Knew About Antony Starr's Homelander Costume On The Boys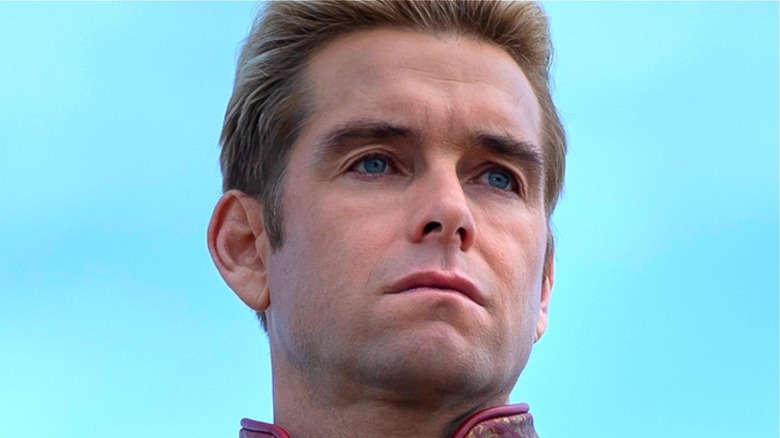 Panagiotis Pantazidis/Amazon Studios
Amazon Studios' "The Boys" recently dropped the official teaser trailer for Season 3, and it's as gory and diabolical as ever. As fans of the series know, "The Boys" essentially follows a group of misfits who want to take down or kill the Seven, a team of corrupt, government-run superheroes, or "Supes." A whole heck of a lot of mayhem has happened since Season 1 when we initially met the Boys themselves through Billy Butcher's (Karl Urban) recruitment of Jack Quaid's Hughie Campbell. The small team quickly grows to include Laz Alonso's Mother's Milk (or "MM"), Tomer Capone's Frenchie, and more recently, Karen Fukuhara's Kimiko Miyashiro.
The Boys are connected through the trauma and tragedy that the Supes have caused for each of them, arguably none causing more pain than the evil and psychotic Homelander, a character reminiscent of a horribly messed up Superman played by actor Antony Starr. Many fans and critics have been blown away by his performance as the character, and TVLine even called one of Starr's emotional scenes as Homelander at the end of Season 2 "Emmy-worthy."
Clad in an American flag cape and golden shoulder caps, he certainly looks great. The Homelander costume finds a perfect way to be offensively patriotic, although, courtesy of some information from Starr, there may be a detail about Homelander's costume that we never knew about until now.
Homelander's costume is outfitted with a cooling system
It's no secret that superhero costumes can be incredibly uncomfortable for actors to wear throughout the filming of a series or movie. Nearly all the actors who have played Batman have noted this, none more than Christian Bale, who advised Ben Affleck to make sure that the costume department installs a zipper (via ExtraTV). Aside from bathroom necessities, shooting in a warmer climate can make the suits incredibly hot at times as well, so many costumes, including Tom Holland's Spider-Man costume, have some sort of cooling system in place, although this doesn't always work (via The Graham Norton Show).
In a recent interview with Entertainment Tonight, Antony Starr noted that Homelander's costume does in fact come with a working cooling system that helps make his outfit more bearable than most, although, unfortunately, the battery pack that powers the system is too loud when actually shooting a scene, so the crew is forced to turn it off during that time. Either way, if the cooling system works, it's better than what many actors in the Marvel Cinematic Universe have had to go through with their costumes and massive amounts of CGI, especially when considering Mark Ruffalo's Hulk (via The Independent).