Early It Reactions Call Film 'Totally Terrifying'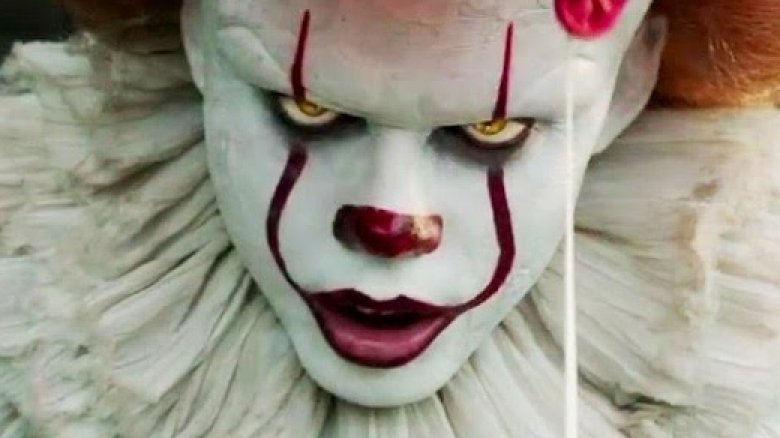 Remaking a movie as iconic as Stephen King's It is a feat that can stir up anxiety in its creators. Thankfully, it seems director Andy Andy Muschietti refresh is a chilling modern cinematic retelling that pushes any filmmaking fears into the hearts of its audience. Early reactions to It have been rolling out now that the social media embargo on the movie has been lifted, and boy, are they overwhelmingly positive. 
Those who attended pre-release screenings of the Bill Skarsgard-led horror flick are calling it "totally terrifying" and "scary as s—," the first indications that Muschietti and Warner Bros. have a box office monster on their hands. 
Fandango's Erik Davis called the movie "creepy, bloody, super funny, adorably romantic and hands down among my favorite movies of the year." He added that he "felt a Poltergeist meets the Monster Squad vibe" while watching the film, and noted that it's "a great example of a film where its R rating elevates it in all the best ways."
Phil Nobile Jr. of Birth.Movies.Death pointed out that the movie carried with it a sharp vision of storytelling and a stellar ensemble cast. "It is a very handsome, polished execution of a story you know inside out. The big surprise is Finn Wolfhard. Really earns his spot," Nobile Jr. wrote on Twitter, mentioning the breakout Stranger Things star who plays Richie Tozier in the film. 
Collider's Haleigh Foutch was the one who tagged It as consumingly scary, and expressed that she asbolutely adored the pic. "I love the It movie. It's everything I wanted. Scary as s—, Skarsgard nails Pennywise, and the Losers are perfection," she shared on her Twitter. 
Jim Vejvoda of IGN wrote, "I can say I saw It tonight. And it was great. Cast is excellent. And, yes, [Pennywise] is scary! This will be a, ahem, monster at the box office." CinemaBlend editor Eric Eisenberg shared similar thoughts: "Thrilled I can now say that It is spectacular. Totally terrifying, but also amazing fun (the Losers are perfect). Top 10 candidate for me." 
Perri Nemiroff of Collider was another viewer who appreciated the balance of Skarsgard's fright-fest performance as Pennywise and the sweetly naive but super brave group of young teens at the center of the film's narrative. "[The] It movie is everything I hoped for and more. [It] has heart, laughs, and tons of incredible scares. [I] fell in love with the Losers [and] didn't want it to end," shared Nemiroff on Twitter. She later said she was "happy to be terrorized by Pennywise" at her screening. 
Other moviegoers called It "a carnival funhouse of a film," with Nerdist's Dan Casey promising that you'll still be freaked out when you get home from the theater.
It's evident that even veteran horror movie reviewers were thoroughly shaken by It. And beyond the terrors the film doles out, it appears that most were entertained by the movie as a whole, with its heart and humor bringing additional enjoyable elements to the forefront. 
This is all fantastic news for the filmmakers, who have long been eyeing a sequel and wanted to deliver something fresh and worthwhile to the cinema scape. It's also a triumph for original It creator King, who is likely in need of a box office successful following everything that went wrong with Nikolaj Arcel's adaptation of his beloved novel series The Dark Tower. Though not every book-to-movie adaptation can be completely flawless, it's wonderful to hear that It could be a winner. 
Based on the first half of King's 1986 novel, It introduces a new audience to "The Losers' Club," a crew of junior high school outcasts who are thrust into a supernatural situation beyond their most horrific nightmares. In order to track down the children that went missing from their otherwise quaint town, the Club must face their biggest fears as Skarsgard's Pennywise stalks and torments them. 
Producer Roy Lee previously said of the new approach, "We're taking it and making the movie from the point of view of the kids, and then making another movie from the point of view of the adults, that could potentially then be cut together like the novel. But it's gonna be a really fun way of making this movie." As Lee stated, a sequel is anticipated to take place in the present day.
Joining Skarsgard and Wolfhard in the movie are Sophia Lillis, Jaeden Lieberher, Wyatt Oleff, Jack Dylan Grazer, and Jeremy Ray Taylor. Director Muschietti works from a script penned by Chase Palmer (Shock and Awe), Cary Joji Fukunaga (Beasts of No Nation), and Gary Dauberman (Annabelle: Creation), and is due out in theaters on September 8.
For now, check out the scariest new movie and television monsters of this year.