Josh Brolin Says Filming Avengers: Infinity War Was The 'Most Fun' He's Ever Had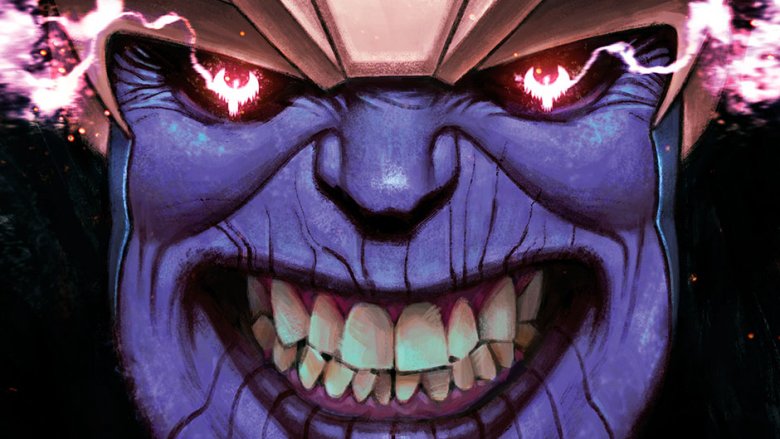 Marvel Comics
Don't let the intense title fool you: It was all fun behind the scenes of Avengers: Infinity War.  
Speaking with Entertainment Weekly, Josh Brolin, who stars as Thanos, discussed what it was like filming the upcoming Marvel blockbuster. Though plot details are few and far between at this point in time, and while Brolin couldn't reveal much about his role as the intergalactic, Titanian mutant–Eternal tyrant, he confirmed one thing about Avengers: Infinity War. 
"I love doing Avengers, it's maybe the most fun I've ever had," said Brolin. "I just saw a little snippet of [Infinity War], and it was amazing. The cutting-edge technology of what they're doing—what I've seen is absolutely mind-blowing. When I saw it on screen, it was me, but also not like me. It's really strange."
Adoring fans at home haven't been privy to such footage, and most are still patiently awaiting an official Avengers: Infinity War trailer. However, those who attended this year's D23 Expo in Anaheim, California and San Diego Comic-Con caught the clip in advance, in real time. 
According to our previous reports, the trailer begins with a shot of Thor (Chris Hemsworth) floating through the stars. He's then hit by the Guardians of the Galaxy's ship, the Milano. Wedged underneath the Milano's windshield, Thor is pushed around by the wiper blades and woken up. Once inside the ship, Thor asks the Guardians, "Who the hell are you guys?" 
Elsewhere, Loki (Tom Hiddleston) holds the Tesseract, Spider-Man (Tom Holland) sports a super-tech suit and using his Spidey sense, Iron Man (Robert Downey Jr.) collaborates with the Avengers, and Spidey and Iron Man share an emotional moment together. Captain America (Chris Evans) and Black Widow (Scarlett Johansson) make appearances as well, both sporting brand-new looks. Where Cap looks uncharacteristically haggard, rocking a thick beard, Black Widow swaps her signature ginger locks for a short blonde bob. 
Things go from tense to chaotic when Brolin's Thanos shows up, bent on destroying the Avengers. He's seen battles with Doctor Strange (Benedict Cumberbatch), Star-Lord (Chris Pratt), and Iron Man; squishes Thor's head; and then pulls a piece of the moon down to Earth to toss at the heroes and presumably crush them to death. 
We aren't shown what follows after the herculean throw, but according to Brolin, the trailer is only the tip of the Infinity War iceberg. "Not even close," the actor said of the difference between the convention footage and the finished product of the film. "What they saw is not even close."
Joining Brolin (and Hemsworth, Hiddleston, Downey Jr., Cumberbatch, Holland, Evans, Pratt, and Johansson) are Mark Ruffalo (Bruce Banner/Hulk), Paul Bettany (J.A.R.V.I.S. and the Vision), Elizabeth Olsen (Scarlet Witch), Pom Klementieff (Mantis), Karen Gillan (Nebula), Dave Bautista (Drax the Destroyer), Don Cheadle (James Rhodes/War Machine), Sebastian Stan (Bucky Barnes/Winter Soldier), and Anthony Mackie (Sam Wilson/Falcon). 
Shortly after we see him in Avengers: Infinity War when it's released on May 4, 2018, Brolin will pop up as the telepathic mutant Cable in the highly anticipated Deadpool 2, which is due out in theaters on June 1, 2018. 
While we wait, check out the other movies we can't wait to see next year.