Hollywood Just Lost A 102-Year-Old Legend You've Probably Never Heard Of
Nehemiah Persoff, the legendary Broadway, television, and film actor with over 200 credits on his resume, including classics like "On the Waterfront," "Some Like It Hot," and "Yentl" has passed away on April 6, 2022 at the age of 102, as reported by The Hollywood Reporter.
Persoff's son, Jeff, confirmed to The Washington Post that his father passed away in an acute care facility in San Luis Obispo. The cause of death was congestive heart failure. In addition to Jeff, Person is survived by his three other children Dan, Perry, and Dahlia, as well as five grandchildren. Persoff's wife of 69 years, Thia Persov, passed away in 2021.
Born in Jerusalem in 1919, when the city was part of the British Empire, Persoff went on to portray some of the most memorable characters in Hollywood history. His work touched millions of people, and we'd like to take a moment to remember his incredible career.
Persoff was a hardworking character actor who appeared in numerous Hollywood classics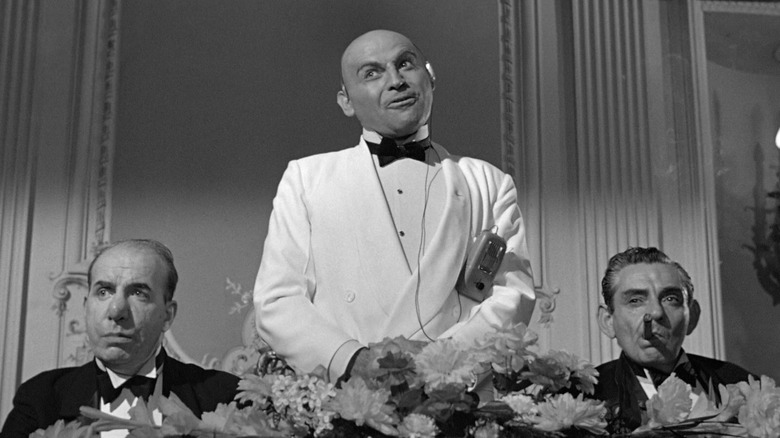 United Artists
Persoff's family immigrated to Brooklyn in 1929, and he spent his teenage years growing up in the city during the Great Depression, working as an electrician for the New York City subway. After his army service during World War II, Persoff pursued acting and became one of the original members of the Actor's Studio, an influential acting company founded by director Elia Kazan.
Persoff's work with Kazan led to his second credited film role, playing a taxi driver in Kazan's 1954 classic "On the Waterfront." Persoff is driving the cab during the iconic scene between Marlon Brando and Rod Steiger, when Brando delivers the "I coulda been a contender" speech. Five years later, Persoff memorably played the gangster Little Bonaparte in Billy Wilder's romantic comedy "Some Like It Hot," alongside Jack Lemmon, Tony Curtis, and Marilyn Monroe.
Persoff continued acting steadily in film, on television, and on stage from the 1960's to the late 1980's, appearing on TV series like "Gunsmoke," "The Twilight Zone," "Hawaii Five-O," and "Gilligan's Island." In 1983, Persoff delivered a moving performance as Rebbe Mendel in "Yentl," the story about a girl (Barbra Streisand) in 1904 Poland who pretends to be a boy in order to learn Talmudic Law.
After suffering a stroke at the age of 70, Persoff shifted away from acting and focused on painting, although he did provide the voice for Papa Mousekowitz in the "An American Tale" animated movies (via The Hollywood Reporter).
Few actors have a career as long and successful as Persoff's. He will be missed.