The One Chicago Crossover Event The Showrunners Are Dying To Make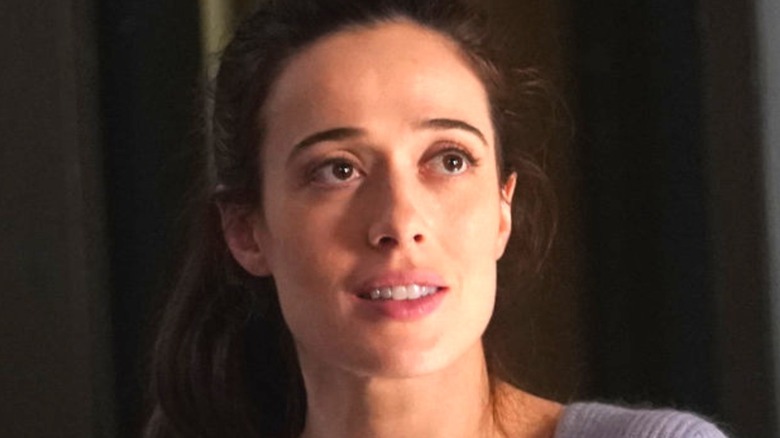 Lori Allen/NBC
Chicago is known as The Windy City, but it also plays host to the indomitable "One Chicago" franchise from the legendary show creator Dick Wolfe, not to mention Derek Haas and Michael Brandt. The "One Chicago" shows include "Chicago Med," "Chicago P.D.," "Chicago Fire," and the short-lived "Chicago Justice" (via IMDb). Each show follows a procedural style with self-contained episodes, but they generally also have plots and stories that span multiple episodes, and even multiple shows.
Besides sharing the same city setting, characters from the franchise can sometimes be related or even dating, and often cross over between shows. Detective Jay Halstead (Jesse Lee Soffer) from "Chicago P.D." is the brother of Will Halstead (Nick Gehlfuss) from "Chicago Med." Sylvie Brett (Kara Killmer) from "Chicago Fire" appears in both "Chicago P.D.," as a first response paramedic and a romantic partner to Antonio Dawson (Jon Seda), and then later on "Chicago Med," where she interacts with Dr. Daniel Charles (Oliver Platt). Plus, Kelly Severide (Taylor Kinney) from "Chicago Fire" and Erin Lindsay (Sophia Bush) from "Chicago P.D." also date at one point.
Even though many of the characters and stories can be shared among "One Chicago" shows, like when a biological attack brings members from all three shows together in the multi-part episode "Infection," it looks like there is one crossover event that the showrunners would absolutely love to make, and it would certainly shake things up in the "One Chicago" world.
The One Chicago showrunners want to burn down the Chicago Med hospital
During "One Chicago" Day, "Chicago Fire" executive producer Andrea Newman was asked about her dream crossover event, to which she replied, "I've been dying to do the burning hospital for a long time. There are all these protocols for when a hospital is on fire and things that have to happen. We've been wanting to do that one and loop 'P.D.' into that but we haven't had a chance this year," (via Yahoo).
Showrunner Derek Haas then joked, "For some reason the 'Chicago Med' showrunners don't like when we keep suggesting we burn down the 'Chicago Med' hospital." It seems then that fans of the "One Chicago" franchise may have a major crossover event in store for the future — that is if some of the showrunners are given free rein. It certainly would be a massive undertaking, and there is a good chance that the results would be impressive.
In 2021, each of three shows that currently constitute the "One Chicago" franchise earned around 7 million viewers each, so it could be safe to say that a major event shared between the three would garner tons of viewers (via Hollywood Reporter). Either way, it has become apparent that some of the showrunners would love to see their series' coalesce around a burning hospital in a bombastic crossover that has all of their characters in action at the same time.