Shrinking - What We Know So Far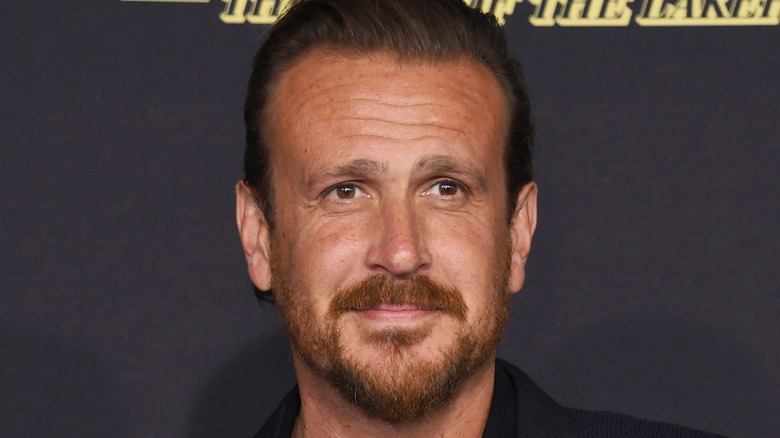 Jon Kopaloff/Getty Images
Apple TV+ and Warner Bros. may be cooking up something big with Harrison Ford and Jason Segel with the newly-announced TV series, "Shrinking." Produced by Warner Bros. Television and Doozer Productions, "Shrinking" is slated as a 10-episode comedy series about two conflicted therapists played by Ford and Segel. In addition to starring, Segel is also serving as a writer and executive producer for "Shrinking," alongside "Ted Lasso" veterans Bill Lawrence and Brett Goldstein (via Deadline).
At the current moment, Apple TV+ and Warner Bros. are keeping the majority of details surrounding "Shrinking" under tight wraps. Neither company has yet to reveal a release date for the series, and both have given only the sparsest details regarding its production. However, the companies have shared some key plot information that gives potential viewers a general impression of what we will see when "Shrinking" is released. Here is everything we know so far about the series.
Shrinking will be a two-man comedy that gets in your head
According to Deadline, "Shrinking" follows Jason Segel as Jimmy, a therapist who forgoes professionalism in favor of freely speaking his mind to his patients, breaking the cardinal rule of therapy. Meanwhile, Ford will play Jimmy's mentor in the actor's first major TV role. His character, Dr. Phil Rhodes is described as a "blue collar shrink," who, alongside Jimmy and his other protégé Gaby, runs a successful practice. However, things change for the trio after Rhodes is diagnosed with Parkinson's disease, and the highly independent therapist must learn to allow others to help him.
In addition to being written and produced by Segel, Bill Lawrence, and Brett Goldstein, the latter two of which received an Emmy for their work on "Ted Lasso," the series will also be executive produced by Jeff Ingold and Liza Katzer of Doozer Productions. This is Ford's most recent role after appearing in 2020's "The Call of the Wild." Ford is currently slated to reprise one of his most iconic roles as the titular character in "Indiana Jones 5." In Segel's case, this is not the actor's first time working with Apple TV+, which currently hosts his film "The Sky is Everywhere."
Recently, it was also announced that Jessica Williams, who many will know from "The Incredible Jessica James" and "Love Life," has joined the show as well to play Gaby, the aforementioned protégé of Rhodes and Jimmy's coworker, while James Ponsoldt, who directed "The Spectacular Now," will direct a number of episodes and executive produce (via Deadline).