Riverdale's Showrunner Compares Percival Pickens To This Stephen King Villain
"Riverdale" fans have been conditioned to expect the unexpected, but Season 6 has jumped the shark in ways that no one ever saw coming. While The CW series has always worn its horror influences on its sleeves, most of the terror, no matter how implausible, has been rooted in reality. However, ever since the sixth season opened with a parallel universe storyline set in the town of Rivervale, which saw the gang mingle with ghosts, Sabrina Spellman, and Satan himself, "Riverdale" has stopped playing by the rules.
"Riverdale" has continued to flirt with supernatural horror since the story returned to the main universe. Cheryl (Madelaine Petsch), for example, was seemingly possessed by the spirit of her ancestor Abigail in a recent episode. Elsewhere, the spooky little town saw the arrival of Percival Pickens (Chris O'Shea), a mysterious figure who wouldn't seem out of place in a Stephen King novel. With that in mind, it's unsurprising to learn that the character's creation was inspired by notable villains from King's terrifying stories.
Needful Things and The Stand inspired Riverdale's latest menace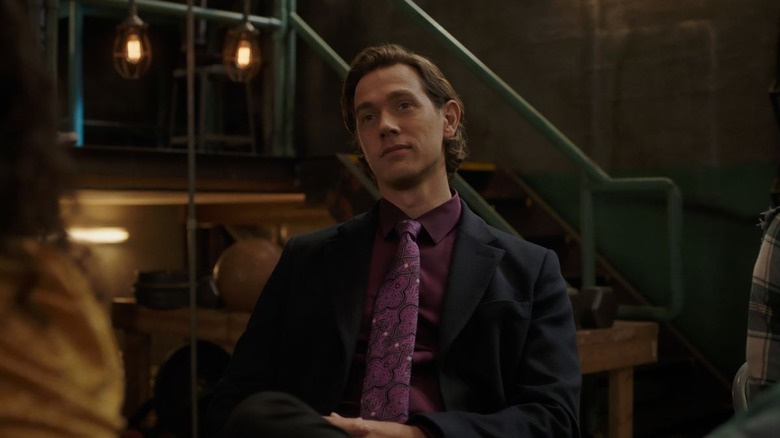 The CW
Stephen King is a master of scary stories set in small towns. From "It" to "Salem's Lot," some of the writer's most iconic works revolve around dangerous threats disrupting the quiet lives of everyday folk in humble settings. The antagonist of "Riverdale" Season 6 is a similar type of foe. Percival Pickens might not be a supernatural creature, but it's clear that he is a dangerous invader with nefarious plans for the town. Furthermore, he boasts a devilish aura that could easily translate into a supernatural character. According to "Riverdale" showrunner Roberto Aguirre-Sacasa, that's is the vibe they were going for.
During a recent conversation with Decider, Aguirre-Sacasa revealed that the creative team wanted Pickens to feel like an otherwordly Stephen King villain, so they drew upon "Randall Flagg out of The Stand, [and] the proprietor of the shop in Needful Things,'" for inspiration while conceiving the character. Flagg is an evil sorcerer who wants to plunge the world into chaos, while the antagonist in "Needful Things," Leland Gaunt, is a charming menace with a sinister motive. 
The "Riverdale" showrunner further elaborated on King's influence while speaking to TV Insider, revealing that the author's work helped them create a "malevolent, mysterious, and enigmatic stranger" who "lurked on the fringes of the supernatural."