The Best Time Kristen Wiig Broke Character On SNL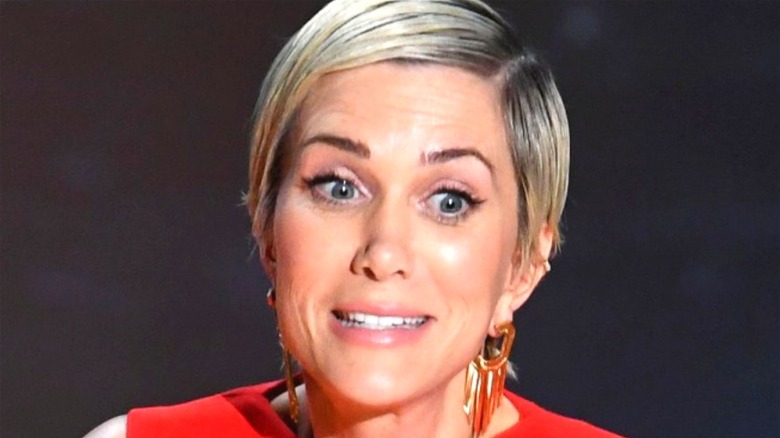 Kevin Winter/Getty
Kristen Wiig is an incredible comedian who always brought her A-game during her years on the long-running sketch comedy series "Saturday Night Live." It's easy to imagine that one of the most difficult aspects of being on "SNL" is keeping a straight face when surrounded by extremely funny people doing their best to induce laughter. However hard the performers may try to keep their cool, every once in a while, someone is bound to crack a smile. For a seasoned professional like Wiig, those moments don't come too frequently, but when they do, it makes whatever is happening on stage even funnier.
Kristen Wiig, who unveiled one of her signature characters during her audition, was a featured cast member on "SNL" from 2005 until 2012, though she has appeared in cameo parts since then (via IMDb). Over the course of her time on the show, she broke character on occasion. Wiig's mirth is so obvious in these moments that it's practically impossible not to laugh along with her, and it's even more difficult to choose her funniest moments.
However, any of Wiig's appearances in a Garth and Kat sketch is bound to make you chuckle. Audiences never know what to expect when Garth (Fred Armisen) and Kat (Wiig) come to the stage, and neither do the actors who play them! That's because every sketch is totally improvised (via Vulture). But one Garth and Kat skit is especially hilarious because of Armisen and Wiig's chaotic humor — resulting in what may be one of Wiig's most memorable breaks on the show.
Garth and Kat's Christmas songs were too much for Kristen Wiig
Garth (Fred Armisen) and Kat (Kristen Wiig) are holiday-centric singer-songwriters who come to the Weekend Update desk to present their latest compositions. While these sketches often saw Wiig visibly stifling giggles with Armisen, arguably the best time she broke character occurred when it not only caused her to pause but also clearly derailed her and her co-stars for the rest of the sketch. The slip-up occurred in "Garth and Kat Sing Christmas Songs (Dress Rehearsal)," which aired during a 2009 episode of "SNL."
While the pair initially seems put-together, the audience quickly learns that they don't know the words to any of their songs, which are often accompanied by bizarre dance moves. They sing about chimneys, fireplaces, and children opening presents, but every word is clearly made up on the spot. When they start singing about reindeer running down a mountain, Wiig has to stop speaking because she's laughing so hard. She recovers after a few moments, but it's clearly only the first crack in a losing battle with her composure: Both she and Armisen break into laughter several more times during their song. Not even Weekend Update host Seth Meyers can keep a straight face, and he ends up singing nonsense right alongside them.
Armisen and Wiig have incredible rapport as performers that shines when they're on screen together. Unlike most "SNL" skits, which rely on the actors playing it straight, Garth and Kat are bound to fudge their lines. When audiences see them, they know a laugh is coming — but for this particular episode, it came from Kristen Wiig's end as well. Thankfully, her break in character only made the sketch even funnier.