Why Fans Are Convinced The Latest Doctor Strange In The Multiverse Of Madness Trailer Reveals The Villain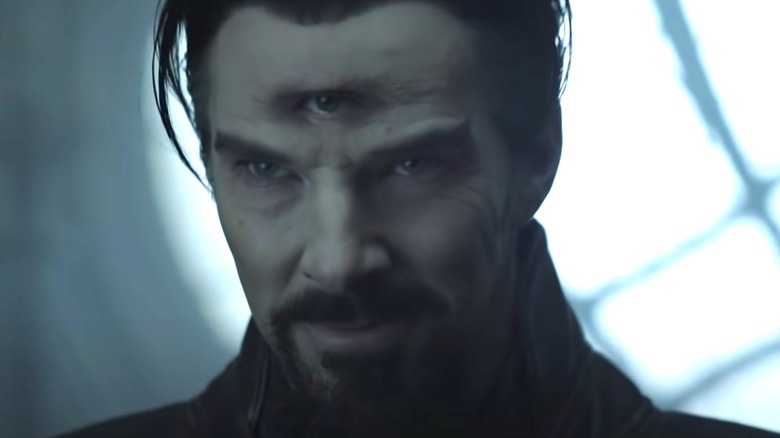 Marvel Studios/YouTube
Following up on the universe-colliding "Spider-Man: Far From Home," "Doctor Strange in the Multiverse of Madness" is quickly approaching its theatrical debut. At the time of this writing, Marvel fans have roughly a month left to wait before the good doctor's story continues at the cinema, and as usual, Marvel Studios has done its best to keep the film's secrets under lock and key. In response, Marvel Cinematic Universe die-hards have taken it upon themselves to do what they do best: use everything from posters to trailers to speculate on what the long-awaited sequel has in store.
Among the many Easter eggs and potential MCU debuts that fans have uncovered, many have noticed a throughline with most of the "Doctor Strange in the Multiverse of Madness" promotional materials. In some form or another, the concept of dreams has come up, particularly in connection to Doctor Stephen Strange (Benedict Cumberbatch) himself and Wanda "Scarlet Witch" Maximoff (Elizabeth Olsen). How this ties into the multiverse and its apparent collapse is anyone's guess at this point, so, naturally, some have begun offering up enticing theories about what this theme could mean in any sense.
On the same day that "Multiverse of Madness" tickets went on sale, April 6, 2022, Marvel Studios dropped a new trailer to build anticipation. In doing so, it added another potentially villainous layer to the movie's apparent dream motif, according to fans.
Fans think the latest Multiverse of Madness teaser repeatedly hints at Nightmare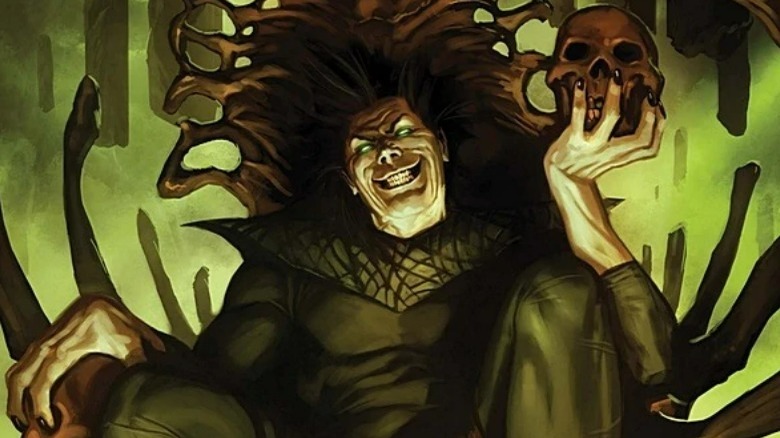 Marko Djurdjevic/Marvel Comics
In the latest "Doctor Strange in the Multiverse of Madness" trailer, we hear Wanda Maximoff mention that every night, she dreams the same dream, followed by the same nightmare — a similar line to the one that Doctor Strange utters in a previous teaser. While it could be that both heroes are dealing with concerning sleep issues, there's likely more to the story here. Some have gone as far as to posit that the demon known as Nightmare, who is one of Strange's oldest villains with the ability to torment people within their own dreams, is plaguing both of them, therefore making him the main villain of the movie.
"This is the second trailer where they've heavily emphasized the word 'nightmare.' You guys are all wrong about the villain of this movie," theorized @Cooper_RaeBlank on Twitter, pointing out that the repetition of "nightmare" could be a not-so-subtle hint toward the villain of the same name. @ColtonOakley12 and @keyworldwiide expressed their belief in this idea, while @ItzPerka built on it further, writing, "Nightmare also fits well cause Shang-Chi introduced the Dweller-in-Darkness and both Nightmare and the Dweller come from the same dimension." @LaurenMaley even predicts that Wanda actually addresses Nightmare in the trailer, though we don't see him.
Will Nightmare make his live-action debut in "Doctor Strange in the Multiverse of Madness"? If so, how does he tie in to the movie's proposed multiversal shenanigans? Or is Marvel Studios once again trying to misdirect fans so the film can surprise everyone when it finally arrives? The only way to know for sure is to check it out when it hits theaters on May 4.