The Duo We're Going To See A Lot More Of In Chicago P.D. Season 9's Last Episodes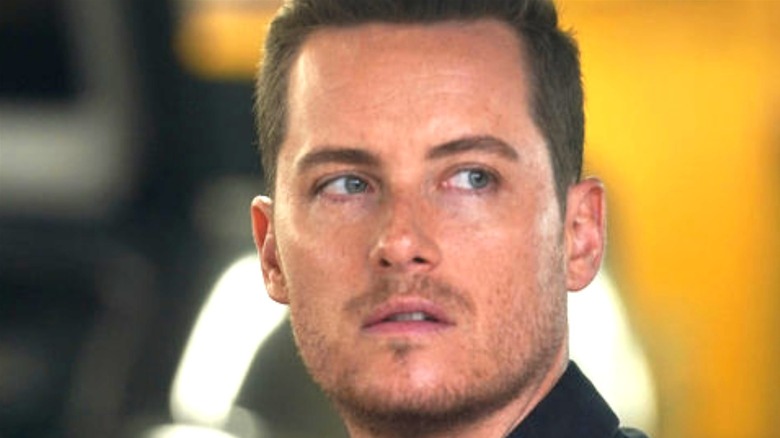 Lori Allen/NBC
As "Chicago P.D." accelerates toward the conclusion of its ninth season on NBC this spring, fans of the One Chicago action-drama will see the series take a deeper dive into the bond between one of the show's most intriguing couples. And as loyal CPD viewers are well aware, the long-running police procedural offers a wide range of options when it comes to character pairings that have developed since the series launched in 2014.
As for romantic twosomes, one of the franchise's earliest installments featured a One Chicago crossover moment with "Chicago Fire" Rescue Truck leader Kelly Severide (Taylor Kinney) and former CPD Detective Erin Lindsay (Sophia Bush) sharing a brief but intimate interlude in the Season 1 episode, "At Least It's Justice." Later on, more enduring one-on-one relationships in the series would include the match up known as Burzek, pairing officers Kim Burgess (Marina Squerciati) and Adam Ruzek (Patrick John Flueger), and more recently, the long-suffering Upstead affair, with detectives Jay Halstead (Jesse Lee Soffer) and Hailey Upton (Tracy Spiridakos). 
But as the last episodes of Season 9 on "Chicago P.D." play out, it appears there's one other duo in particular that viewers will be learning a lot more about.
Fans will learn more about Voight and Avalos as CPD Season 9 concludes
While not a romantic liaison, at least not yet, the relationship between Intel Unit chief Hank Voight (Jason Beghe) and his street-wise confidential informant Anna Avalos (Carmela Zumbado) is apparently something viewers will be learning much more about in the coming weeks. Speaking to TV Line, CPD showrunner Gwen Sigan revealed a bit about how the season's final episodes would deal with the Voight and Avalos dynamic, saying, "We will definitely see more [of them]. You'll see [Anna] in the penultimate episode, and you will see her in final episode as well. "
Sigan went on to mention what it's been like, on a creative level, to get inside the heads of this unique pair of personalities, saying, "It's been so fun to write for Jason [Beghe] with [Carmela Zumbado], and so that connection will continue, [and we'll see] it grow." 
Sigan concluded her remarks by noting that it has been quite a while since Voight had a truly close bond with another character, saying that Anna has broken through Voight's exterior in a way that he certainly didn't expect, and isn't used to, given his history with Alvin Onlinsky, a character who was killed in prison in the show's fifth season. So, as the series' ninth season draws to a close in the remaining episodes, fans can expect to discover more about what makes the high-intensity combination of Voight and Avalos tick.