Blue Bloods Just Set A Season 12 Record - But Not The Good Kind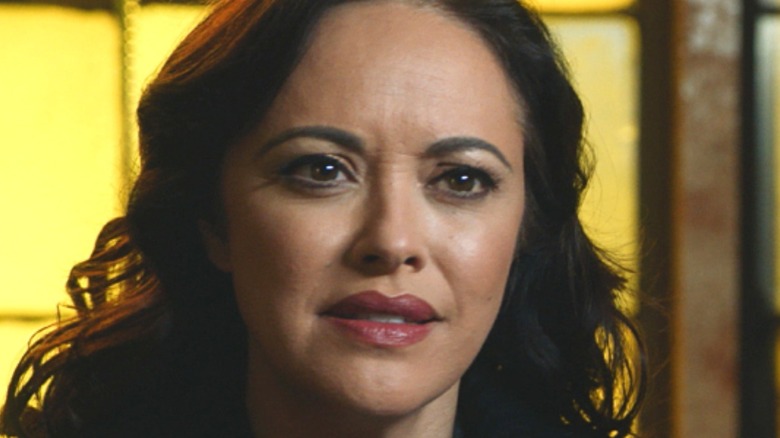 CBS
CBS police procedural "Blue Bloods" has been a linchpin of the network's Friday night line-up for years. The show focuses on the lives of the closely-knit Reagan family, who serve and protect the hard-working everyday citizens living in their New York borough. They often find themselves hashing out recent events in their lives over shared family dinners, which both serve as an occasion to uphold their unified bond and a way to figure out stalled or seemingly impossible cases.
Long-lived tv shows have a tendency to develop strong fanbases. "Blue Bloods" definitely has one after over 250 aired episodes and 12 years on the air (per IMDb). Since the series has thrived for years in what has been traditionally known as a night where networks send shows to burn off and die (via Entertainment Weekly), that makes it quite a unique and special case.
But "Blue Bloods" recently set a record for Season 12, which is currently on the air but speeding toward its early May finale. Unfortunately, it's not the sort of record that television shows tend to envy.
April 1's 'Hidden Motive' failed to to pull in the viewers
Per TVLine, the Nielsen was not kind to "Blue Bloods" on Friday, April 1. The outlet reported the CBS series pulled in 5.5 million viewers and a 0.4 rating, making Episode 17, titled "Hidden Motive," the lowest-rated episode of Season 12 to air thus far. This is just under half of what "Blue Bloods" used to pull in only seven years ago. According to a May 2015 ratings report from USA Today, the Season 5 finale, which aired on May 1, drew 11.3 million viewers to CBS. 
The low viewership total "Blue Bloods" is experiencing right now may be related to fans' dissatisfaction with recent storylines. In several comments posted to the official "Blue Bloods" Instagram, viewers expressed their dislike for the show's 12th season. "I'm a little disappointed in the plot of the last couple of shows. I'm not sure if I'm watching 'The Waltons' instead of a crime drama set in New York City," said Instagram user pearlwallace103. "Love this show but need to step it up," wrote user tulandc. "I even googled to see if 'Blue Bloods' had new writers," said tracy.hobson.100, continuing, "It didn't feel like the same show."
Even though "Blue Bloods" has hit a new low, CBS can take comfort in one thing — the show still wasn't the lowest-rated drama to air that Friday night. That honor belongs to The CW's "Dynasty" reboot, which attracted 230,000 viewers and landed a 0.0 rating. Yikes.