The Worst Blue Bloods Episode According To IMDb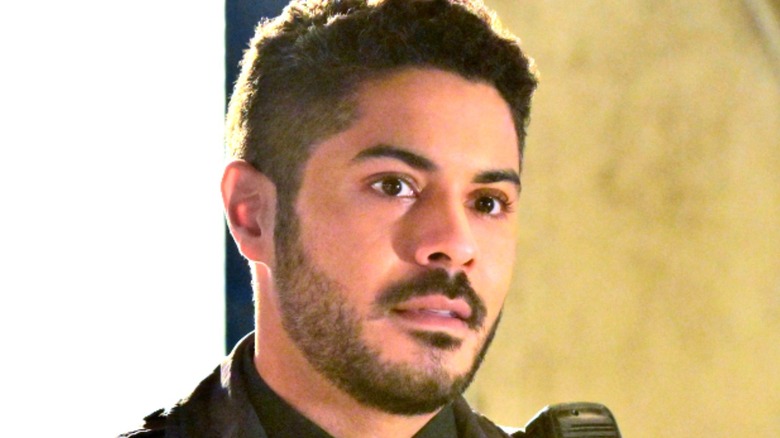 John Paul Filo/CBS
After 11-and-a-half seasons, CBS' hit show "Blue Bloods" is still going strong. The police drama focuses on the Reagan family and their relationship with the New York Police Department. Patriarch Frank Reagan (Tom Selleck) and his four children navigate the justice system's moral, ethical, and professional aspects while balancing their personal lives and their jobs.
With nearly 250 episodes under its belt, it shouldn't come as much of a surprise that some of the show's installments have elicited rave reviews while others have been met with more criticism. After all, when a show like "Blue Bloods" deals with police life and the social aspects of being a cop, it is bound to stir up conversations, especially in light of the events of 2020.
According to IMDb user ratings, nearly every "Blue Bloods" episode has scored at least a seven or higher out of 10. The show's highest-rated episode is Season 10, Episode 19, "Family Secrets," which holds an average rating of 9.2/10. But what is the series' lowest-rated episode? Well, fans will have to go back to Season 5, Episode 3, "Burning Bridges," to find one of the few "Blue Bloods" episodes that sits below a 7.0 rating on IMDb and, instead, currently boasts a 6.7/10.
What is Burning Bridges?
Season 5, Episode 3 of "Blue Bloods," titled "Burning Bridges," follows the typical pattern of most of the show's episodes and focuses on four primary perspectives — those of Commissioner Frank Reagan, the detective bureau's Danny Reagan (Donnie Wahlberg), beat cop Jamie Reagan (Will Estes), and Assistant District Attorney Erin Reagan (Bridget Moynahan).
In the episode, Danny and his partner Maria Baez (Marisa Ramirez) are thrust into a conflict between two detectives when one of them witnesses a homophobic hate crime. After one of the detectives is involuntarily outed as a gay man, his partner no longer wants to work with him. In the process of the investigation, Reagan and Baez patch up the detectives' relationship and solve the crime.
One of the episode's secondary storylines sees a disagreement emerge between the Archdiocese and Frank Reagan when the press asks for Frank's views on homosexuality, which creates a conflict between his personal faith and ethics. The episode's last storyline, meanwhile, has Jamie and his partner play a game of wits to steal a collar from an over-competitive detective.
Why was Burning Bridges voted the show's worst episode?
There are many reasons why an episode can receive negative reviews. Sometimes its storylines are unbelievable, or its character beats fail to strike the right chord. With "Burning Bridges," some fans had a problem with the episode's handling of its sensitive topics.
On the episode's IMDb reviews section, @Phil-58620 wrote, "This episode attempts to deal with homosexual prejudice in the police force and brings in Catholicism only to insult both institutions."
Of course, not all "Blue Bloods" fans had negative reactions to the episode. IMDb user @edwagreen, for instance, commented that "Burning Bridges" was "another outstanding episode this time dealing with homosexuality within the police department." The user added, "It's difficult to view the anti-gay attitudes among important officials of our police department."
While "Burning Bridges" received noticeably more negative reviews than most "Blue Bloods" episodes, the show itself is doing just fine right now, and isn't showing any signs of slowing down anytime soon.