The Simpsons Character You Likely Didn't Know Zooey Deschanel Voiced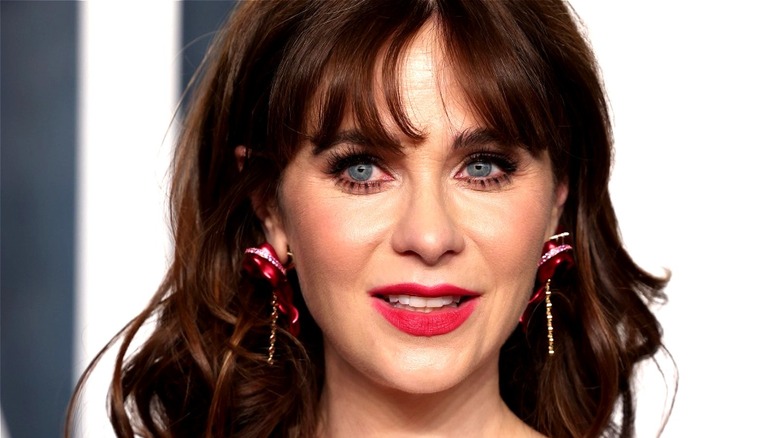 John Shearer/Getty
Zooey Deschanel has been an entertainer for more than 20 years, so it's no surprise that she's been involved in a wide variety of projects. True, Deschanel is best known for her acting work. Known for her quirky, deadpan characters, she first began appearing in indie movies like Cameron Crowe's 2000 music drama "Almost Famous" and the 2002 relationship drama "The Good Girl," alongside Jennifer Aniston. During that time, Deschanel proved she's equally adept at comedic roles, holding her own alongside Will Ferrell in "Elf" and starring in the 2005 adaptation of Douglas Adams' classic "The Hitchhiker's Guide to the Galaxy." Throughout the 2010's, she starred as the lead character in the classic Fox sitcom "The New Girl," about a young woman who's unexpectedly dumped and forced to move in with three single guys.
However, Deschanel has done a lot more than acting. She's an accomplished musician, performing in the musical duo group "She & Him," and receiving a Grammy nomination for contributing the song "So Long" to the 2011 film "Winnie the Pooh." She also created the comedy YouTube channel and website HelloGiggles.com, which she and her partners Sophia Rossi and Molly McAleer sold to Time, Inc. in 2015. 
On top of all that, Deschanel also has time to record voiceover roles for various movies and TV shows. Even though she's a well-known star, there's a good chance you didn't realize she played a minor recurring role on "The Simpsons."
Zooey Deschanel plays Mary WrestleMania Spuckler, daughter of Cletus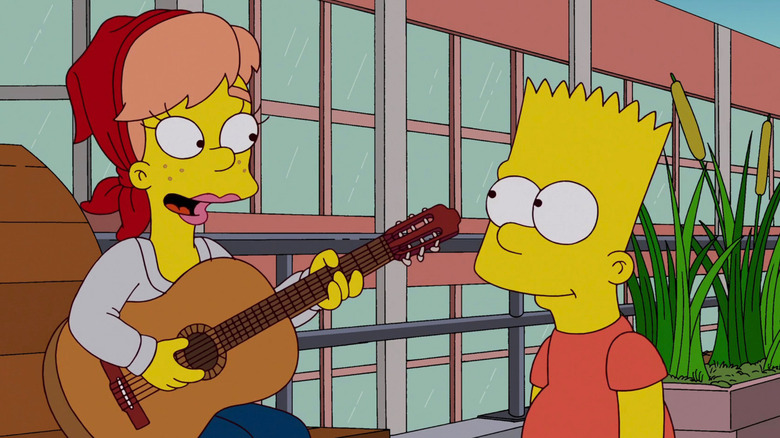 Fox
Every true "Simpsons" fan knows and loves Cletus "The Slack-Jawed Yokel" Spuckler (Hank Azaria), Springfield's stereotypical redneck character who lives in a hovel with his wife Brandine (Tress MacNellie) and their many children. Since 2008, various episodes have spent time with Cletus' family, giving more screen time to the character.
Mary "WrestleMania" Spuckler is the smartest and most well-adjusted of the Spuckler children–this is because she was fed regular milk as a baby, instead of white paint like her siblings. She's also a talented musician, as well as Bart's (Nancy Cartwright) on-again, off-again girlfriend.
So far, Mary has appeared in three episodes. Her first appearance came in the 2008 episode "Apocalypse Cow," which is about Bart taking care of a cow for a 4-H event, then refusing to send it to a slaughterhouse. At one point, he gives the cow to Mary for protection, which Cletus interprets to be a marriage proposal.
Up next was the 2012 episode "Moonshine River." In this one, Bart realizes that Mary is "the one who got away" and travels to New York City where she's currently living, hoping to woo her back. Finally, in "Love Is a Many Splintered Thing" (2013), Mary returns to Springfield, but Bart's inattention sends her into the arms of a Brazilian record producer's son (via Wiki Simpsons).
Mary Spuckler hasn't appeared since then, but with "The Simpsons" showing no signs of slowing down, it's always possible she'll be back.