Anthony Mackie's Captain America 4 Training Song Is Just Perfect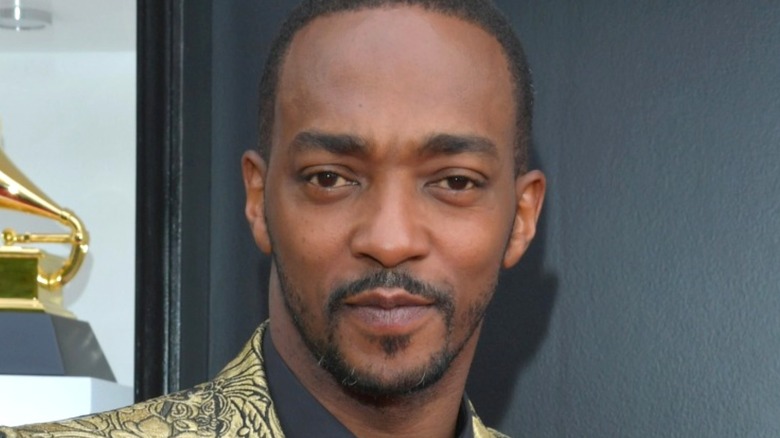 Lester Cohen/Getty
2021 marked the year that one of the biggest superhero mantles in the entire Marvel Cinematic Universe was finally passed down to a new defender. The Disney+ series "The Falcon and the Winter Soldier" saw Anthony Mackie's Sam Wilson finally embrace his destiny as the true successor to Chris Evans's rendition of Captain America. However, it seems that this landmark moment was only the start of a new chapter for Sam, and the news subsequently broke that the hero would return to lead a fourth "Captain America" film.
While details on the upcoming "Captain America" sequel are still few and far between and no definite release window has yet been set, development for the picture is indeed underway. It seems that Mackie is also preparing to dive deeper into the storied role. The actor recently revealed that he has a special training song to get him in the mindset for his portrayal of Sam in the movie.
Mackie is channeling Hit 'Em Up by Tupac
In an interview with Variety from the 64th annual Grammy Awards show on April 3, Anthony Mackie spoke about a unique musical ritual he performs with each major acting role he takes on. "Every role that I play, I pick a song to represent that character, and I pick a piece of art to represent that character," he explained.
When asked which song he had chosen for his role as Captain America, the actor hinted that it was written by the famed late hip-hop artist Tupac and starts with the phrase "first off" but said that he couldn't go into more detail due to its explicit content. However, those well versed in the hip-hop scene may be able to identify the song based on that one iconic lyric alone: the musician's legendary 1996 diss track "Hit 'Em Up."
Originally aimed at the Notorious B.I.G. as part of an ongoing feud, the track has since become renowned for its ferocious, vengeful lyrics and aggressive tone. With the end of "The Falcon and the Winter Soldier" establishing Sam's willingness to challenge the system and condemn outdated institutions, "Hit 'Em Up" feels like a perfect anthem to represent the character's next step as the new Captain America. For now, fans must wait to see if Mackie's portrayal of Sam in the next "Captain America" movie is every bit as furious as the song that inspired him.