The Surprising MCU Movie That Dave Bautista Called His Favorite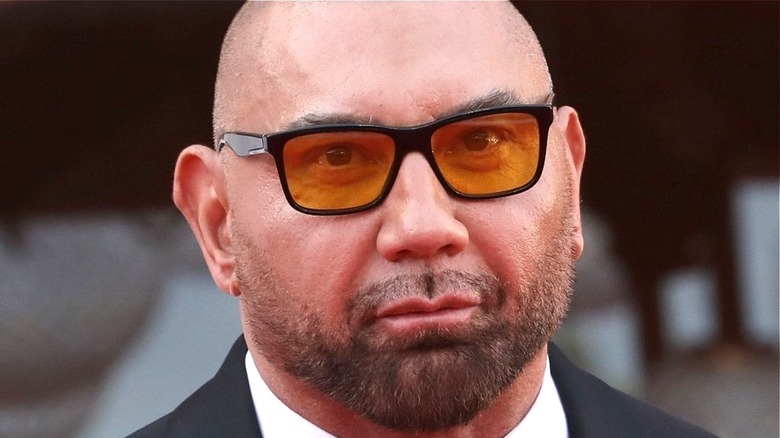 Elisabetta A. Villa/Getty
Over the last decade and a half, the Marvel Cinematic Universe has become a massive conglomeration of different actors, characters, storylines, and crossovers, each of these bringing its own unique element of entertainment to the mix.
Doctor Strange's (Benedict Cumberbatch) adventures are informative (albeit overwhelmingly so). Steve Rogers' (Chris Evans) story as Captain America is heartwarming. Natasha Romanoff's (Scarlett Johansson) past is heartwrenching. And then there's the always entertaining Drax. Dave Bautista's character has been a nonstop source of laughs ever since the moment the soon-to-be Guardians of the Galaxy ran into him in the Kyln way back in 2014.
Since then, Drax has faithfully stuck by his superhero team, bringing equal parts bravery and recklessness to their activities — and always with a laugh. Always. Whether he's diving into a multidimensional beast's stomach, confronting Avengers on Titan, or invisibly eating a zarg-nut, Drax is an endless source of excessively literal slapstick fun.
Sadly, he's also not much longer for the MCU world. Dave Bautista has already made it clear that his run as Drax is coming to a close with the third installment of the "Guardians of the Galaxy" franchise. It's just one in a long line of bittersweet events taking place as the OG MCU crew looks for ways to pass the baton to the new up-and-coming generation of live-action MCU stars.
While the logistics of the future will all sort themselves out in time, these moments serve as a great opportunity to go back and wallow in the fun little trivia that brought an actor and their character to this point of no return. One question that everyone in the MCU is asked sooner or later is what their favorite film is, and Bautista is no exception.
What is Dave Bautista's favorite MCU movie?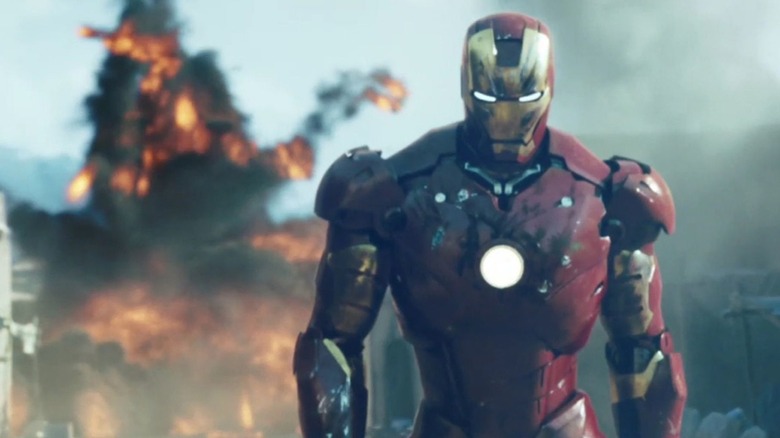 Marvel Studios/Disney
When he received the predictable "favorite Marvel film" inquiry in 2017, Dave Bautista's answer wasn't a "Guardians of the Galaxy" movie. It wasn't a crossover between the Avengers and the Guardians of the Galaxy either. Heck, it wasn't even a film that was made when Drax was around. Nope. We have to go all the way back to the genesis of the on-screen universe to find the actor's favorite MCU storyline.
It turns out that Dave Bautista's favorite MCU installment is none other than "Iron Man." Fans of Drax should be grateful for the actor's affinity for the iron Avenger. After all, if it weren't for the successful way that Robert Downey Jr.'s iteration of Iron Man paved the way for the MCU that followed, we may never have gotten Bautista's Drax at all.
This isn't just hyperbole. Bautista has gone on the record stating that before Downey Jr.'s enthralling performance as Tony Stark, Bautista was more of a DC guy. The actor explained that the first MCU film converted him from a Batman- and Aquaman-loving fanboy to someone who really enjoyed Marvel films.
The first "Iron Man" movie's well-known reputation for its ability to win over hordes of new Marvel fans doesn't stop with Bautista. Along with the host of viewers that it's attracted, the film is also a favorite of other high-profile MCU-ites, including Clint Barton's Jeremy Renner and Moon Knight's Oscar Isaac.