Everything Everywhere's Stunt Coordinator Tells What It's Really Like Working With Michelle Yeoh - Exclusive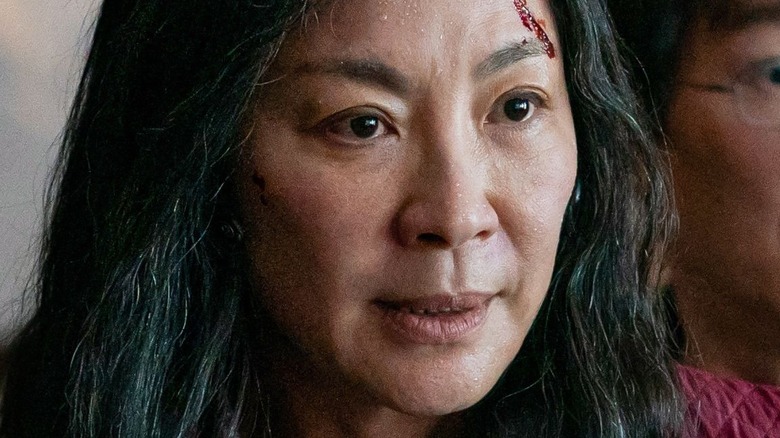 A24
In "Everything Everywhere All at Once," the beloved actor and action star Michelle Yeoh plays Evelyn Wang, a beleaguered laundromat owner, wife, and mother who is grappling with getting her taxes done, trying to salvage her fraying relationships with her husband and daughter, and — oh, yeah — saving the multiverse from annihilation by jumping through multiple realities and lives.
Directed and written by Daniel Kwan and Daniel Scheinert, "Everything Everywhere" is a reality-bending sci-fi trip with a deeply humane message that also pays homage to some of the great Hong Kong martial arts movies, including titles like "Police Story 3: Super Cop," in which Yeoh herself starred.
After establishing herself on the Hong Kong scene, Yeoh came to Hollywood, where she appeared in the James Bond film "Tomorrow Never Dies" and the acclaimed "Crouching Tiger, Hidden Dragon," putting her skills to outstanding use in both.
So when "Everything Everywhere" stunt coordinator Timothy Eulich got the chance to work with Yeoh on this film, he wasn't surprised to find out that she came to the set as prepared as possible and fully committed to the job ahead. "I've been watching her from a very influential age," Eulich tells Looper. "It was an absolute treat to have an opportunity to work with her."
Michelle Yeoh is a legend on and off the screen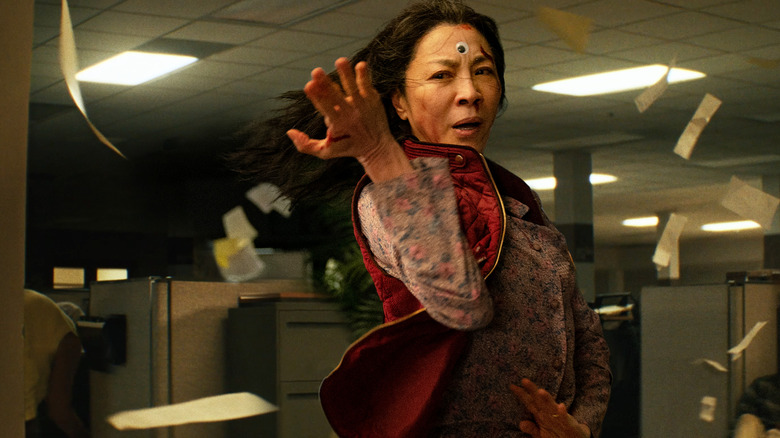 A24
Although the press materials for "Everything Everywhere" state that Timothy Eulich trained Michelle Yeoh for her action sequences in the film, he tells Looper that the reality was somewhat different.
"We rehearsed her into these action sequences," he explains. "She takes exquisite care of her physical instrument and was fully prepared to do pretty much everything that we asked of her in this process ... We had about three days with her and maybe an hour or two each of those days, and she would come in and we would mark through everything, get her comfortable with the movements until she felt good, and then she would film it on her phone and go home."
Noting that Yeoh is in nearly every frame of the movie, Eulich says that watching her work on the action scenes was nothing short of inspiring. "As soon as we called action, she would just bring the energy up and just absolutely perform this beautiful ballet of violence. It was so cool to watch. Her work was very influential in my decision to go down this path, to be a stunt coordinator and action designer."
Off-camera, Eulich says it was evident that Yeoh "deeply and genuinely cared about every single person" working on the film. "She found out that I had a son and he was one year old while we were filming the movie," he recalls. "A couple of days later, she came to work with a gift for him. She had bought him a brand new Ferrari. It was made of plastic and only a toddler could fit into it, but still, that gesture was so appreciated. She's a legend in her performing career, and to me, a legend of a human being."
"Everything Everywhere All at Once" is now playing in select theaters, with a wide release coming April 8.