Early Critical Response To Fantastic Beasts: The Secrets Of Dumbledore Is Very Revealing
In a little under two weeks, "Fantastic Beasts: The Secrets of Dumbledore" will finally arrive in theaters following numerous delays and casting changes throughout the COVID-19 pandemic (via The Hollywood Reporter). With so much up against it, it seems that the third film in the "Fantastic Beasts" franchise would need some "Harry Potter"-level magic and amazing reactions to keep things going strong for Newt (Eddie Redmayne) and the gang. Judging from early reviews, it's not looking good for Mr. Scamander.
Taking a peek at the Rotten Tomatoes pages for the first two "Fantastic Beasts" movies, it's easy to see the critical decline that this magic-filled cinematic saga has experienced since it began in 2016. "Fantastic Beasts and Where to Find Them" managed to garner a 74% rating on the Tomatometer and a 79% audience score on Rotten Tomatoes, while its sequel, "Fantastic Beasts: The Crimes of Grindelwald," dropped to a 36% critical score and 54% audience score, respectively. At the time of publication, "The Secrets of Dumbledore" is lumped with a 58% on the Tomatometer (via Rotten Tomatoes). It's still better than its predecessor (dubbed the "'X-Men: Apocalypse' of the franchise" by Forbes), but it's likely not as good as Warner Bros. was hoping for.
So, what is it about "The Secrets of Dumbledore" that critics aren't liking? Is there anything fantastic about the latest "Fantastic Beasts" film? A quick look through the reviews ultimately reveals the answer.
Some called The Secrets of Dumbledore a meaningless and magic-less 'slog'
According to early reviews from The Hollywood Reporter, Indiewire, TheWrap, as well as Slant Magazine, The Daily Beast, and Polygon, it appears "Fantastic Beasts: The Secrets of Dumbledore" viewers are in for a long and strenuous two hours.
"After four years, 'Fantastic Beasts: The Secrets of Dumbledore' has arrived, and it is a slog more than an event," writes Lovia Gyarkye in a review for The Hollywood Reporter. Gyarkye continues, "The long-awaited third installment of J.K. Rowling's Wizarding World sub-franchise is less clogged with distracting detail than its immediate predecessor, but even a more refined plot can't save the two-hour-plus film from feeling like an endurance test."
IndieWire's Kate Erbland says in her review that "The Secrets of Dumbledore" is basically a storytelling rollercoaster that fails to keep its plot on track. She writes, "The film constantly bumps and bounces between subplot after subplot." According to Erbland, this ultimately results in key pieces of information being lost in the shuffle and certain characters disappearing throughout the movie altogether. TheWrap's William Bibbiani also touches on the lack of character development despite a high volume of familiar faces, noting, "It's hard to care much about any of the many, many characters in 'The Secrets of Dumbledore' because hardly any of them have a meaningful storyline or character arc of their own." 
But even these reviewers can all agree that not everything is terrible with "The Secrets of Dumbledore."
Other reviewers enjoyed the new Fantastic Beasts movie, but admit it has flaws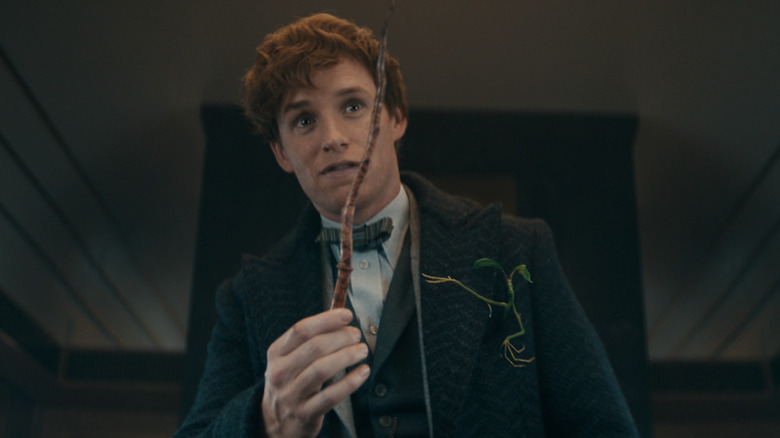 Courtesy of Warner Bros. Pictures
When looking at the early reviews of "Fantastic Beasts: The Secrets of Dumbledore," it's easy to immediately focus on the negative. But, according to USA Today, Variety, The Guardian, and a few other outlets, there's actually a lot to love about the movie. Though it's not perfect by any means, these reviewers admit. "It's good-natured entertainment, though there is still something weightless and formless about the narrative," writes Peter Bradshaw in his review for The Guardian. "The best spin-off chapter yet, but still missing magic," says /Film's Ethan Anderton. 
Some of the biggest highlights of "Secrets of Dumbledore" include Jude Law and Mads Mikkelsen's performances as Dumbledore and Grindelwald, respectively, along with the film's ushering of the "Fantastic Beasts" series into its future, critics report. "'Secrets' does a decent job streamlining the busy storytelling in the third of a planned five-movie series that, to be honest, doesn't have the clearest overarching narrative," says Brian Truitt for USA Today. Truitt also writes that "Mikkelsen's a deliciously sinister delight as dark wizard Gellert Grindelwald" and goes on to state, "The third installment of director David Yates' 'Harry Potter' period prequel series still is overstuffed with characters and subplots, yet polishes a few missteps from previous films."
Lovia Gyarke also agrees that Law's portrayal of Hogwarts' future headmaster winds up stealing the show, but at what cost? "This installment revolves around Dumbledore, a more interesting character than the series' purported hero, Newt," Gyarkye notes. "That shift focuses the film's narrative, but it doesn't do much for those of us trying to figure out the purpose of the series."