The DC Character You Likely Didn't Know Chicago Med's Oliver Platt Played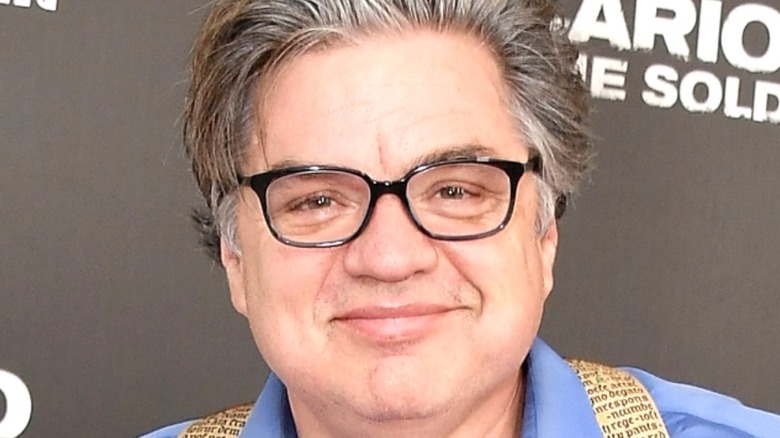 Michael Loccisano/Getty
"Chicago Med," the NBC medical drama series that focuses on the personal and professional lives of a hospital's staff in Chicago, has garnered a devoted following which could rival any of its sister shows like "Chicago Fire" or "Chicago P.D." Much of this popularity owes to the show's compelling cast, including Nick Gehlfuss as Dr. Will Halstead and S. Epatha Merkerson as Sharon Goodwin. And then there's Oliver Platt.
If you've watched even just one episode of "Chicago Med," then chances are you're familiar with Platt's character Dr. Daniel Charles. Hugely intelligent in his professional life, yet burdened with a slew of messy personal and romantic affairs, loyal fans of "Chicago Med" have gotten to know Dr. Charles over all seven of the show's current seasons. Of course, Platt himself has a pretty extensive list of acting credits outside of the "One Chicago" universe, having appeared in notable properties like "Fargo" and "The Good Wife." However, fans of the actor may not know that he once dipped his toe into the superpowered world of DC as a surprising character.
Platt played Hades in an animated Wonder Woman movie
Oliver Platt's appearance as a character in a DC property actually came in a Wonder Woman-centric movie ... but not in one of the live-action ones. Instead, the actor was part of the voice cast for 2009's animated movie "Wonder Woman," an origin story for the titular superheroine (Keri Russell) that sees her facing off against the powerful Greek god of war, Ares (Alfred Molina).
In the movie, Platt voices Hades, the Greek god of the Underworld and the uncle of Ares. While Hades is typically portrayed as a conniving villain in popular media, Platt's version of the character is considerably more of a neutral force throughout the conflict of the movie. Bound by special magic bracers that limited his powers, Ares seeks out Hades to release him from his confines. While Hades acquiesces, it is revealed that he only did so because he foresaw that it would lead to a chain of events where Ares eventually met his downfall. The god's prediction turns out to be correct, as Ares is eventually killed by Wonder Woman, leading to his undesirable new role as Hades' slave in the Underworld.
While it was something of an unexpected role for Platt, the actor's appearance as Hades in "Wonder Woman" is fun to look back on for fans who are mostly familiar with his work as Dr. Charles on "Chicago Med." In the latter, he saves lives, while in the former, he rules over the afterlife.