The Walking Dead's Paola Lázaro Confirms What We Suspected About Mercer And Princess's Relationship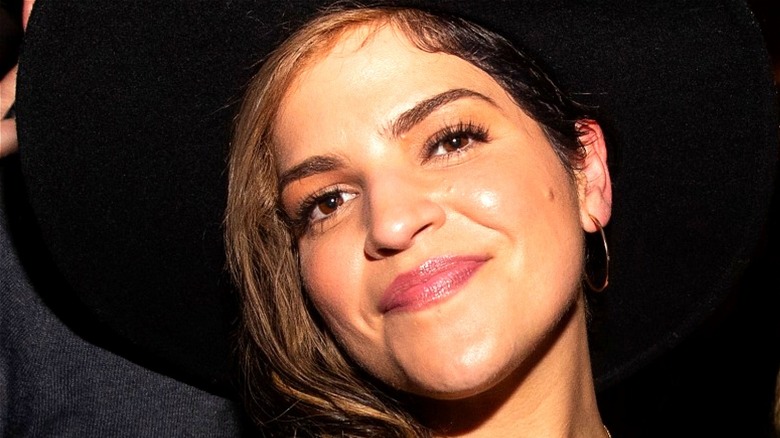 Mat Hayward/Getty
The following article contains spoilers for "The Walking Dead" Episode 15 of Season 11, "Trust."
"The Walking Dead" has found a popular team-up in the form of the romantic coupling of the spirited Princess (Paola Lázaro) and the no-nonsense Mercer (Michael James Shaw). The twosome started out as friends back in Season 10, and have gradually developed their platonic connection into something more as they dodged Walkers and tried to acclimate to life in the Commonwealth. "TWD" viewers can't get enough of their changing connection, and have dubbed the couple "Mercess." 
Their dreams for the couple were realized in "Trust," in which Mercer and Princess are depicted lying in bed together after a romantic assignation. They discussed their relationship and fans learned that they've officially become an item after attending a fancy Commonwealth Halloween ball together in the Season 11 episode "New Haunts." Fans who are desperate to know more about what's ahead for the twosome as "The Walking Dead" moves toward its final episodes may be excited to hear that Paola Lázaro, who plays Princess, recently confirmed what we've always suspected about Mercer and Princess' connection in a recent interview.
Lázaro confirms that Princess and Mercer are in the early stages of their romance
In an interview published by Insider on April 3, 2022, Lázaro confirms that Princess and Mercer like one another, but are taking it slow. 
"I think they're still getting to know each other," the actress told the website. Since it's been years since either character has dared to form such a strong personal connection with another person, let alone gone out on a date with someone, Lázaro adds that "both of them are kind of scared to say, 'Hey, I wanna be with you.'"
"It's so scary to get back into that and to be transparent about your feelings. But I think they're getting closer to that definitely after this episode," she added. While fans of "TWD" know that nothing is guaranteed for their faves, much less romantic happiness, this sounds like an awfully promising notion if you like Mercess.
The actress said that she thought Mercer declaring that he "loves to hear [Princess] talk" was an important moment for her chipper and chatty character. "I think it's very sweet because Princess is one of the few characters on this show that speaks a lot." 
One more detail for "Mercess" faithful everywhere — Lázaro and Shaw are actually fond of another nickname for their character's relationship. "Our original thought was Princer, but it seems like people on the internet are like, "Oh Mercess." But our favorite — Mike and I — our favorite is Princer." She concluded that she felt the nickname has more of a "ring" to it than Mercess.
Fans will find out if Mercess' happiness will last soon enough. "The Walking Dead"'s final season continues to play out every Sunday night at 9 p.m. EST on AMC.