Young Sheldon Finally Fixed One Of Big Bang Theory's Biggest Plot Holes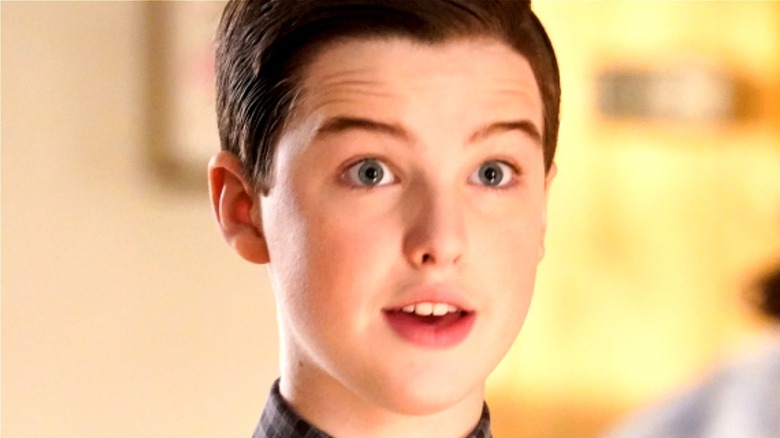 Robert Voets/Warner Bros. Entertainment Inc.
While Jim Parsons is mostly retired from his longtime "Big Bang Theory" role, Sheldon Cooper remains a mainstay of cable TV as the protagonist of "Young Sheldon." Now, Sheldon is portrayed by Iain Armitage, whose performance resonated emotionally with Parsons when he debuted as the character.
While Armitage is a strong point on "Young Sheldon," fans have naturally become critical of other aspects of the series over the course of its run. Perhaps most notably, given that "Young Sheldon" takes place chronologically before the events of "The Big Bang Theory," some viewers have noticed inconsistencies from time to time between the events of the two shows. For example, in a Season 3 episode of "Young Sheldon," on the way to a mall, Sheldon reveals that he has a whistle ready in case he runs into some sort of danger. This contradicts a moment on "The Big Bang Theory" in which Amy (Mayim Bialik) reveals that she bought Sheldon what seems to be the same whistle.
Another aspect of "Young Sheldon" some viewers have proposed might be an inconsistency is the role of Paige (Mckenna Grace) in Sheldon's life. Despite Paige being Sheldon's childhood rival, she's — for obvious reasons — never mentioned during the events of "The Big Bang Theory." Fortunately for fans critical of this supposed discrepancy, a recent episode explained why Sheldon seems to have forgotten about Paige in his adulthood.
Sheldon triumphed over Paige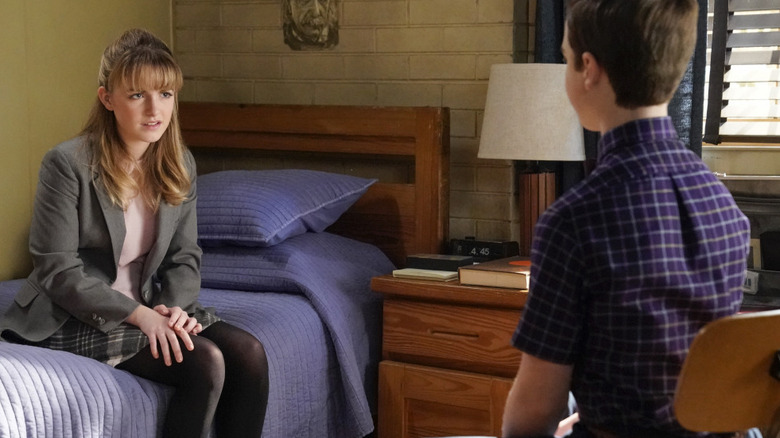 Robert Voets/Warner Bros. Entertainment Inc.
Prior to Season 5, Episode 17 of "Young Sheldon," some fans of the series were already theorizing why, despite Paige being his number one childhood rival, Sheldon might have forgotten about her by the time "The Big Bang Theory" takes place. One Reddit user, for instance, proposed that she might die prior to the "The Big Bang Theory."
On March 31, however, CBS premiered a new episode of "Young Sheldon" titled "A Solo Peanut, a Social Butterfly and the Truth" that explains this potential inconsistency. In short, Paige briefly reenters Sheldon's life for the first time since Season 4, only to reveal that she dropped out of the college she was attending after feeling like an outsider among her classmates. Not only is Paige preternaturally intelligent, but considerably younger than the average college student. Both of these factors, presumably, contributed to the fact that she felt this way.
Because she has essentially given up on her academic pursuits while Sheldon continues his, learning this about Paige effectively functions as a definitive win in their rivalry. Plus, since she's no longer actively in his life, it's safe to say that after coming out on top, Sheldon will no longer think much about her after as he grows up and finds new people with whom to concern himself come the events of "The Big Bang Theory."