Did The Walking Dead's Paola Lazaro Just Tease Rick's Return In The Finale?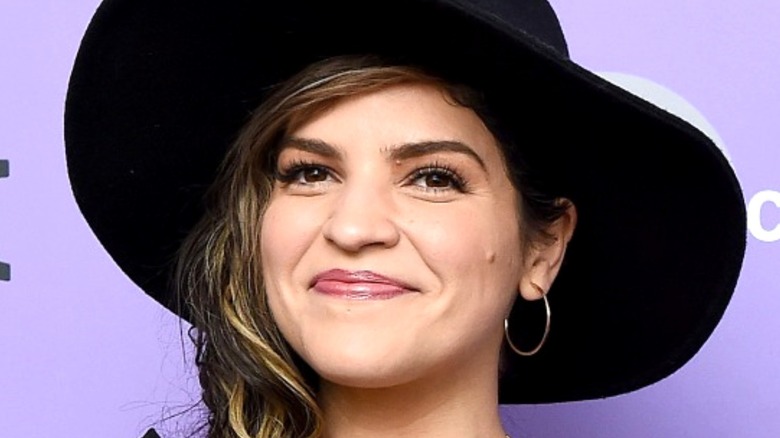 Ilya S. Savenok/Getty
Paola Lázaro plays the rambunctious and extremely entertaining character known as Juanita Sanchez, aka Princess, on AMC's "The Walking Dead." Known for her vibrant personality — and struggles with mental health that sometimes result in hallucinations brought on from her past traumas — Princess was introduced in the 2020 episode, "Look at The Flowers," and has since become a staple on the show. The character is currently associated with the Commonwealth military general, Mercer (Michael James Shaw), and their relationship continues to grow increasingly interesting.
Meanwhile, as any "Walking Dead" fan knows, Rick Grimes (Andrew Lincoln) was the de facto main character for much of "The Walking Dead." His pursuit of his family is the impetuous for his original sojourn from his hospital bed, which kicks off the events of the entire series. His final moments on "The Walking Dead" television show see him grievously wounded and confronting a huge amount of zombies on a bridge: in a moment of (seeming) martyrdom, Rick blows up the bridge in order to save his community of survivors.
Rick and Princess never met on the show. However, it seems like the actor who plays Princess may have alluded to one more appearance by the resilient sheriff's deputy on the show, in a recent interview.
Lázaro thinks it would be awesome if Rick returns to The Walking Dead
Speaking with Insider, Lázaro was asked about her prediction for the end of the show, to which the interviewer clarified that maybe they shouldn't ask because Lázaro may actually already known how it ends. While Lázaro didn't clarify on that point, she did reply, "Well, I mean, it'd be awesome if Rick showed up right at the end. That's all I can say. It'd just be awesome."
Considering that the last time fans saw Grimes he was suffering from a rather ugly and profusely bleeding wound from his abdomen, and being airlifted to parts unknown, it would seem like the character's departure left many strings dangling. While the other characters all believe Rick to be dead — save his wife, Michonne (Danai Gurira), who is currently pursuing him — the situation in which he departed was clearly setting up a return at some point, and the finale would seem like an ideal spot for it. That said, even if Lázaro's statement holds weigh — she could be making a joke, or not know herself — a potential return for Rick has some complications, given that he's supposed to be getting a movie trilogy. 
Will Rick return in The Walking Dead finale?
The return of Rick has been on the minds of both fans and showrunners alike since that fateful encounter on the bridge. In a 2019 interview with Deadline, showrunner Angela Kang was asked about any potential chance for fans to see the character again on the small screen, to which she replied, "Not this season, but man, I would love it if he did. You know we were talking about having him direct something for a while, but then he wanted to focus on some acting stuff, and he didn't want to drop out on us at the last minute if something came along, and you know he's been doing a movie lately." She then added that the door is always open if Lincoln is up for coming back to the show.
However, Scott M. Gimple has said that while viewers will see Rick again, it will be in a trilogy of spin-off movies made for the big screen. Considering this statement, it would seem like Rick's return will be saved for these films — unless the show brought him back anyway, without explaining what happened during his absence, with the movies then existing to fill in the gaps. That said, this could risk lowering the stakes for the proposed movie trilogy considerably, since it would seem to give away the ending. 
Either way, it seems like Lázaro thinks the return of Rick would make for a great television show ending, and her evasiveness about the question certainly raises more than a few thoughts regarding the ultimate fate of the most popular "Walking Dead" character.