Tales Of The Walking Dead Sees The Return Of This Familiar Character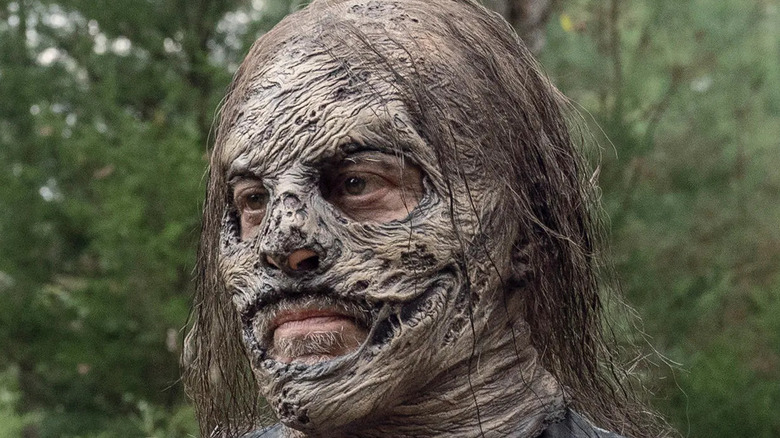 Jace Downs/AMC
Though "The Walking Dead" is hurtling toward its long-awaited series finale, AMC has made it very clear that the "Walking Dead" franchise as a whole is far from over. Indeed, in addition to the spin-off series "Fear the Walking Dead," AMC has announced a slew of future spin-offs set to be released after the conclusion of "The Walking Dead." These upcoming shows include a currently unnamed spin-off that will follow survivors Daryl (Norman Reedus) and Carol (Melissa McBride), a Maggie (Lauren Cohen) and Negan (Jeffrey Dean Morgan) spin-off called "Isle of the Dead," and an anthology series titled "Tales of the Walking Dead."
"Tales of the Walking Dead" will reportedly consist of just six episodes and (as an anthology series) will present a different story each episode, featuring new and existing characters from across the "Walking Dead" franchise. AMC's president of original programming, Dan McDermott, compared the series to "The Twilight Zone" and "Black Mirror" and claimed that this format will be appealing to longtime fans and newcomers alike (via Variety).
The fact that the new series is an anthology allows for the showrunners to explore stories we've never seen before in "The Walking Dead" and possibly even reunite fans with characters who have left the series. Indeed, there is one character who has already been confirmed to return in "Tales of the Walking Dead" — despite the fact that she's been dead since the end of the main batch of episodes of Season 10.
Alpha is set to return in Tales of the Walking Dead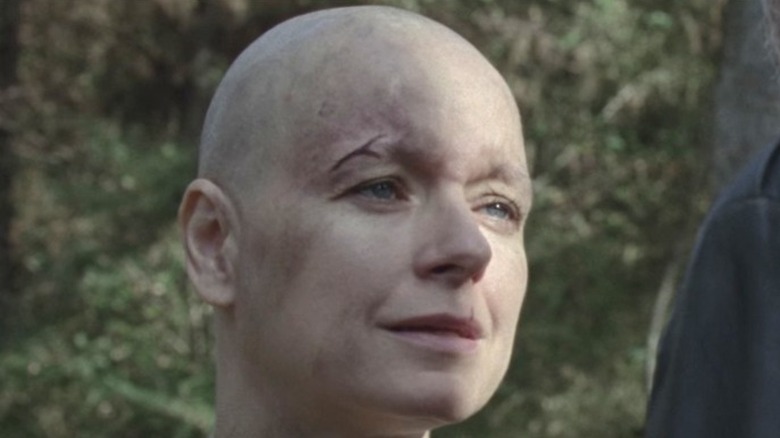 AMC
As reported by Variety, Samantha Morton is set to reprise her role as Alpha in the upcoming anthology series. Alpha served as the primary antagonist of Seasons 9 and 10 of "The Walking Dead," leading a group of survivors called the Whisperers who famously wore walker skins to blend in among the undead. Alpha was nothing short of a psychopath, having fully abandoned her life from before the outbreak and embraced the violence and chaos of the postapocalyptic world. She was a ruthless, cold-blooded leader who had no problem murdering anyone who questioned her authority and despised any and all forms of weakness.
Considering the fact that Alpha had her throat slit by Negan near the end of Season 10, it'll be interesting to see where and when we encounter the character in the upcoming anthology series. We may even get to see Alpha before she becomes the leader of the Whisperers, and her appearance in "Tales of the Walking Dead" may give fans some insight into how she became so unapologetically evil. In any case, if the showrunners are willing to revive a villain as loathsome as Alpha, one has to wonder who else from the series' past might show up in the upcoming anthology series.