Second Ms. Marvel Teaser Trailer Is Our Best Look Yet At Kamala Khan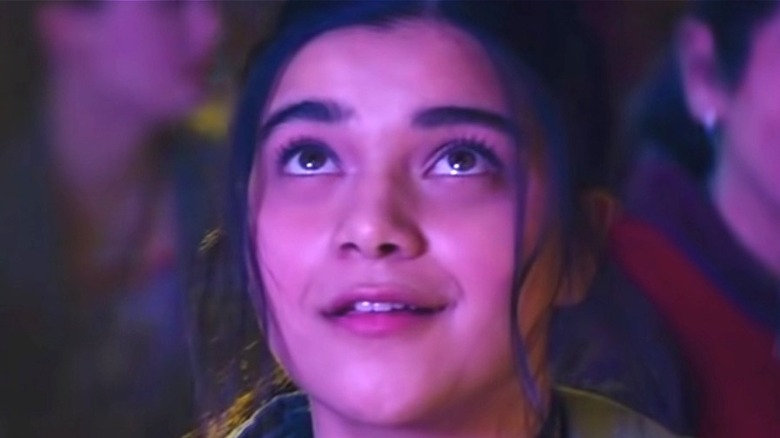 Marvel Entertainment/YouTube
The Marvel Cinematic Universe has been showering fans with content lately, from last year's mega-hit "Spider-Man: No Way Home" to the currently airing series "Moon Knight," with the long-awaited "Doctor Strange in the Multiverse of Madness" still on the horizon. But the studio clearly wants fans to remember that there's even more coming, as evidenced by a new teaser trailer for the upcoming Disney+ series "Ms. Marvel."
Starring Iman Vellani as Kamala Khan, a girl who finds herself gifted with incredible powers, "Ms. Marvel" joins the MCU as one of the most notable additions to the Phase 4 lineup. Kamala will go on to team up with Captain Marvel (Brie Larson) and Monica Rambeau (Teyonah Parris) in "The Marvels" next year, so "Ms. Marvel" is laying the groundwork for that crossover. The character of Kamala Khan has been a hit with readers ever since she debuted in the "Captain Marvel" comic book series nearly a decade ago, and to finally see her make her appearance in the MCU is no doubt a triumphant moment for many fans.
Now, in a new teaser, we finally get to see the Jersey City hero suit up and show off some of her abilities.
Kamala Khan goes cosmic in new promo spot for Ms. Marvel
In a new, 30 second teaser for "Ms. Marvel," we get our best look yet at Kamala Khan and her cosmic abilities. This version of Kamala is a huge Captain Marvel fan just like her comic book counterpart, as evidenced by the multiple bits of Carol Danvers décor plastered across her bedroom. That's likely foreshadowing for Kamala's inevitable team-up with her idol, the full extent of which will be explored when "The Marvels" releases in 2023.
Kamala finally gets to flex her powers in this trailer, and although we're only shown a few brief glimpses of what she can do, it all looks gorgeously rendered in neon shades of blue and purple. In one moment, she fires an energy projectile from her palm to close her bedroom door when her dad comes knocking, and in another, she generates big plates of energy that she uses as a springboard to leap through the air. While fans of the comics are used to seeing Kamala as a shapeshifter who uses her embiggening power to stretch and distort her limbs, it looks like the live-action adaptation might take an approach that brings the character closer in line with the other Marvels. However, her signature punches are here to stay, as one quick cut shows her swinging a fist at the camera.
Meanwhile, we also get a chance to peep a closer look at Kamala's first Ms. Marvel costume, which takes inspiration from Kamala's hero, Captain Marvel, with bold red and blue coloring and the Marvels symbol across the chest. We'll see much more when "Ms. Marvel" drops on Disney+ on June 8.