Vera Farmiga, J.K. Simmons Join Hugh Jackman's Political Drama The Front Runner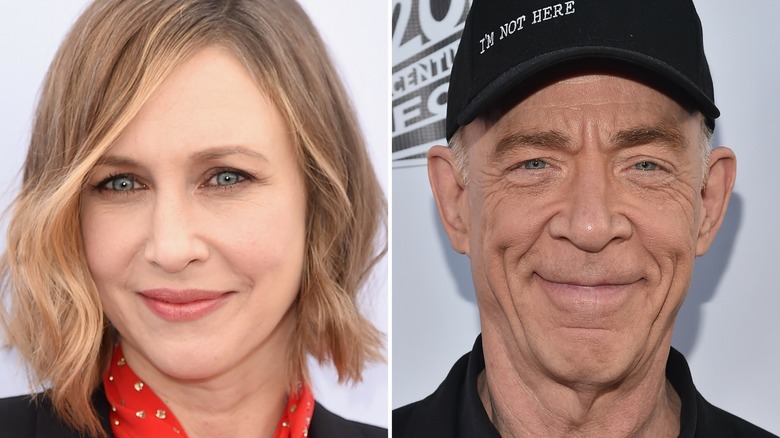 Getty Images
Jason Reitman has recruited an all-star cast to back up Hugh Jackman in his upcoming political drama The Front Runner. The movie will see the former Wolverine playing politician Gary Hart, a U.S. Senator from Colorado who was the frontrunner for the Democratic presidential nomination before he was forced to drop out when it was revealed he was having an affair. The exposure of Hart ended up being a turning point for American politics, bringing in a new age of tabloid journalism where personal indiscretions were fair game. It also opened up the question of whether Americans missed out on a qualified candidate because of the increasing focus on personal matters.
Reitman revealed the full cast of the 1980s-set movie in a recent interview with Entertainment Weekly, showing off a star-studded ensemble that should make the film an instant Oscar contender. The director has set the movie to be a reunion with his Up in the Air Oscar nominee Vera Farmiga, who will to play Gary's wife Lee. The movie is set to show their strained but solid relationship, with Lee playing the intellectual opposite to Gary's brash personality. Justified's Kaitlyn Dever is set to play the couple's daughter Andrea, who is a moral compass for her parents as they struggle to deal with their personal and professional lives. 
Their personal lives will be thrown for a loop when Hart is invited to a party on a yacht by political power broker Bill Broadhurst, who will be played by Halt and Catch Fire's Toby Huss. It's there that he engages in a flirty night with Donna Rice, an actress and model who unwittingly set off the events that changed political history. Aquamarine's Sara Paxton is set to take on the role. 
The movie also has some impressive actors who will play the people involved in breaking the story. Reitman has recruited Silicon Valley creator Mike Judge to play Jim Savage, investigations editor at the Miami Herald, which first broke the story of Hart's affair with Donna Rice. Togetherness' Steve Zississ also plays a part in breaking the story as Tom Fiedler, a political reporter who decides to follow up on a tip about Hart's affair. The paper's publisher Bob Martindale will be played by The Usual Suspects' Kevin Pollak. 
Patti Cake$'s Mamoudou Athie will play A.J. Parker, the Washington Post reporter who had to decide whether he should further pursue tabloid reports about Hart's personal life. For A Good Time, Call...'s Ari Graynor will play another Washington Post reporter, Ann Devroy, a tough White House correspondent who was described by President Bill Clinton after her death in 1997 as someone who brought "skill, shrewd analysis and gruff grace" to the White House beat. Thank You For Smoking's Spencer Garrett also takes on a reporter role, playing Bob Woodward, best known for his role in breaking the Watergate scandal. Now, he is a friend of Hart and one of the deans of D.C. journalism. 
As the reporters break the story, Hart's campaign staffers will have to deal with the fallout. Whiplash's J.K. Simmons will lead the group as Bill Dixon, Hart's campaign manager and friend from their time in the Vietnam War. Dixon is described as one of the campaign's only officials near Hart's age, leading a team of idealistic youngsters who see Hart as their JFK. Like many of the other actors on the project, Simmons has worked with Reitman before, appearing in every one of his films since 2007's Thank You For Smoking.
Silicon Valley's Josh Brener will play Doug Wilson, one of Hart's key foreign policy advisors who would eventually become assistant secretary of defense for public affairs from 2010 until 2017, making him the highest ranking openly gay official in the Pentagon. Casual's Tommy Dewey, meanwhile, will play John Emerson, Hart's deputy campaign manager who was a staunch believer that policy not personal life should be the focus of the campaign. Reitman executive produces the Hulu series on which Dewey has starred for three seasons. 
The rest of the campaign staff will be filled out by some familiar TV actors. Last Man Standing's Molly Ephraim will play Irene Kelly, a composite character who, in the film, is a scheduler for the Hart campaign. Girls' Alex Karpovsky is set to play Mike Stratton, Hart's lead advance man who coordinates the logistics of the campaign. Halt and Catch Fire's Mark O'Brien will play Billy Shore, Hart's aide-de-camp, sometimes referred to as "the body man" for the candidate. 
The Front Runner is based on a script from Reitman, political journalist Matt Bai, and former Hillary Clinton press secretary Jay Carson, who is also a producer on House of Cards. The film is inspired by the 2014 book All The Truth Is Out, which was written by Bai. No release date has been set yet, but the film is expected to begin production in September. In the meantime, see how Jackman made his journey from P.E. teacher to Wolverine.