How Kelli Berglund Really Felt About Alexander Ludwig On Heels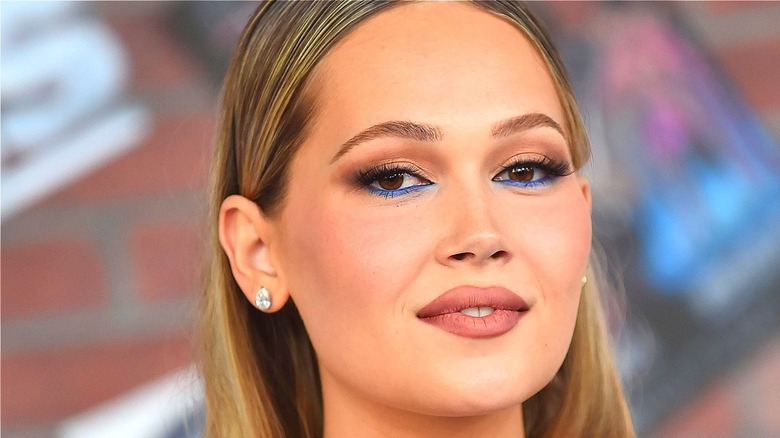 DFree/Shutterstock
You may know actor Alexander Ludwig from his supporting role in 2012's "The Hunger Games" as District 2 tribute Cato, a role that introduced Ludwig to many moviegoers despite the fact that he had been working for over a decade prior to the release of the popular dystopian film. Following his turn as Cato, Ludwig appeared in films such as 2013's "Lone Survivor," 2015's "The Final Girls," 2020's "Bad Boys for Life," and 2021's "Night Teeth" (via IMDb).
As for the world of television, Ludwig took on a main role in the historical drama series "Vikings" in 2014, which he remained in until the show ended in 2020. Ludwig played Björn Ironside, the son of Ragnar (Travis Fimmel) and Lagertha (Katheryn Winnick). Following the end of "Vikings," Ludwig took on another leading role in the Starz drama series "Heels." Created by Michael Waldron, "Heels" focuses on two brothers, Ace (Ludwig) and Jack Spade (Stephen Amell), who are rival wrestlers. The series premiered in August of 2021 and has already been renewed for a second season (via Variety).
If you're a big fan of Ludwig, then you likely already know the highlights of his filmography. But what you likely don't know is what the actor is like on set and how well he gets along with his co-stars. Luckily for those curious about these details, his "Heels" co-star Kelli Berglund has opened up about her time working with Ludwig on their show.
Berglund and Ludwig got along right away
Actress Kelli Berglund plays a character named Crystal Tyler on "Heels," who is a love interest to Alexander Ludwig's Ace. In August of 2021, around the time that the show premiered, Berglund spoke with Express.co.uk about working on "Heels" — and discussed what it was like working with co-star Ludwig. Berglund said, "Alexander and I got along from the start of the show. I remember he already had this role and I was still auditioning for mine. He was at one of my final auditions where they were still auditioning other girls."
Berglund then expressed her admiration for Ludwig for his decision to be a part of the audition process for the character of Crystal, even though he had already been cast. Berglund explained, "I just remembered how nice and generous he was, and how much he cared to be there for all of these Crystal auditions. He went out of his way to do that. He couldn't have been a nicer guy."
"Heels" fans will get to see Ludwig and Berglund on screen together for at least one more season. It's nice to hear that whatever happens in the show, the actors appear to have a good working relationship.