Small Details You Missed In The Bubble
This content was paid for by Netflix and created by Looper.
"The Bubble" is a hysterical and uniquely relatable movie about the process of, well, making movies. The Judd Apatow film follows a group of blockbuster stars as they head to a lavish hotel in London to shoot the latest installment of their hit franchise, but thanks to the COVID-19 pandemic, they're hardly living the high life. In fact, their "Cliff Beasts 6" film is one of only two productions that have restarted amid coronavirus lockdown measures, and there's a lot of pressure on them to finish the film ... to make sure their major movie studio survives.
Three months of sharing space with just the cast and crew is already daunting enough when the stars first sign on for the film, considering the many complicated relationships that have developed between the actors after a decade of working with each other. However, their time together keeps getting prolonged as they face one setback and stoppage after another, and eventually, the tension bubbles to the point of bursting.
Audiences are bound to notice a lot of similarities between the awkward situations that happen to the characters and what most people in real life have been through over the last two years. Plus, the storyline is reminiscent of some of the more notoriously troubled film productions that started shooting amid the pandemic. But there are also some smaller details that you might've missed in "The Bubble," so here's a closer look. Beware that there are many spoilers about the movie below!
Lauren's hobby reflects reality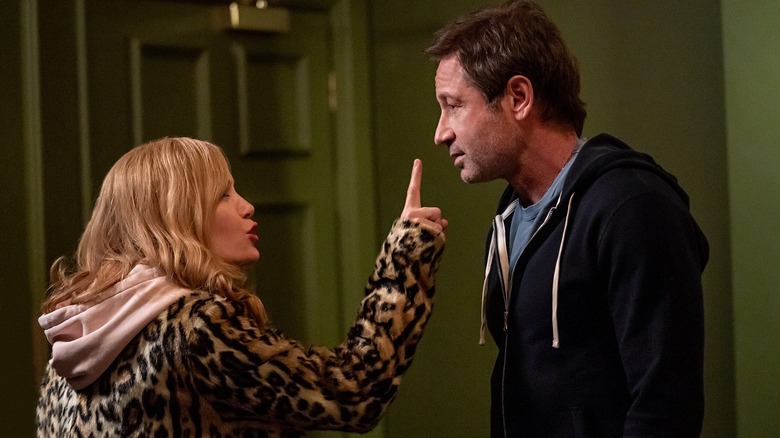 Laura Radford/Netflix
There's no doubt that "The Bubble" is a family affair. Not only do the characters have to embrace their meaningful bonds and come together as a film family to escape their bizarre little prison, but there are a lot of real-life familial bonds at play in the film as well.
For starters, the pic is directed by Judd Apatow and stars both his wife, Leslie Mann, and their daughter, Iris Apatow. And while Mann and Iris Apatow don't play mother and daughter in the pic, their characters do reflect reality in a couple of meaningful ways.
Mann's character, Lauren van Chance, for example, spends her quarantine alone time roller skating around her room and balcony. In real life, Mann is an avid roller-skater and has shared some of her fun adventures on wheels on social media. She and her daughter, Maude Apatow, even went viral for their video of the duo enjoying the outdoor activity. Meanwhile, just as Apatow's Kristal Kris is a major star on TikTok, the actress also has quite a few followers to boast about on her feed. Plus, Iris Apatow is actually really longtime friends with Galen Hopper, who portrays the mystery mole Carla, who pretends to be Kristal's bestie in "The Bubble."
Dieter's accent changes (a lot)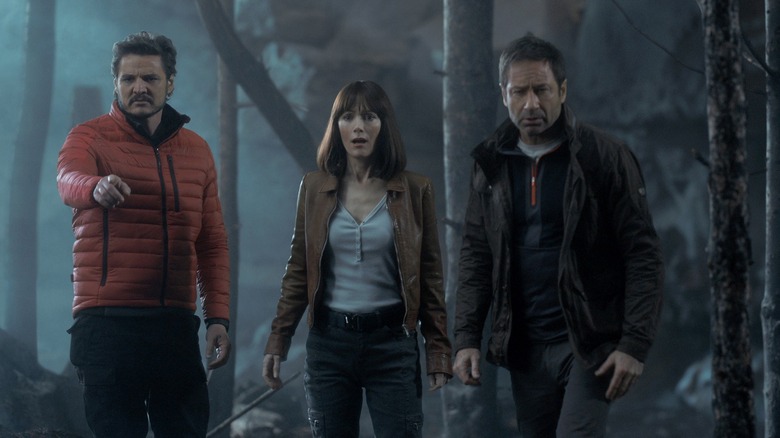 Laura Radford/Netflix
Most of the stars of the doomed franchise film "Cliff Beasts 6" have been a part of the series since the very first installment, but Dieter Bravo (Pedro Pascal) is a newcomer to the series. His character, Gio Ricci, is ostensibly joining the cliff beasts-hunting team to ensure that the group respects the creatures they're sent to deal with, but his good intentions give way to something a bit more wicked by the end of the story.
Gio ultimately becomes a bit of a mustache-twirling villain — consider his caricaturish reaction to seeing the rest of the crew dancing with a baby dinosaur — but he's also quite funny, perhaps unintentionally so. If you listen closely to Dieter's line delivery throughout the ill-fated production of "Cliff Beasts 6," the character's accent changes dramatically between different European affectations, giving his more impassioned speeches a tongue-in-cheek flair. Though it's hinted that Dieter has earned an Oscar for his stunning work in the film "Hunger Strike," you don't have to look — or listen — far to discover that he's actually a pretty terrible actor ... and he can't figure out where his own character is from. No wonder his co-star calls him a hack!
There are tons of celebrity cameos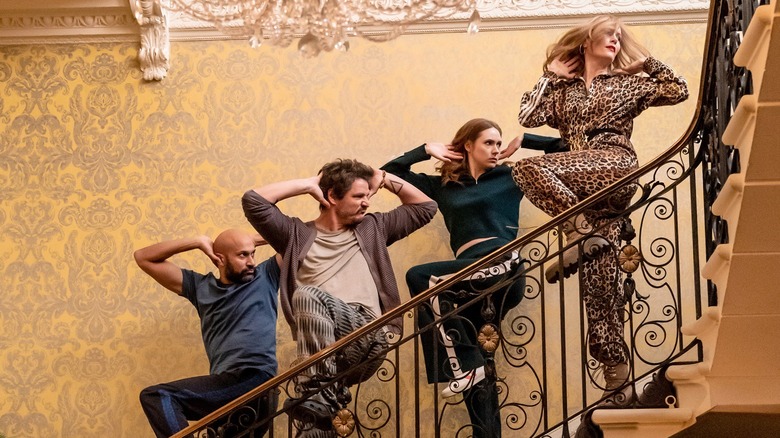 Laura Radford/Netflix
The cast of "The Bubble" is already stacked with A-listers, but there are still plenty of Hollywood favorites who show up for some amazing little cameos. John Lithgow, for example, video conferences into the action as studio chairman Tom, who demands everyone else keep working while he isolates in Fiji. (Lithgow previously appeared in Judd Apatow's "This is 40.")
Also appearing on video in the film is John Cena, who stars as the movie's stunt coordinator, Steve, who has to train the cast to do their moves through a screen, and not surprisingly, the results are calamitous. (Cena previously appeared as Steven in Apatow's "Trainwreck.") Meanwhile, the characters and audiences alike are treated to a quarantine party performance by Beck.
And in what's arguably the most hilarious cameo, James McAvoy appears in the film as himself — or, at least, a nosier and much more awkward version of himself. When Carol Cobb (Karen Gillan) tries to make her escape from the set near the end of the film, McAvoy springs into action to take her down because he finds her running to be suspicious. This gives way to a hilariously self-deprecating exchange about McAvoy's career being defined by his portrayal of Dr. Charles Xavier in the "X-Men" prequel films. (Gillan and McAvoy previously worked together on Broadway.)
The pop culture references are everywhere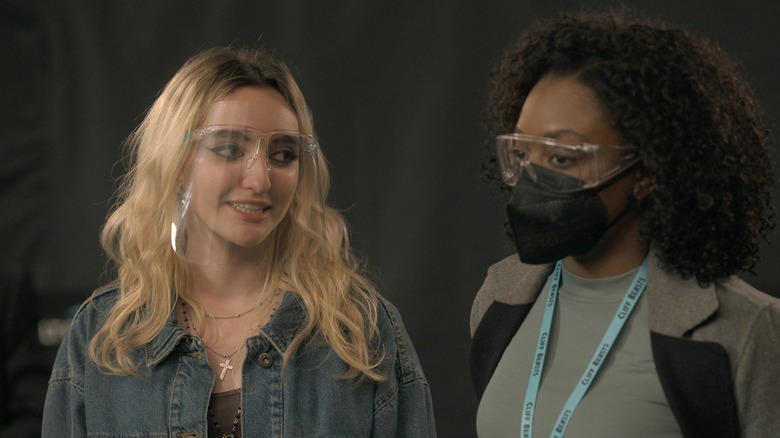 Laura Radford/Netflix
Professor X isn't the only pop culture reference to be found in "The Bubble." In fact, the film is chock-full of fun anecdotes about some of Hollywood's most memorable movies and more. Carol, for example, gets an emotional charge out of watching films like "Love, Actually" and "Taken" during her 14-day isolation period. And Kristal is apparently a superfan of "Harry Potter," one who likes to lip sync to its magical scenes in her TikTok videos. Somehow, she's never watched "E.T. the Extra Terrestrial," but she is seasoned enough to know who Timothy Olyphant is — even if her mom can't quite pronounce his name correctly. 
Speaking of namechecks, some of the other celebrities who get mentioned in passing throughout the pic include Minnie Driver, the whole cast of "Friends," Eddie Vedder, and Mark Ruffalo, to name a few. And in one of the most tongue-in-cheek jokes about others on the A-list, when Howie (Guz Khan) decides to quit the production of the pic, he explains that his character can easily be recast because there have been a slew of Batman actors to come and go, including "that skinny b*****d from 'Twilight.'"
Don't miss the clever homages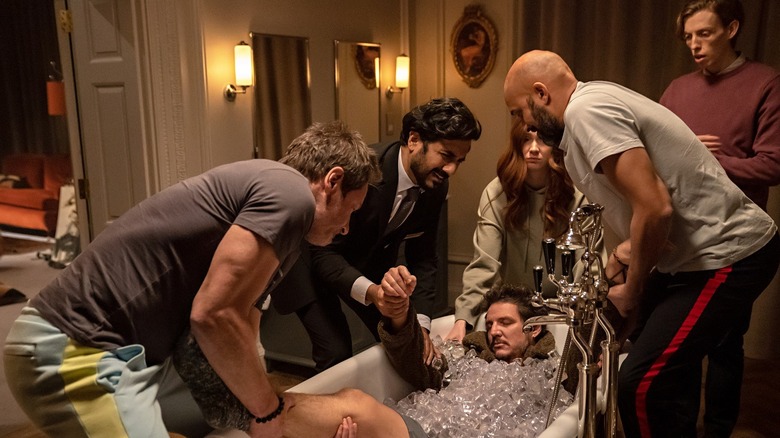 Laura Radford/Netflix
In addition to all the cameos and direct callouts, "The Bubble" includes some more subtle tributes to Hollywood sprinkled into the movie mix. For example, when Lauren trains for "Cliff Beasts 6," she has to learn to interact with a giant bird, and between her costuming and the size of this winged creature, it looks like an outtake from "The Crows Have Eyes 3: The Crowening," another faux film that came into play on "Schitt's Creek."
Meanwhile, check out the rug in the lobby of the hotel, and you might notice that it looks an awful lot like the iconic pattern from the Overlook in "The Shining." Perhaps if the cast had noticed this little detail, they'd know their stay at the place was gonna be less than ideal. Meanwhile, the epinephrine needle-to-the-chest scene is directly reminiscent of one of the most infamous film scenes of all time in "Pulp Fiction." And last but not least, when Dieter gets torn apart and thrown around by a pair of flying dinos in the final moments of the film, it looks an awful lot like what happened to poor Richard Schiff when a couple of T-rexes got ahold of him in an unforgettable scene from "The Lost World: Jurassic Park."