Famous Actors You Forgot Showed Up On Freaks And Geeks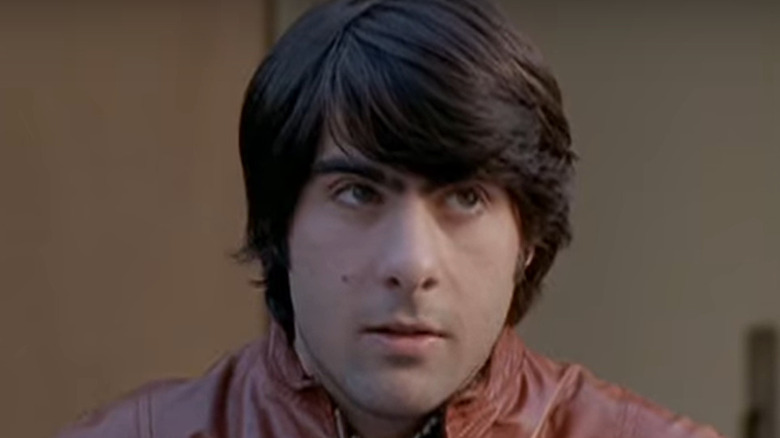 DreamWorks
In 1999, a new dramedy series premiered on NBC. By the following fall, it was canceled after just 18 episodes, but despite its short lifespan, "Freaks and Geeks" was the start of something very special. The show marked a turning point in the career of its creator, Paul Feig, and a major moment for its executive producer, Judd Apatow, to say nothing of the actors it helped to launch into stardom.
As an ensemble piece about the lives of teenagers attending William McKinley High School in 1980, "Freaks and Geeks" introduced viewers to young actors who would soon become some of the biggest stars of their generation, including Seth Rogen, James Franco, Jason Segel, Linda Cardellini, Busy Philipps, and Martin Starr. But aside from its standout lead cast, the show also retained a solid roster of recurring characters. And when you get down to the guest stars, the bench is even deeper, with so many famous and soon-to-be-famous faces that you probably didn't even realize were on the show. So, let's take a look back. Here are 11 actors you may have forgotten showed up on "Freaks and Geeks."
Leslie Mann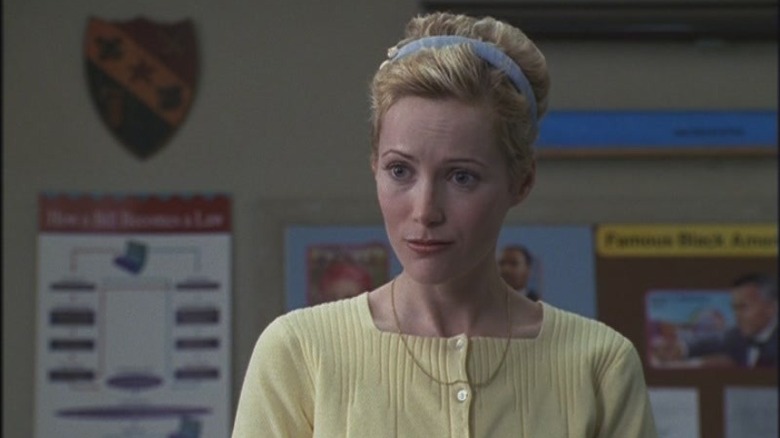 DreamWorks
Leslie Mann spent the mid-to-late-1990s building a career as a movie star, with roles in films like "The Cable Guy," "George of the Jungle," and "Big Daddy." During that same period, she also married Judd Apatow, who was the executive producer on "Freaks and Geeks." So, it's no surprise that she eventually showed up on the show.
In the episode "Chokin' and Tokin'," Mann appears as Miss Foote, the social studies teacher at William McKinley High School, whose scenes largely revolve around interactions with Bill Haverchuck (Martin Starr). Bill thinks of Miss Foote as his favorite teacher, and seems willing to confide in her about many things, including his allergy to peanuts. When Miss Foote makes a good-natured joke about Bill's allergies, he worries that she's perpetuating his status as a geek, which leaves Miss Foote to reassure one of her best students about his bright future. It's a sweet moment in a show that was great at balancing the hilarious with the heartwarming.
Jason Schwartzman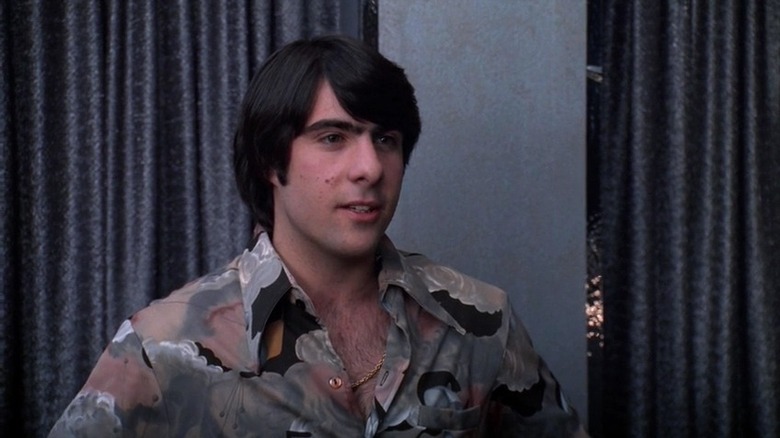 DreamWorks
Though he was not yet the major comedy star he would later become in projects like "Bored to Death" and "Scott Pilgrim vs. The World," Jason Schwartzman already had one major credit by the time "Freaks and Geeks" came around. Two years before the show debuted, he starred in "Rushmore," Wes Anderson's film about the battle between a student and a wealthy businessman over a woman they both love.
Though the film cemented his place in pop culture and pointed to future stardom, Schwartzman only made a brief appearance in "Freaks and Geeks." In the episode "Carded and Discarded," he plays Howie Gelfand, a department store employee who sells fake IDs to high school kids on the side. The freaks, hoping to get IDs to go to a concert, hit up Howie for help. In between leering at Lindsay (Linda Cardellini) and trying to sell them shirts, he agrees to make their IDs. Of course, they all end up unhappy with his service, and Howie is forced to refund their money after Nick (Jason Segel) threatens to beat him up. Even on his way out the door, though, he's still thinking about making a sale.
Shia LaBeouf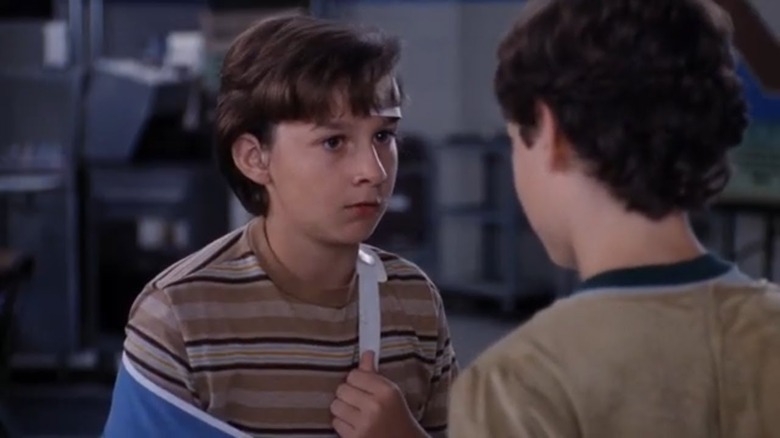 DreamWorks
In the years before he starred in the "Transformers" films, and even before his hit Disney Channel series "Even Stevens," Shia LaBeouf began his rise in Hollywood through guest spots on various TV shows. In between his very first acting jobs in the late 1990s and his Disney career, he turns up on "Freaks and Geeks."
In the episode "We've Got Spirit," LaBeouf plays Herbert, the William McKinley High School mascot ... or at least, the former mascot. At the beginning of the episode, Herbert falls off a cheerleader during a stunt and breaks his arm, leaving the school without a mascot for their big game against Lincoln High. Herbert's absence and the desperate search for a new mascot allow Sam (John Francis Daley) to step up and temporarily take his place. Of course, as usual, Sam is just trying to impress Cindy (Natasha Melnick), and things end up getting uncomfortable, but that's to be expected — it is "Freaks and Geeks," after all.
Rashida Jones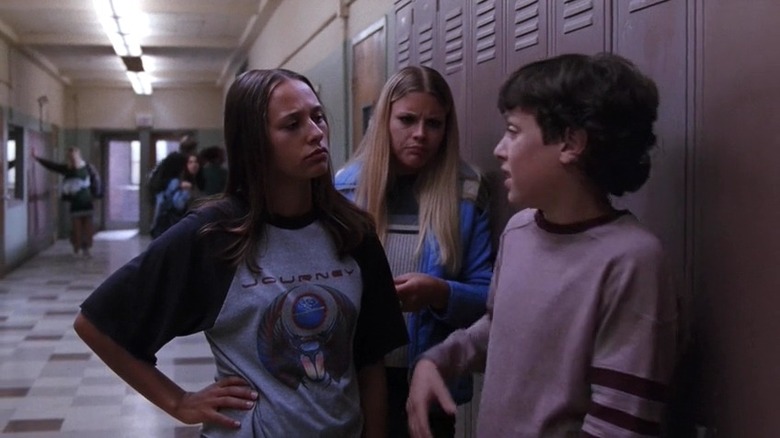 DreamWorks
Back in the late 1990s and early 2000s, Rashida Jones was just beginning to build a list of acting credits, and had yet to achieve the success she would later find in shows like "Parks and Recreation." Thanks to her rising star status, though, she did wind up on "Freaks and Geeks" for one very memorable episode.
In the episode "Kim Kelly Is My Friend," Jones appears as Karen Scarfolli, a character who had been previously featured in the pilot episode with a different actress in the role. Karen is a former Freak who has fallen out of favor with the group, particularly with Kim (Busy Philipps), who hates Karen because of her attempts to steal Kim's boyfriend, Daniel (James Franco). Karen makes a mark on the episode quite literally, when she writes the word "geek" on Sam's locker. Later, though, she draws Kim's ire once again, as it's clear she's made further attempts to steal Daniel. The bullying subplot, combined with Lindsay's glimpse of Kim's abusive home life, makes for a powerful episode that examines the ways in which kids can be cruel to each other as a way to mask their own pain.
David Krumholtz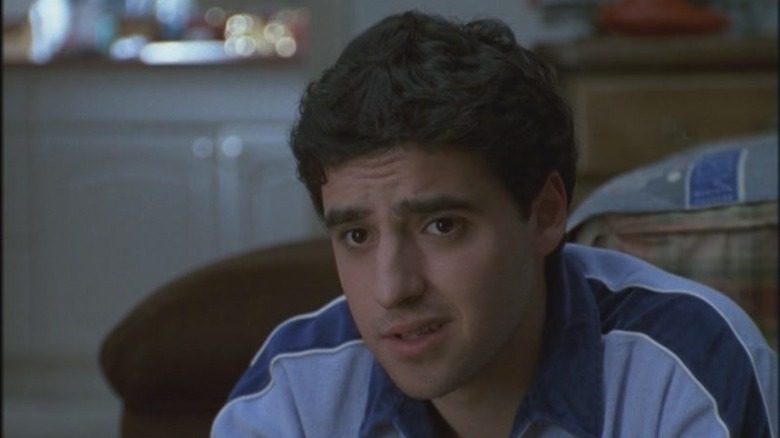 DreamWorks
David Krumholtz was a well-established character actor by the time "Freaks and Geeks" came along, having appeared in "The Santa Clause" and "Chicago Sons." His role on "Freaks and Geeks" was a relatively small one, but his experience allowed him to convey the emotion necessary for a memorable guest performance.
In the episode "Noshing and Moshing," Krumholtz plays Barry Schweiber, the older brother of geek Neal Schweiber (Samm Levine). He makes his triumphant return from college in the episode and creates quite a stir along the way.
Like his younger brother, Barry was a geek in high school. Now that he's a little older and wiser, though, he knows how to handle himself. He helps protect his brother from bullies, gets along with adults at a party, and even makes a move on Lindsay Weir, who's more attracted to him now that he's morphed into an approximation of a confident older man. The crux of the episode, though, arrives when Barry must explain to Neal that he knows about their father's affair, leading to a warm moment between the brothers that gives the episode its emotional high note.
Matt Czuchry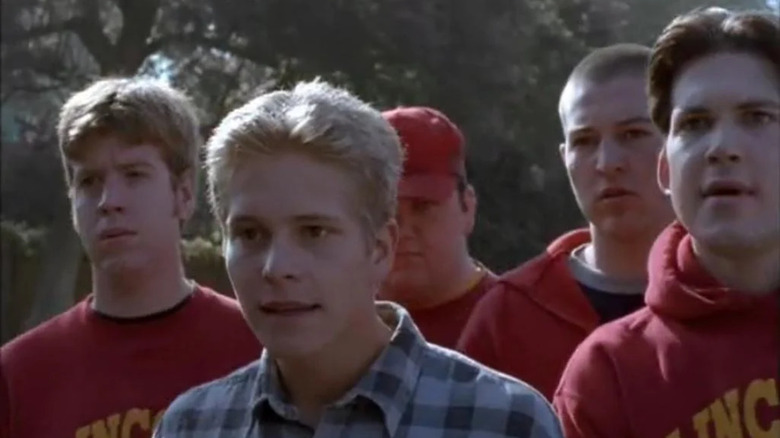 DreamWorks
Some of the most memorable "Freaks and Geeks" guest stars were established actors whose stars were still rising, while others only turned out to be significant in hindsight because their careers took off afterward. In the case of Matt Czuchry, whose later work would include "Gilmore Girls" and "The Good Wife," "Freaks and Geeks" marked his very first TV role.
In the episode "We've Got Spirit," Czuchry appears as an unnamed teenager from Lincoln, William McKinley's rival high school, on the eve of a major basketball showdown between the two schools. While the geeks are occupied with Sam's new mascot gig, the freaks are more interested in taking Lincoln down in other ways, and it culminates with Daniel, Kim, and Ken (Seth Rogen) trying to tag a Lincoln student's car without being noticed. Of course, the car's owner (Czuchry) does end up noticing, and he faces down Ken and Daniel with a veritable army of beefy friends. It doesn't end well, especially for Daniel, and the performance would definitely get Czuchry noticed.
Steve Higgins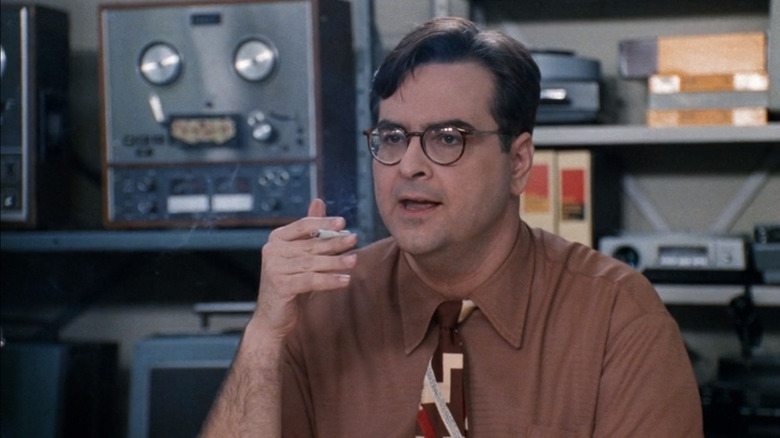 DreamWorks
Several comedy icons made their way onto "Freaks and Geeks" over the course of its short run, but not all of them work primarily as actors these days. Some of the most famous faces to grace the show are actually better known for their work behind the camera.
Steve Higgins is one of the most influential and beloved writers in TV sketch and variety shows, with a resume that includes work as a head writer on "The Jon Stewart Show" in Stewart's early days as a host, and more than two decades of contributing to "Saturday Night Live." In recent years he's been on camera quite a bit on "The Tonight Show," playing sidekick to host Jimmy Fallon, but you might also remember him as Mr. Fleck, the Audio/Visual Club teacher from "Freaks and Geeks" in the episode "Discos and Dragons." Though his time on the series is brief, he makes an impression on the geeks as he breaks down the "graph" of their lives in comparison to the lives of the jocks, assuring them that things will get better as they get older.
David Koechner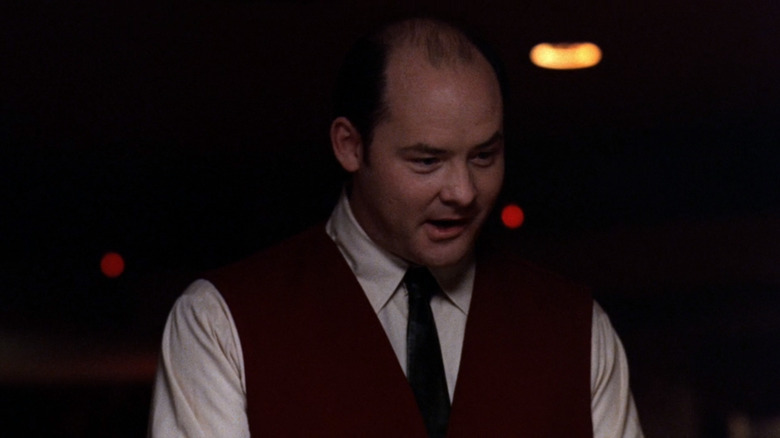 DreamWorks
These days, David Koechner is known as a comedy scene-stealer, thanks to roles in "Anchorman: The Legend of Ron Burgundy" and "The Office." Back in the year 2000, he was still building his resume as a rising comedy star, but he was already able to make a major mark on a scene, proven by his memorable role in one episode of "Freaks and Geeks."
In the episode "Carded and Discarded," while the freaks are out trying to get fake IDs, the geeks have seized the opportunity to befriend an attractive new female student, in the hopes of getting her to like them before another clique steals her away. As part of this effort, they decide to take her to the Iron Horse, a restaurant where they plan to milk the all-you-can-eat deal for all it's worth. As the geeks explain their plan to prolong the meal, Koechner arrives as a snarky waiter who mocks them and responds in kind to their sarcastic remarks. It's a very brief appearance, but it's a memorable one in a long line of adults talking down to the geeks on the show.
Paul Feig
DreamWorks
Paul Feig is best known to modern audiences as a writer and director who's helmed some of the most successful comedies of the last 15 years, including "Bridesmaids," "Spy," "Ghostbusters," and "The Heat." Back in 2000, he was an actor who'd worked his way behind the camera after starring in the "Dirty Dancing" TV series and the Disney comedy "Heavyweights."
"Freaks and Geeks" marked Feig's breakthrough moment as a writer and director. He created the show, helmed some of its most memorable episodes, and in the process built a rapport with actors and fellow creators he'd continue to work with for years. Despite his acting background, though, Feig didn't cast himself in a major role in the show. Instead, he took the cameo route, appearing in a single scene in the episode 'I'm With The Band." The episode follows Nick as he attempts to join a new band after Lindsay assures him that he's too good to be playing drums with Daniel and Ken. So he auditions for a group that features Feig as Alex, the bass player. Over the course of one awkward audition scene, it becomes clear that Nick isn't actually as good as Lindsay hoped he was.
Alexandra Breckenridge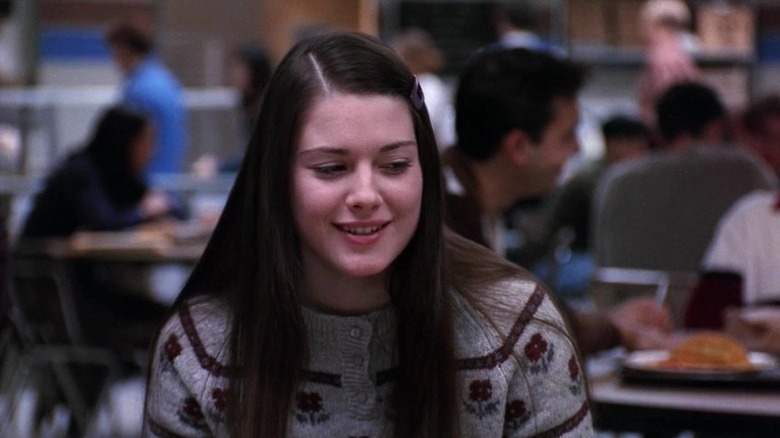 DreamWorks
Every high school has those moments of drama that seem to come out of nowhere, when someone you barely know makes an appearance in your life and creates issues where none existed before. Long before her success in projects like "American Horror Story" and "Virgin River," Alexandra Breckenridge was that someone on "Freaks and Geeks."
In the episode "Looks and Books," Breckenridge plays Shelly Weaver, the apparent leader of the Mathletes at William McKinley High School. The larger arc of the episode focuses on Lindsay realizing she might not want to hang out with the freaks anymore. So, she falls back on her old standby of the Mathletes, where it dawns on Shelly that she could be a threat. As Lindsay begins competing again, the Mathletes realize that she's good enough to bump another member of the team out of their top spot, which upsets Shelly and the general balance of power in the club. It's a wonderful little bit of high school drama that everyone can relate to, and Breckenridge plays it very well.
Ben Stiller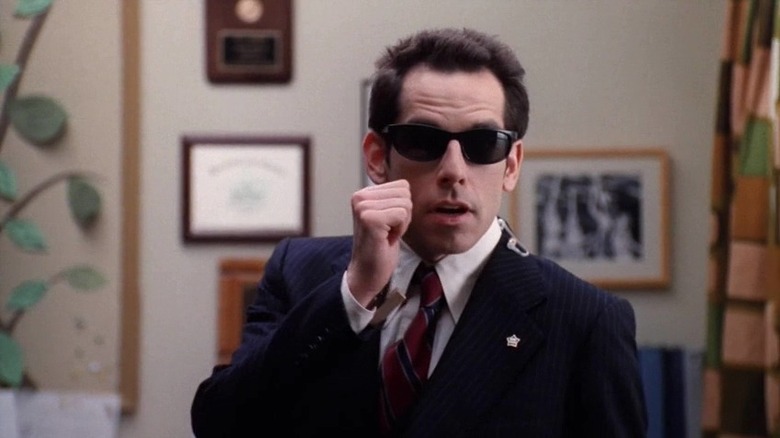 DreamWorks
Ben Stiller was already a major star by the time "Freaks and Geeks" came out, with his own sketch comedy series and starring roles in films like "Reality Bites," "Heavyweights" and "The Cable Guy." He was also already in the midst of a major collaborative partnership with Judd Apatow, who co-created "The Ben Stiller Show" and produced "The Cable Guy," among other Stiller projects. So, it makes sense that he would lend just a little bit of his star power to "Freaks and Geeks."
Stiller appears in the episode "The Little Things" as Agent Meara, a Secret Service Agent assigned to protect then-Vice President George H.W. Bush during a visit to William McKinley High School. The main thrust of this plot point revolves around Lindsay getting the chance to ask the Vice President a question, only to have Agent Meara steal the spotlight when he decides to investigate Mr. Rosso (Dave Allen) as a security risk. It all culminates in a visit to Rosso's office, where Agent Meara lays out his true feelings about being on the Vice President's security detail. It's a memorable performance from Stiller, and it would have been fun to see him find a way to return if "Freaks and Geeks" had managed to stay on the air.