The Scene In Disney's Tarzan That Went Too Far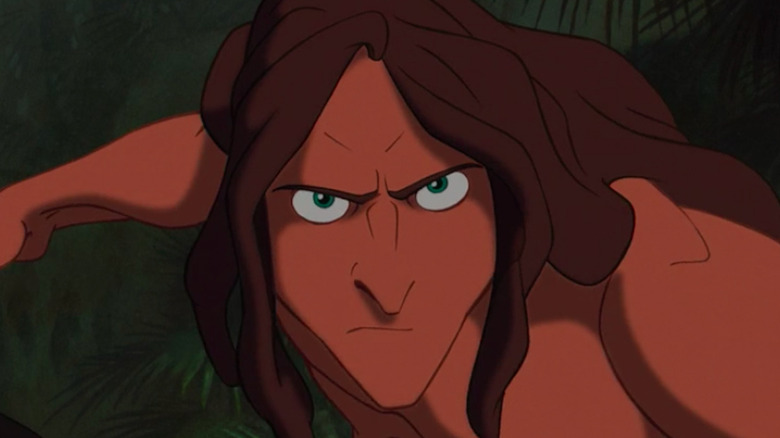 Walt Disney Studios Motion Pictures
Adapted from a book series by Edgar Rice Burroughs, the Disney film "Tarzan" debuted in 1999 to largely positive reviews (via Rotten Tomatoes). Praised for its innovative animation, which incorporated an engineering tool known as Deep Canvas, the film offers up lush junglescapes that merge eye-catching set design with thoughtful storytelling (via EW). By the end of its run, the Disney blockbuster had grossed $448 million worldwide (via Decider). 
"Tarzan" follows the titular character as he grows up in the jungle — raised by gorillas — and then eventually crosses paths with a group of British travelers. As Tarzan (Tony Goldwyn) learns of their human customs, he finds himself drawn to Jane (Minnie Driver), the daughter of Professor Archimedes Porter (Nigel Hawthorne). Along the way, Tarzan's gorilla family, including his adoptive mother, Kala (Glenn Close), faces threats from Clayton (Brian Blessed), a hunter guiding Jane and her father on their travels.
Since its release, some critics have lauded the film for its exploration of the ways in which fear of the other can lead to reckless violence. As Roger Ebert noted in his review, "The most durable movie character in history emerges this time as a man who asks the question, 'Why are you threatened by anyone different than you?'" When asked about the potential for "dark, horrific imagery" in Disney films, the animation director Kevin Lima explained, "We really keep an eye on that, but we feel that the stories we tell have to have some sense of tragedy" (via Las Vegas Sun). When it comes to "Tarzan," however, some viewers consider one scene a step too far.
Clayton dies a violent, terrifying death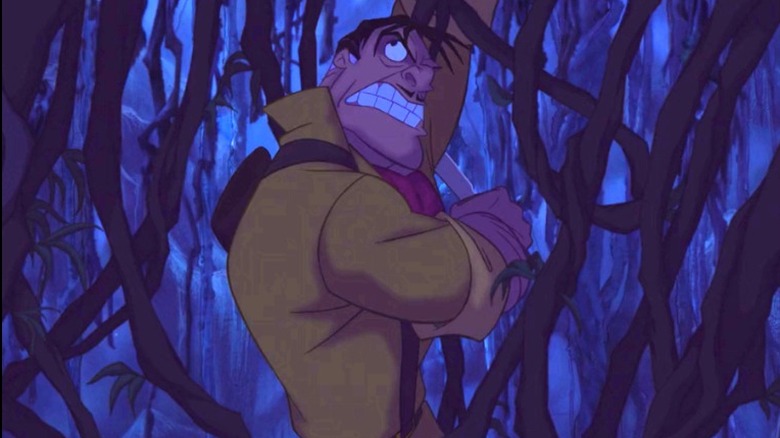 Walt Disney Studios Motion Pictures
By the end of the film, Tarzan and Clayton engage in a vicious confrontation as the protagonist fights to protect his gorilla family from the nefarious intentions of the hunter, who murders the gorilla patriarch, Kerchak (Lance Henriksen). During their skirmish, Clayton falls and becomes entrapped in a tangle of tree vines. In an attempt to free himself with a knife, Clayton inadvertently creates a noose, hanging himself. Shockingly, the shadow of his swinging body is shown onscreen.
On Reddit, u/JMueller2012 posted, "Clayton's death in Tarzan (1999) has to be Disney's most brutal death scene to date." Other users jumped in to agree, citing the shot as an unexpectedly "haunting" choice in the animated film. U/Acrimonia shared, "It was years until I saw the silhouette. The first time I saw it I got chills up my spine." A deleted user added, "I think Tarzan is seen as more gruesome because you see it happen ... [Y]ou see everything unfold and the sudden end of the [villain's] life, of course you don't see the neck snapping, but you do see the body sway against the flash of lightning."
As these viewers note, the death scene, while slightly obscured in the distance, arguably goes a step too far largely because of its graphic nature — especially in a film made for young children. In this way, the animated classic joins the slate of Disney movies that have historically integrated bleak and frightening deaths into their storytelling (via Watch Mojo).