The 13 Best TV Series Adapted From Comic Books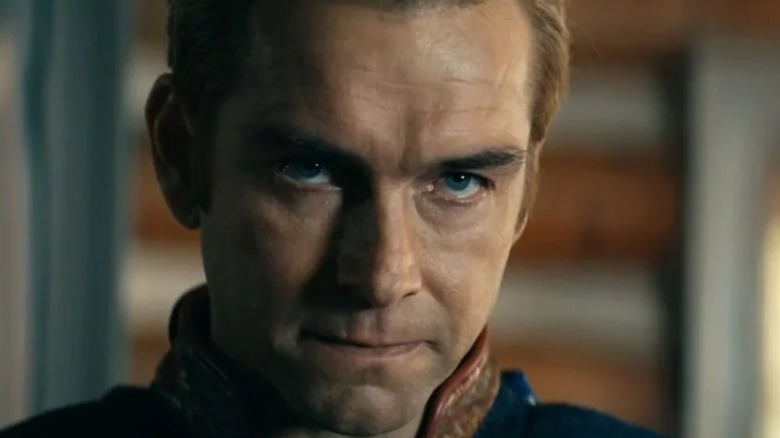 Amazon Studios
Once, comic books were dismissed by much of the population as juvenile or campy. In that bygone era, comics catered mostly to imaginative youths who sought a bit of escapism. The colorful panels and splashy action gripped readers' minds like other fictional works never could. Comic books are a medium where the talent of visual artists and authors intersect, and for a time, that magical team-up was truly only appreciated by a small group of fans.
These days, comic books often tell uniquely dark and mysterious tales that sometimes might be too graphic for younger audiences. Readers who once embarked on comic book adventures as youngsters continue to do so today without fear of judgment, thanks to the medium's popularity. Meanwhile, film producers, writers, directors, actors, and Hollywood at large are looking to comic books for the next big cinematic or live-action adventure. 
Not only do those filmmakers find completed storylines, but comics also come with built-in references for how the characters should look and act. Comics are just as smart, funny, and captivating as ever, and most have mastered the art of engaging readers issue after issue. So, it really isn't hard to wonder why there have been so many great TV series over the years that are directly adapted from comic books. Let's review some of the best TV series adapted from comic books.
Chilling Adventures of Sabrina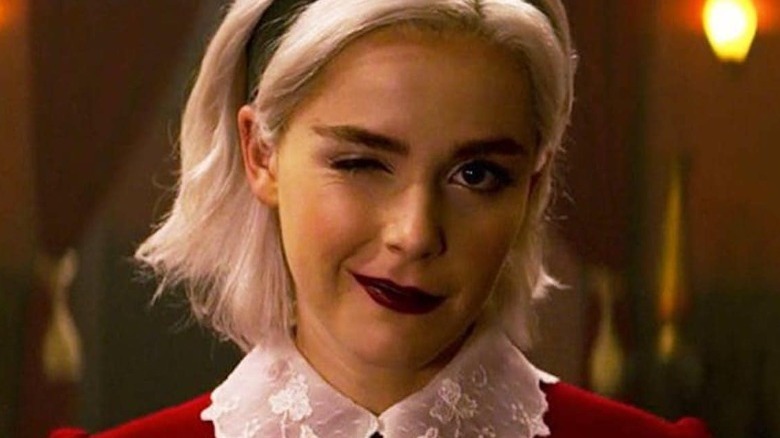 Netflix
Every '90s kid was likely familiar with Melissa Joan Hart's take on the plucky teenage witch Sabrina thanks to the ABC series "Sabrina, the Teenage Witch." However, not everyone realizes that this sitcom was an adaptation of the comic book series of the same name. The character of Sabrina Spellman was first introduced in a 1962 issue of "Archie's Madhouse." Readers followed the story of a witch coming of age while being raised by her two aunts, Hilda and Zelda Spellman.
In the world of comic books, Sabrina took a much darker turn with the advent of the series "Chilling Adventures of Sabrina." Satanic and occult practices alongside graphic violence and monstrosities were depicted in this series that began in 2014. In 2018 a Netflix-produced series emerged with the same name. This series introduced an edgier live-action take on the character than fans of the classic sitcom could've ever dreamed of. 
Kiernan Shipka leads the series as the titular character destined to undergo a dark baptism on her 16th birthday. During that ceremony, she must pledge complete fealty to Satan and sign the Book of the Beast. However, Sabrina refuses her destiny in favor of being an average teenager amongst her human friends — which ultimately brings turmoil upon her and her family. It's a darkly sinister tale with horror underpinnings that make the series a binge-worthy watch.
The Umbrella Academy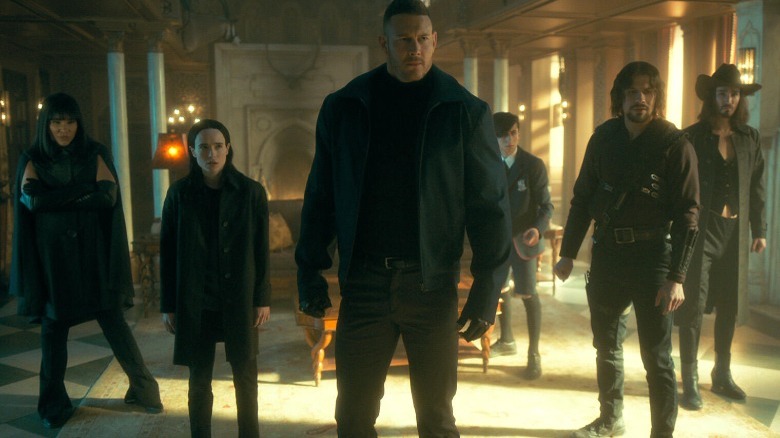 Netflix
Imagine a world where 43 women give birth at precisely the exact same moment, without any previous indications that they were pregnant, and the children all have supernatural abilities. Seven of those children are adopted by a billionaire who sets them on the path to becoming a superhero team. Welcome to the weird, wonderful world of "The Umbrella Academy" on Netflix. The show is based on multiple limited comic series under "The Umbrella Academy" banner, which kicked off in 2007 and with "The Umbrella Academy: Apocalypse Suite."
The series brings together a cast that features Elliot Page, Tom Hopper, David Castañeda, Emmy Raver-Lampman, Robert Sheehan, Aidan Gallagher, and Justin H. Min as the seven adopted children with special abilities. Their adoptive father, billionaire Sir Reginald Hargreeves (Colm Feore), addresses the children by number designations one through seven. However, a robot constructed by Reginald, Grace (Jordan Claire Robbins), gives them actual names. 
The siblings come together in the present day for Reginald's funeral. They begin to learn about each other's adult lives and become involved with a prophetic warning of apocalypse from their sibling that can travel to the future, Five Hargreeves (Aidan Gallagher). The series ignores many of the superhero tropes prevalent in the genre and instead crafts a strange and mysterious tale full of intrigue and delight.
The End of the F***ing World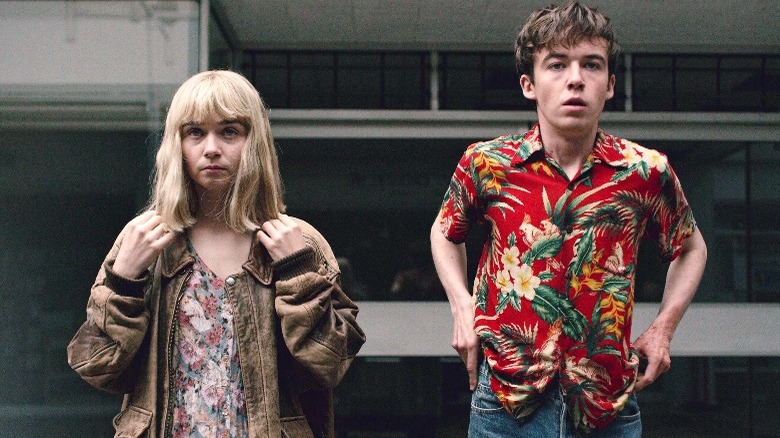 Netflix
"The End of the F***ing World" offers cheeky quips and dark humor. Based on the Charles Forsman comics of the same (but uncensored) name, the series tells the story of James, a teen who is convinced that he's a high-functioning psychopath. He recognizes that he feels very little emotionally. Murder is on his brain constantly as he ends the lives of countless animals and contemplates killing his sassy classmate, Alyssa. Quickly, however, Alyssa becomes attached to James and attempts to connect with the disturbed boy while asking him to run away with her. He goes along with the plan as a charade to get closer to, and eventually murder, her while out on the lam.
While exploring their newfound freedom, the pair encounters a series of events that ultimately bring them closer. Like other prominent series starring high-functioning psychopathic lead characters, such as "You" or "Dexter," there's an element of misanthropy that plays out to a darkly comedic effect.
Lucifer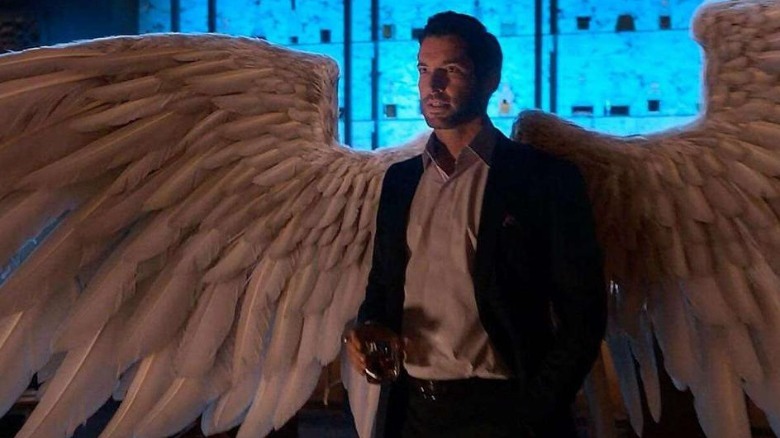 Netflix
Lucifer is granted something of a humanizing and sympathetic storyline in the "Lucifer" TV series. Taken from the DC comic book characterization of the devil created by Neil Gaiman, Lucifer embarks on an extended stay on Earth to get away from his troubles below. 
As portrayed by Tom Ellis in the Netflix series, Lucifer is suave and full of charisma. He seeks to unshackle the world from its self-righteous inhibitions. He opens a nightclub named Lux, which he runs alongside his demon partner and friend, Mazikeen (Lesley-Ann Brandt). In an odd turn of events, Lucifer finds himself as a consultant for the LAPD after becoming infatuated with and aiding Detective Chloe Decker (Lauren German) after he realizes that she is resistant to his otherworldly charms and abilities.
"Lucifer" is something of a supernatural crime-procedural set in a world of urban fantasy. Angels and demons regularly mingle, while Lucifer often seems just as naïve as the humans around him. He holds a grudge against "dear old daddy" but only wishes to punish those who are truly deserving. In essence, Lucifer is an anti-hero of sorts. Tom Ellis is magnetic, witty, and charming. As such, Lucifer is easily one of the best character-driven comic book adaptations on Netflix.
Happy!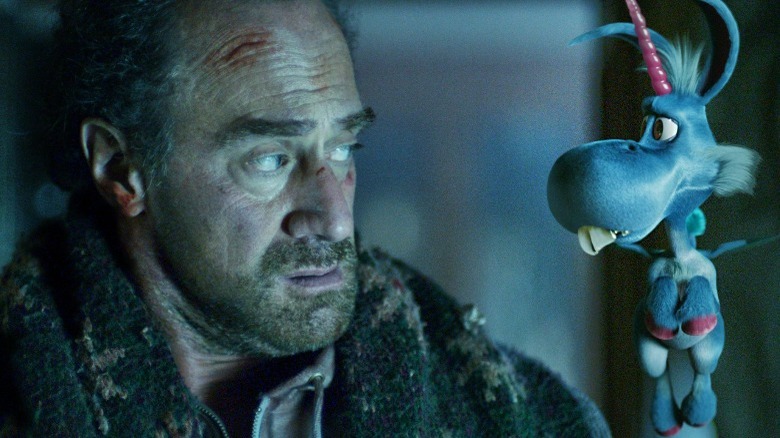 Syfy
Comic books can take us to some weird places, but "Happy!," a comic mini-series written by Grant Morrison, borders on bizarre. "Happy!" was adapted using a mixture of live-action and animation on the Syfy network. The series centers around Nick Sax (Christopher Meloni), a former police detective who now operates as a hitman to fund his binge drinking, among other things. 
One fateful day, Nick goes into cardiac arrest. After recovering, he meets Happy, an imaginary blue unicorn voiced by Patton Oswalt. Happy claims that he is the imaginary friend of a young girl who is in danger, and he needs Nick's help. Nick soon learns that this girl is also his daughter.
The series fits squarely in the black comedy genre. This unlikely buddy-cop duo creates a memorable romp that critics and audiences have enjoyed. Sadly, Deadline reported that low viewership led to the series cancellation after only two seasons. Regardless, it's a unique series worth diving into for those who enjoy this niche genre.
Watchmen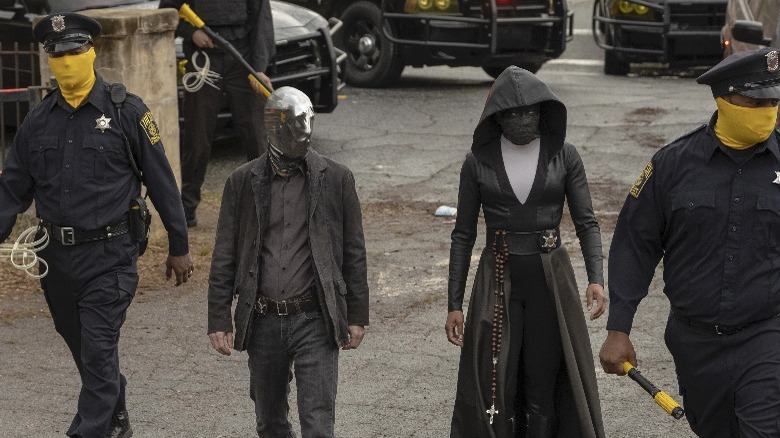 HBO
Writer Alan Moore created one of the most well-regarded Cold War era stories in comic books with "Watchmen." The original graphic novel focuses on an alternate history of the 1980s brought on by the advent of superheroes working for the United States government. 
However, while most of the heroes in this story are simply masked men and women, Dr. Manhattan has incredible powers. His god-like status single-handedly wins the Vietnam War for the United States. Fans of the book know how the story ends, but what became of the world in the decades that followed? HBO's "Watchmen" answers that question. Rorschach's memoir unveiling Adrian Veidt's plot to kill millions in New York to avert nuclear holocaust became a tome for white supremacists to justify their violence towards those they deem unworthy. They wear Rorschach masks and attack the police in an event dubbed the "White Night."
Police officers now wear masks to protect their identity, while some don crime-fighting costumes. The series uncovers the plot behind the hate group while expanding on the lore of the original story and characters. This single-season series delivers a compelling story with a finite conclusion and is a must-see for fans of the original comic.
Resident Alien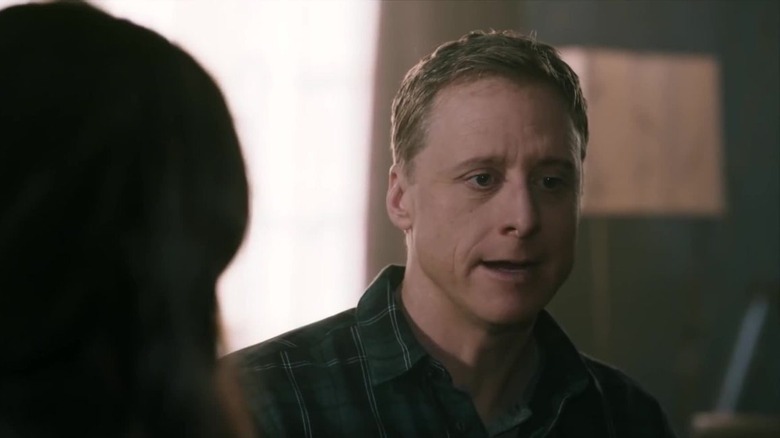 Syfy
Peter Hogan and Steve Parkhouse's comic book "Resident Alien" has been adapted into a sci-fi comedy-drama series on the Syfy network. Alan Tudyk plays an alien who crash-lands on Earth with one mission: to wipe out humanity. He kills physician Dr. Harry Vanderspeigle and takes his identity. 
The fun of this fish out of water story is watching "Harry" learn more about Earth. He maintains his identity as a medical examiner by watching doctors practice medicine on television. Quickly, however, he finds that the Mayor's son can see his true alien identity. At first, Harry plots to kill the boy to keep his identity a secret. Eventually, however, Harry begins feeling a moral struggle with his mission as he intermingles with humankind.
"Resident Alien" offers plenty to love for sci-fi, comedy, and mystery fans. The series recalls the classic fears of UFO invaders from 1950s America and puts a unique spin on the narrative. After all, invading alien beings wouldn't be single-minded conquerers. By the very nature of their advanced status, their intelligence certainly means they could think for themselves -– just like Harry.
The Walking Dead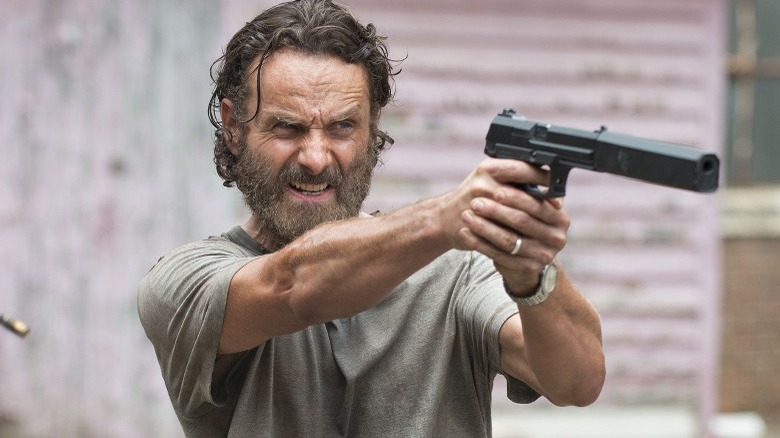 AMC
You'd have to be living under a rock to have never heard of AMC's juggernaut series "The Walking Dead." The series, which began in 2010, is based on the Image comic book series by Robert Kirkman. The show begins with Rick Grimes, a sheriff from the Altlanta region, waking from a coma to find that the entire world has descended into a zombie apocalypse from an unknown virus. He finds his family and embarks on a quest to protect those he cares about. Along the way, countless other characters featured in the comic book make appearances. Some fight for what's good and just, while others are vile and ruthless tyrants only seeking to take what they want in a lawless land.
The series rapidly grew in popularity and has spawned multiple spin-offs. Many actors gained notoriety for their time on the series, including Jon Bernthal. "The Walking Dead" will test your emotions, your stomach sensitivity, and your resolve when character arcs inevitably hit frustrating roadblocks. Regardless, the series is a wild ride.
Kingdom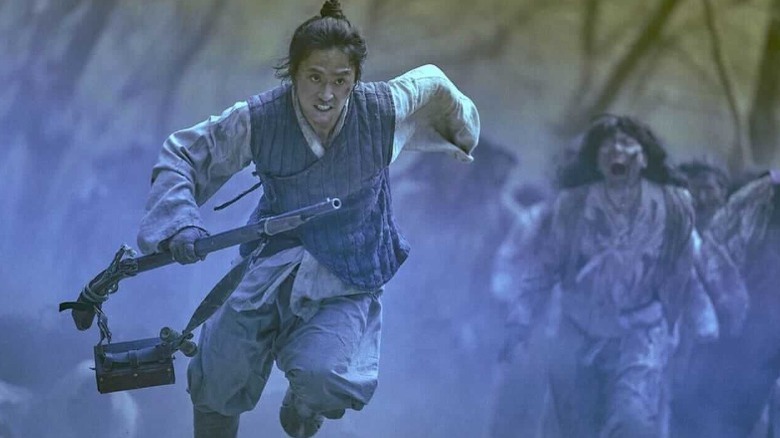 Netflix
While the origins of this series didn't necessarily begin on the tangible pages of a comic book, it was based on a webtoon series much like a comic book entitled "The Kingdom of the Gods" by writer Kim Eun-hee and artist Yang Kyung-il. 
"Kingdom" is a Netflix series that takes place in 16th century Korea. There's a "Game of Thrones" vibe tossed in the mix as the lead character, Lee Chang (Ju Ji-hoon), must defend his kingdom from a spreading illness while protecting the throne of his undead father from political adversaries. While a period piece, the tale is fictional and combines action-thriller elements with horror. Everything becomes a bit surreal when zombies enter the mix. Make no mistake, these zombies are just as horrifying as the ones we've seen in shows like "The Walking Dead."
The King, Lee Chang's father, passes away but is resurrected with a mysterious plant, which leads him to feed on the bodies of the dead. With Queen Consort Cho vying to place her son on the throne, Lee Chang must investigate the strange zombie-like illness plaguing the land and uncover a plot against the kingdom. It's a thrilling blend of genres capable of sinking its hooks into audiences.
Peacemaker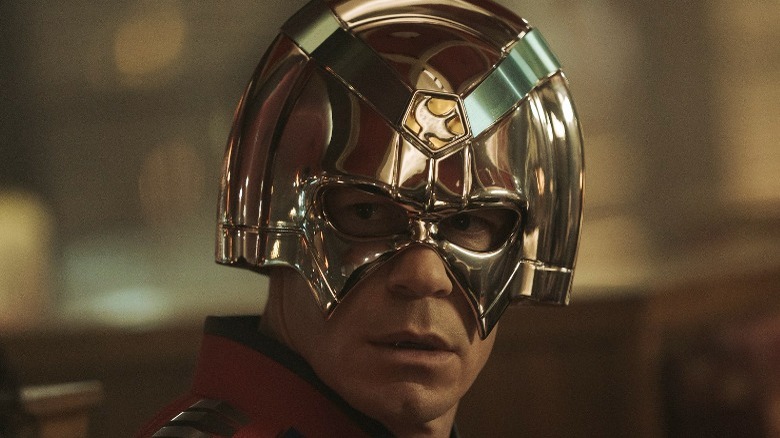 HBO Max
Hot off the heels of James Gunn's "The Suicide Squad," HBO Max offered viewers a chance to enjoy that world a bit longer by following John Cena's Peacemaker on a new journey of self-discovery. Chris Smith, aka Peacemaker, is offered a shot at redemption after his actions on Corto Maltese. He is coerced into joining a black-ops outfit investigating an alien butterfly invasion. The show is hilarious and doesn't shy away from the crude or the crass. Peacemaker and his cohorts often bicker like siblings but eventually form lasting bonds.
As part of the DCEU, the series extends the lore of that film universe by acknowledging events that occurred in the films and referencing DC characters throughout. Any reader of DC comic books will be thrilled with the amount of Easter eggs and details hidden in "Peacemaker" for knowledgeable fans to discover. Ultimately, "Peacemaker" is all about characters first and the epic journey second.
The Punisher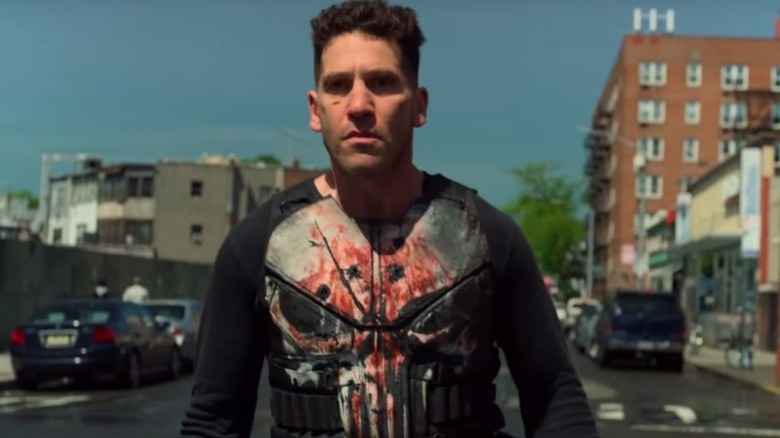 Netflix
We've seen the multiple version of Punisher over the last few decades take out thugs, murderers, and crooks on the streets. First, it was Dolph Lundgren in the role of Frank Castle in 1989's "The Punisher." Both Thomas Jane and Ray Stevenson would wear the iconic skull across their chest in the 2000s. Eventually, Jon Bernthal donned the black duds and white skull as he brought the pain, hurt, and punishment to the deserving in Netflix's series "The Punisher."
First appearing opposite Charlie Cox's Daredevil in "Daredevil" Season 2, Frank Castle is a man on a mission. Frank isn't like other Marvel characters or heroes, however. He doesn't have powers, and he has no problems with shedding blood to get the job done. Known as the Punisher for his reign of terror over the scum on the streets of New York, Frank battles the corrupt while sniffing out domestic terror plots and aiming to thwart them. Bernthal perfectly embodies the idea of righteous fury in his portrayal of the character. "The Punisher" is one of Marvel's best TV series alongside "Daredevil."
The Boys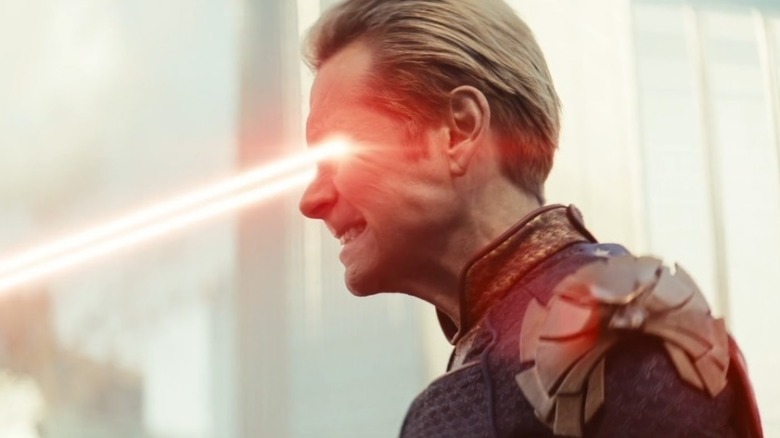 Amazon Studios
Straight from the pages of Garth Ennis and Darick Robertson's graphic novel comes the Amazon-produced series "The Boys." This is a story that turns the superhero narrative on its head. Instead of shining beacons of hope, heroes are commercialized and superficial. Those with powers rarely want to use them to do good. Instead, they prefer using them to take advantage of others. 
While they maintain a squeaky-clean image in the public eye to keep up the façade, most of these "heroes" are some of the vilest and most corrupt individuals in the world. One look at this world's version of Superman and it's easy to see just how unhinged he truly is. Homelander (Antony Starr) leads the series equivalent of the Justice League. However, he murders anyone he wants on the side. His managers are terrified of him, as they know that no one can stop him.
"The Boys," however, is truly about a group of vigilantes seeking to tear down the heroes. They're average humans with a grudge. Their leader, Billy Butcher (Karl Urban), is a former member of the S.A.S. and has killed his fair share of super-powered beings. The timid Hughie Campbell (Jack Quaid) joins the fight after his girlfriend is killed in front of him by a super-powered being simply not watching where he is going. "The Boys" completely unwinds all of the superhero tropes you think you know and presents the terrifying reality that seems more likely if superpowers existed.
Daredevil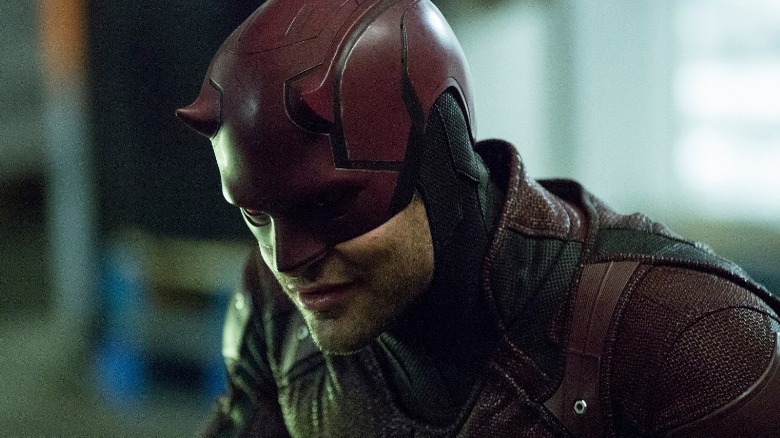 Netflix
Charlie Cox dons the slick red devil suit as the Marvel vigilante hero known as Daredevil. As a boy, Matt Murdock was blinded by a chemical concoction. He eventually becomes a skilled fighter capable of using his keen sense of hearing to bring his own brand of justice to Hell's Kitchen. By day, he is a lawyer who supports the less fortunate folks of New York City. By night, he fights evil with his fists. The Netflix series presents a darker and more visceral take on the character than fans have seen before. Daredevil tangles with the Kingpin (Vincent D'Onofrio). He even rubs shoulders with the Punisher himself, Frank Castle.
Matt aims to balance his professional life with his extracurricular crime-fighting activities. However, keeping his second life a secret proves difficult when those two interests inevitably collide. "Daredevil" is one of the best superhero-based television show comic book fans will find. It's saturated with drama and action while still managing moments of levity from its characters. Furthermore, it distances itself from the larger MCU themes by taking a darker, ground-level approach to its material.