The Cheers Star You Probably Forgot Starred On Sabrina The Teenage Witch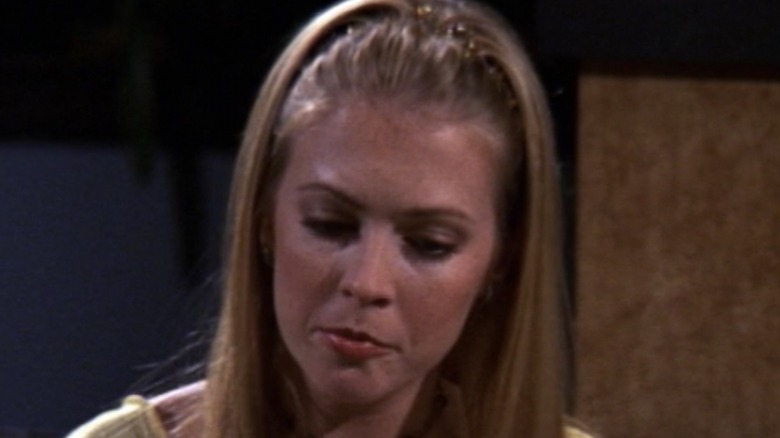 The WB
In the 1980s, "Cheers" was must-see TV — part of the NBC programming block on Thursday nights that included some of the network's biggest hits, including series like "The Cosby Show," "Friends," "Seinfeld," "Family Ties." With its slightly more adult setting — a bar located underneath an upscale restaurant in Boston — and mostly blue-collar characters, the series had more adult themes than some of the other Thursday night staples and thus aired at 9 p.m. ET. 
This show had an outsized influence on the network and future TV. In 2018, Esquire noted that its cinematic style influenced single-camera sitcoms like "The Office," "30 Rock" and Parks and Recreation." "It permeated the culture at large, still hanging over us as an influence on the entertainment we consume and appreciate today," the publication said, pointing out that fans liked that it was a regular haunt, "filled with friends and lovers who are glad to see us, that will always be there waiting for us when we make our return — and yes, where everyone knows your name," as the theme song says. 
Not only that, "Cheers" made major stars out of some of its cast members, including Woody Harrelson ("Venom: Let There Be Carnage," "The Hunger Games,") and Ted Danson ("Becker," "The Good Place"). It boosted the careers of others — think Kelsey Grammer, who later starred in another must-see TV show called "Frasier," plus Rhea Perlman as barmaid Carla, John Ratzenberger as mailman Cliff, and George Wendt as Norm. 
One of these actors would also go on to play a recurring role in "Sabrina the Teenage Witch."
George Wendt played Norm, who had a witty quip whenever he stepped into the bar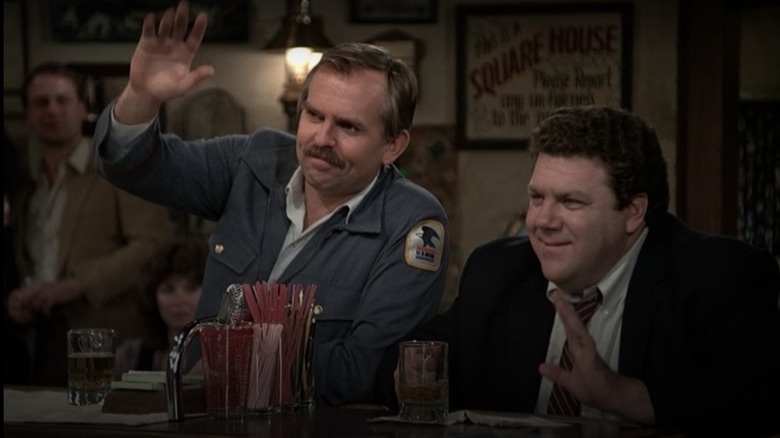 NBC
On "Cheers," the first word that bar regular Hilary Norman "Norm" Peterson utters in the original pilot is "Beer." His agent presented the role to him as just a one-line job, Wendt said on the podcast "Speak L.A.": Diane's (Shelley Long) first customer as a tag at the end of the first episode. "My role was a guy who looked like he wanted to have a beer," Wendt said (11:45 mark).
But Norm ended up playing a much larger role in the pilot that aired on television. The character, played by George Wendt, became a regular on the 1982-1993 NBC series and was known not just for always sitting at the corner of the bar, but for his "Normisms" — like when his response to ""How's the world treating you?" was, "Like a baby treats a diaper," which makes it no wonder that, as Entertainment Weekly reported, the writers felt Norm's entrances were the hardest to write. And of course, there was the fact that every time he stepped into the place, everyone called out his name.
Wendt became one of the few actors to appear on all 270 episodes of the show: Perlman and Danson were the others. Today, despite a long career that has included everything from his own short-lived TV show "The George Wendt Show" in 1995 to "Saturday Night Live" and Broadway tours, he's still best known as the loyal barfly. However, he's had plenty of guest-starring roles in high-profile TV shows, including one opposite Melissa Joan Hart in the aforementioned "Sabrina the Teenage Witch."
On Sabrina, the Teenage Witch, Wendt played an award-winning journalist named Mike Shelby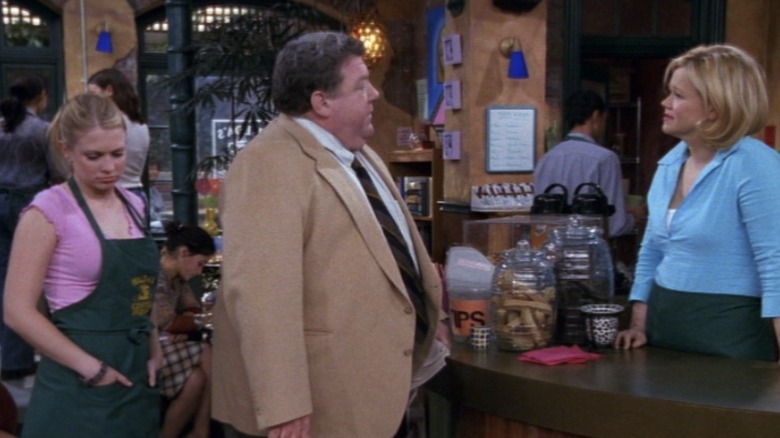 NBC
In "Sabrina the Teenage Witch," Wendt actually returned to the setting of Boston — only instead of hanging out in his local bar, he spent all his time at the offices of the local newspaper, the Boston Citizen. He plays amiable Mike Shelby, editor and two-time Pulitzer Prize winner, who appears in the show's sixth season when Sabrina's (Melissa Joan Hart) boyfriend Josh (David Lascher) gets hired as a city desk photographer. This brings Shelby in contact with Sabrina, who is a big fan. 
Ultimately, Wendt appears in six episodes, starting with the episode "What's News" and ending with "I, Busybody," in which he becomes a victim of Sabrina's need to butt into everyone's business. And when he steps into Hilda's Coffee Shop, naturally everyone yells out, "Mike!" — just as they did for a certain barfly back at Cheers. 
"Sabrina" was quite the stop for celebrity guest stars: it also featured appearances by Barbara Eden, Penn and Teller, Debbie Harry, RuPaul, Usher, and many more, including Wendt's fellow "Cheers" stars Ratzenberger and Shelley Long (both in the show's 2nd season). "Everybody wanted to be on the show, either because it was a hit or because their kids loved it," Hart told E! News. "Having those guests on felt more like my peers. I'd see them out at awards shows and go to events with them and see them in passing a lot more, but it was the legends that really struck me, like 'Wow, look who I get to work with.'"