I Am Groot - What We Know So Far
Arguably one of the boldest and most successful gambits in the history of the Marvel Cinematic Universe was the decision to hand the "Guardians of the Galaxy" franchise over to James Gunn. Despite his status as a relatively lesser-known filmmaker among mainstream audiences at the time the first film in the MCU franchise debuted in 2014, Gunn's hyper-specific visual and writing styles made an instant impression on audiences. This led to previously unknown characters in this world, including Star-Lord (Chris Pratt), Gamora (Zoe Saldaña), and Drax the Destroyer (Dave Bautista), going from deep cut comics heroes to household names, all thanks to one movie's blockbuster debut. Gunn's cosmic team of Marvel misfits has only gone on to increased success thanks to "Guardians of the Galaxy Vol 2.," as well as Star-Lord and Co.'s involvement in "Avengers: Infinity War" and "Avengers: Endgame."
Through it all, one standout member in this lovable alien ensemble is Groot, voiced by Vin Diesel. The anthropomorphic tree has undergone numerous changes, both in his appearance and his personality, during his time in the MCU thus far. After appearing as an adult in the first "Guardians" movie, he was quite literally cut down to size and, since the end of the first movie, has gone from sapling to tree-shaped young adult. 
Soon, Groot will experience one of his most significant changes yet by stepping away from his dynamic crew and taking center stage in a television spin-off of his very own. With that in mind, let's take a look at every major detail that we currently know about the upcoming release of "I Am Groot."
I Am Groot will be a series of animated shorts on Disney+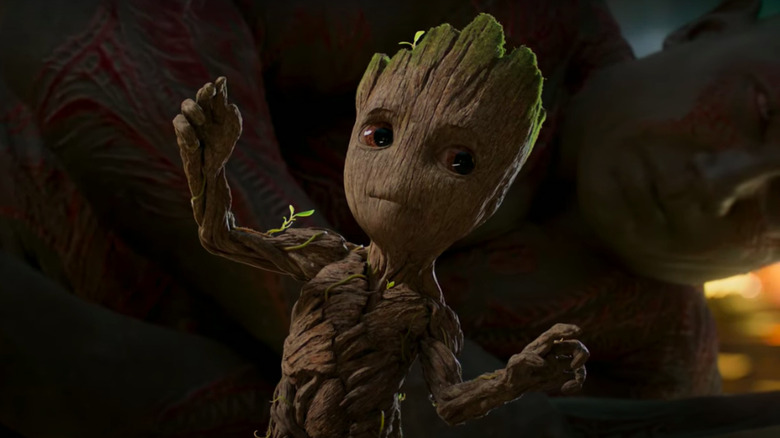 Walt Disney Studios Motion Pictures/Marvel Studios
Marvel Studios is gearing up to bring fans much more Groot-specific content. In fact, the MCU will soon see the debut of "I Am Groot," an animated series comprised of short films following young Groot, who was last seen in "Guardians of the Galaxy Vol. 2." The series was first announced by Marvel Studios during Disney Investor Day 2020. The studio revealed in a tweet that "[e]veryone's favorite little tree, Baby Groot, will star in a series of shorts on Disney+ featuring several new and unusual characters." Per a December 2021 /Film update, "I Am Groot" is helmed by animation veteran Kirsten Lepore, who previously directed an episode of "Adventure Time" (via IMDb). Finally, longtime Groot voice actor Vin Diesel will reprise his role as the feisty sapling.
Specific plot details for "I Am Groot" remain unclear at this time. The official Marvel page for the series is sparse, with no details aside from some key art and confirmation of Groot's presence in the series. Unfortunately, some footage from "I Am Groot" was shown during Disney's annual shareholders' meeting in March 2022 (via ComicBook), but it did not make its way to the public. However, the general premise of "I Am Groot" seems to be similar to the Disney+ shorts series "Dug Days" and "Forky Asks a Question."
As for a release date, audiences won't have to wait much longer for "I Am Groot" to debut on Disney+. In December 2021, producer James Gunn confirmed on Twitter that fans could expect to see "I Am Groot" sometime in 2022. The exact premiere date remains unclear at the time of writing, but, barring any unforeseen delays, there is less than a year until the series of MCU shorts debuts.