Battle Chasers - What We Know So Far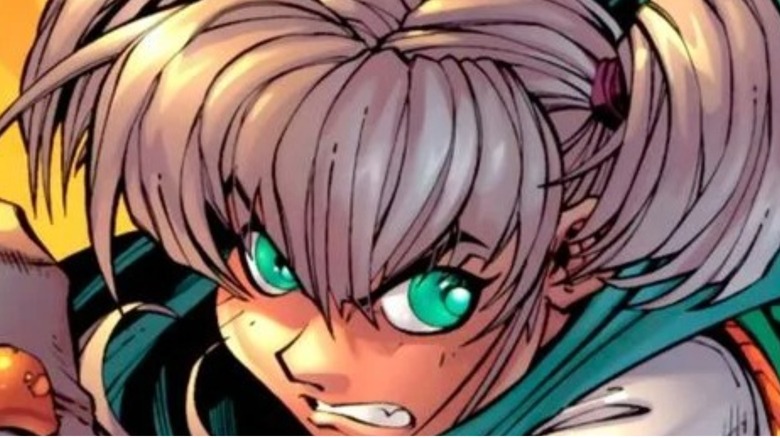 Image Comics
Comic book fans are familiar with the harsh wounds caused by a beloved series being canceled or discontinued too soon. But for the longest time, the early history of the late '90s fantasy series "Battle Chasers" probably produced the most painful scars for many. Created by artist Joe Madureira in 1998, the series focuses on an unlikely team-up of a young girl, a forlorn swordsman, a golem, and a tricky wizard adventuring in what could be described as a fascinating arcane-punk world. Between Madureira's stellar art and intriguing story, "Battle Chasers" had the makings to set itself apart as a great standout, especially compared to the other traditional comic book superhero tales at the time. Yet, the comic series only produced nine issues before ending abruptly in 2001 with a cliffhanger. Madureira stepped away from comics to pursue a career in the video game industry (via Bleeding Cool).
Fortunately, that's not where the life of "Battle Chasers" ends, as the series has experienced a resurgence in recent years. In 2017, "Battle Chasers" returned in RPG form with the game "Battle Chasers: Nightwar." And after a 20-year hiatus, Madureira announced that the original comic book is returning with a story that continues from where Issue 9 left off (via IGN). As if that wasn't enough good news for longtime fans of the series, it's also been announced that "Battle Chasers" is getting a live-action TV series. 
Here's what we know far about the upcoming small-screen adaptation of "Battle Chasers."
The creator of John Wick is attached to write the series
Per Deadline, a live-action series based on "Battle Chasers" is coming thanks to Alcon Television Group, which bought the TV rights from Madureira. In addition, while there isn't word yet about the official cast, the series does already have a writer attached to it. Deadline also reported that "John Wick" creator Derek Kolstad will serve as the show's writer. He'll also serve as an executive producer along with Alcon Entertainment's Broderick Johnson and Andrew Kosove, and Alcon Television Group's Ben Roberts. Given Kolstad's successful track record with "John Wick' and the Bob Odenkirk-led "Nobody," having him as the series' writer is a good sign that the comic's intense action scenes are going to translate well to the small screen.
There's no synopsis for the official plot, but it's likely the TV series will pull heavily from its comic book origins. Per IGN, in the comics, the story revolves around a group of heroes, including 10-year-old Gully, who is searching for her father and is aided with some magical gloves. She teams with a 500-year-old wizard named Knolan, his war golem Calibretto, bounty hunter Red Monika, and the widowed swordsman Garrison. With Madureira giving positive updates on his Twitter on both Issues 10 and 11 of the comic series, the TV show could have a lot of source material to use by the time it reaches production.