Gary Oldman And Jack Lowden Discuss Their New Series Slow Horses - Exclusive Interview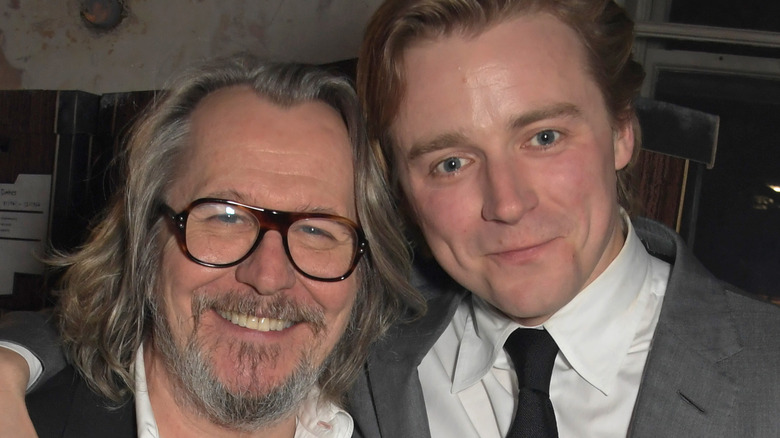 David M. Benett/Getty Images
Academy Award winner Gary Oldman is in an elite group of Hollywood actors that can lay claim to living legend status — an actor so skilled and versatile, he elevates everything he's in, from "Bram Stoker's Dracula" to the "Dark Knight" trilogy. He's done screen, he's done stage, and he's even voiced video games, but there's been one medium that has eluded the English actor throughout his 40-year career: television.
Aside from a few one-offs here and there prior to 2002, including a two-episode stint on "Friends," Oldman has never starred on a TV series — until now. Yes, 2022 marks the year that the "Harry Potter" alum made the leap to the small screen with the quick-witted spy drama "Slow Horses," which premieres its first two episodes today (April 1) on Apple TV+.
Based on the books by Mick Herron, "Slow Horses" stars Oldman as cranky boss Jackson Lamb who oversees a far-flung department of Britain's MI5 domestic counter-intelligence and security agency where misfit agents are sent in exile to primarily push papers. One of those outsiders inhabiting the division known as Slough House, whose workers are referred to as "slow horses," is River Cartwright, played by Jack Lowden ("Dunkirk," "Fighting With My Family").
During an exclusive interview with Looper, Oldman and Lowden discussed their new series, with Oldman revealing in the process why he thought it was time to try his hand at television.
Oldman had 'a lot of fun' playing such a cantankerous character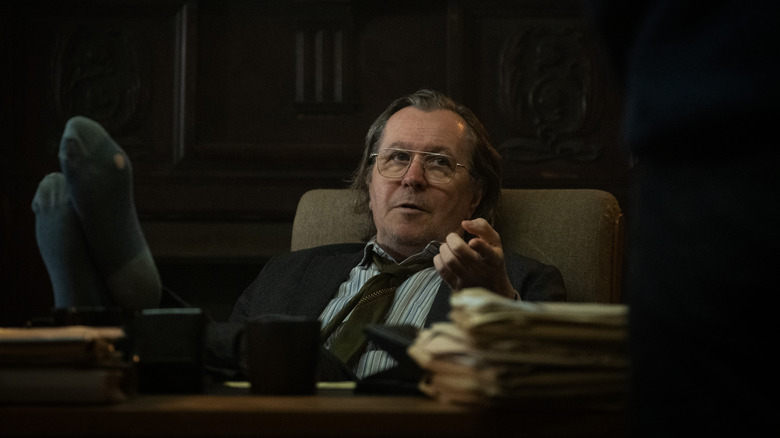 Apple TV+
Let me start with you, Gary. Jackson Lamb is a little bit different of a character than we're used to seeing you play — kind of a disheveled curmudgeon. What was appealing to you about stepping into his shoes?
Gary Oldman: The series is based on these books by Mick Herron, and I felt that not only the world but the creation of Lamb was fantastic. It's really like nothing I'd ever read, and I thought, "Well, I don't know if I really like the character," but I thought I would like playing him. I'd have a lot of fun with him.
It's fully formed. It's all realized. It's all really there on the page, and I had to come in basically and physicalize him and give him a voice. I thought it was a fantastic creation, and I love long-form TV. I love watching series. I love watching television and was hoping to maybe find something to have a go at long-form. This came in and it seemed like the perfect [fit]. It all came together. It had the perfect chemistry.
How did filming the first season of "Slow Horses" compare to working on past films of yours, particularly the blockbuster "Harry Potter" and "Dark Knight" franchises? Did it change anything about your acting method?
Oldman: Not really. You move a little faster with TV, and we do most of it in block shooting, which means that you've got to know the whole thing coming in. You pretty much have to have the six episodes in your head, which is, initially, a little daunting because you may have more to do in one episode than another. When you see it, when you get an overview of it, you think, "Wow, that's a lot to retain," but in terms of approaching it, there's very little difference between this and rehearsing or shooting a movie.
Jack Lowden connects the dots between Slow Horses and The Office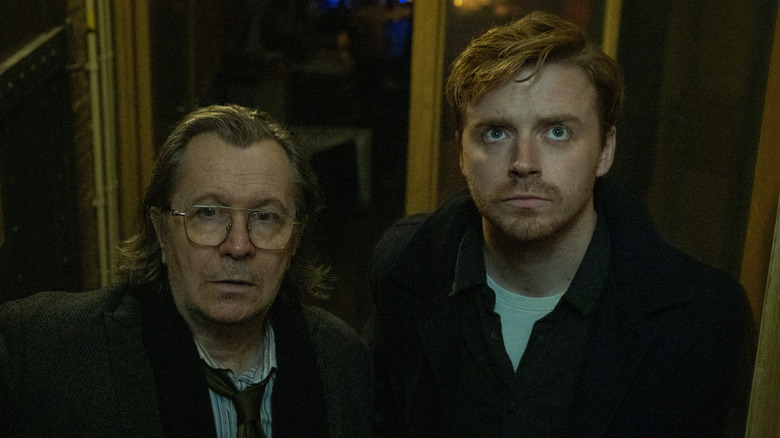 Apple TV+
Jack, "Slow Horses" depicts a department called Slough House, which shares the name of the setting of the original BBC version of "The Office." What is it about the name "Slough" that makes it the perfect description for the place where your character ends up? Do you approach it as a workplace drama?
Jack Lowden: That's so true. I never realized that. I'm a massive "Office" fan, and that's exactly right. It's set in Slough — and I don't want to ever speak against Slough but, you know the way that Ricky Gervais as David Brent in "The Office" rates Slough ... It's considered a very gray place. It was one of the new towns that sprung up just outside London, but the reason that Slough House is called "Slough House" is because it's ... so far out of the service, it may as well be in Slough. It is the perfect name for it because of the perception of Slough, which David Brent certainly gave the world ... I don't want to speak too down on Slough.
Oldman: But it is an office drama...
Lowden: It is, and there's a brilliant David Brent song [named "Slough"] where he says it has "Europe's biggest trading estate." That's a lyric in one of his songs, and I think that perfectly sums it up. It's the perfect name for it.
The first two episodes of "Slow Horses" are now streaming on Apple TV+. New episodes will be available every Friday thereafter.