The Real Reason Cato Left Iron Resurrection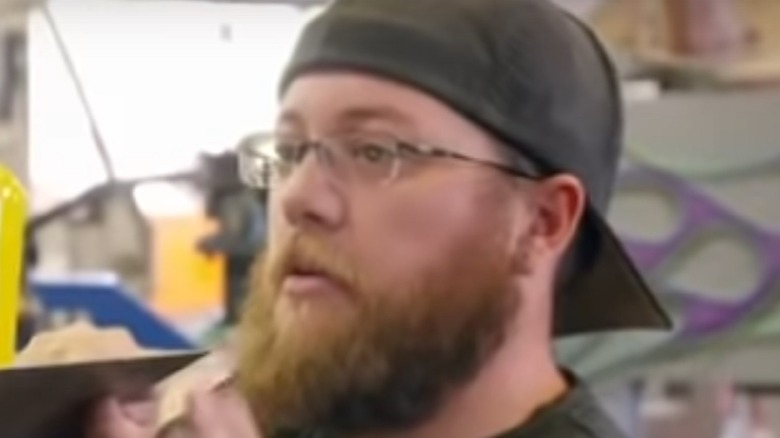 Discovery/YouTube
"Iron Resurrection" is a reality TV show that's been airing on Discovery since 2016. It's a motorhead's dream: Husband and wife team Joe and Amanda Martin scour the Dallas countryside for used, dilapidated vehicles in need of a good refurbishing. Their marketing guy, Jayson "Shag" Arrington, does the wheeling and dealing (pun intended), and then he brings the bikes and cars back to the garage for the ultimate automotive makeover. They get glowed up and restored, dazzling viewers who tune in to see the amazing transformations in each episode.
Unfortunately, the resurrection crew has seen some fan favorites quietly leave the series in recent years. The show itself is still going strong, but popular crew members Javier "Shorty" Ponce and Phil Cato haven't been around for a while now. We already know what happened to Shorty, but what about Cato? Where is he, why did he leave such a good gig, and most importantly, how is he doing these days? There's some good news for fans who are wondering what he's been up to.
He moved to Atlanta to support his wife's career
The fact that two of the show's colorful characters slipped away without much fanfare had fans asking a lot of questions. To address the issue, "Iron Resurrection" posted an official response to commenters asking about their absence on a Facebook post in February 2020 — with good news. Both Jayson Arrington and Phil Cato had stepped away from the production to take care of their families, with Cato packing up his business and relocating to Atlanta, Georgia, in order to support his wife in her career change. The move meant that he was no longer available for filming the Texas-based reality TV show.
Cato also posted his own explanation video on his personal blog, PhilCato.com, right around the time of the Facebook response. In it, he issues a sincere thanks to his fans for the concern and the subsequent well-wishes he and his family had received — a flood of support that continues in the comments under his video, largely expressing understanding for his decision. Cato ends his video by reiterating how important the move was for him and his family, assuring viewers that the transition had gone smoothly, and he hints that his followers should keep their eyes on his social media accounts for exciting projects coming up in the future. Based on his Instagram, he's continuing to work his automotive magic in Georgia, though only time will tell if he'll ever return to the world of reality TV.