John Cena And Kevin Hart Rumored For Knight Rider Reboot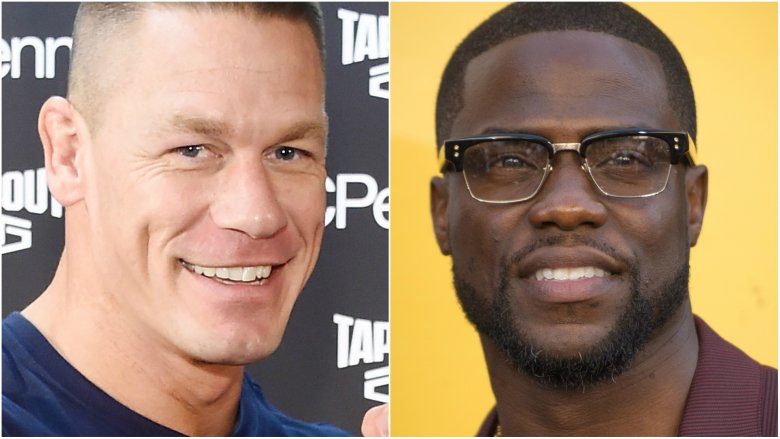 Getty Images
If you built a robotic car, would you give it the voice of Kevin Hart?
File this under the category of "definitely just a rumor at the moment," but according to ScreenRant, the Weinstein Company is looking at John Cena and Kevin Hart for an upcoming Knight Rider reboot. The new movie would reportedly be a comedy in the vein of the 21 Jump Street reboot starring Channing Tatum and Jonah Hill. 
If this turns out to be true, Cena would star as the lead, originally played by David Hasselhoff in the TV series that ran from 1982 to 1986. Hart would voice KITT, his car with artificial intelligence.
Of course, Hasselhoff might not be a fan of this direction. He pitched directors Robert Rodriguez and James Gunn on a dark and mature reboot in line with Logan and also told The Hollywood Reporter that if a movie gets made, he specifically doesn't want it to be like 21 Jump Street. "I don't want it to be spoofed like Baywatch or 21 Jump Street," Hasselhoff said. "Those films lose what it's about, and you have to respect the fans."
NBC made a new version of the series in 2008 with Val Kilmer as the voice of KITT, but the show only lasted one season. Last year, it was reported that Fast and the Furious director Justin Lin would produce a Knight Rider digital reboot series for Machinima.
Again, nothing has been confirmed by the Weinstein Company and neither Cena nor Hart are officially on board. They're just reportedly being considered. 
Meanwhile, check out some reboots that actually worked in a big way.