The Worst Criminal Minds Season 5 Episode According To IMDb
Although "Criminal Minds" ended in February 2020 after 15 seasons, the police procedural drama remains popular among fans of the genre. The wait for the highly-anticipated Paramount+ revival series continues, so many have been rewatching the original series.
Season 5 of "Criminal Minds" continues to follow the criminal profilers of the FBI's Behavioral Analysis Unit as they use psychology to track down murder suspects. Additionally, this season spends more time exploring the personal lives of the BAU agents and how their work impacts their day-to-day lives. It also saw one cast member's real-life injury incorporated to propel the storylines forward.
Because of this more personal approach, the season tends to rank in the middle of the pack as far as fan-favorite seasons. On IMDb, thousands of fans have rated each episode of Season 5, and the results for best and worst episodes are surprisingly close.
Here are the lowest-rated episodes of Season 5, according to IMDb.
Two episodes are tied for the lowest rating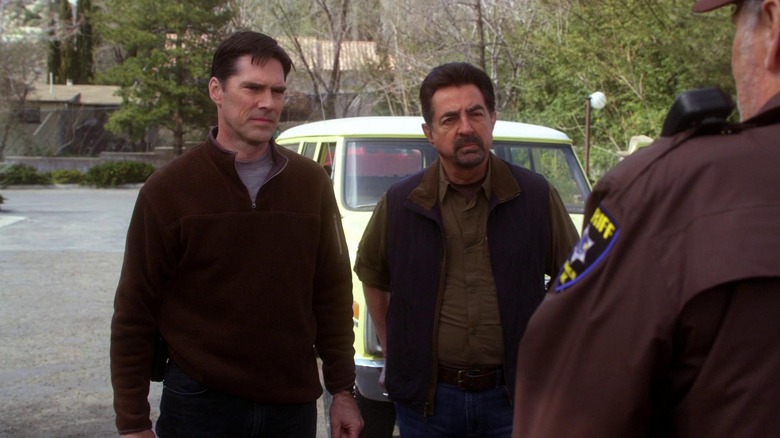 CBS
With 6.9 out of 10 ratings, "Reckoner" and "Exit Wounds" are tied as the lowest-rated episodes of Season 5 of "Criminal Minds." Each episode received roughly 2,290 ratings, and their final scores are hardly indicative of being disliked by fans. The remaining 21 episodes in Season 5 are rated between 7 and 9 stars, so all things considered, it's a fairly solid season (via IMDb).
Episode 3, "Reckoner," follows the BAU's investigation into a hitman targeting people from Senior Agent David Rossi's (Joe Mantegna) hometown. TheLittleSongbird rated the episode 7/10 stars and said that it needed more suspense. "'Reckoner' is decent and does a lot right, but just lacks the extra something for it to be even better," they wrote.
"Exit Wounds," Episode 21, follows the team to a small town in Alaska where they must race to catch a serial killer before the residents beat them to it. Similarly, fans weren't offended by this episode, but they weren't blown away by it, either. In their 7/10 star review, mounabenjazia97 explained that it was "an 'okay episode' because it was one of those 'average' ones."
While not every episode of "Criminal Minds" is beloved by fans, these Season 5 entries are hardly the worst despite their lower ratings.