The Oscar-Winning Thriller You Likely Forgot Featured Chicago Fire's Taylor Kinney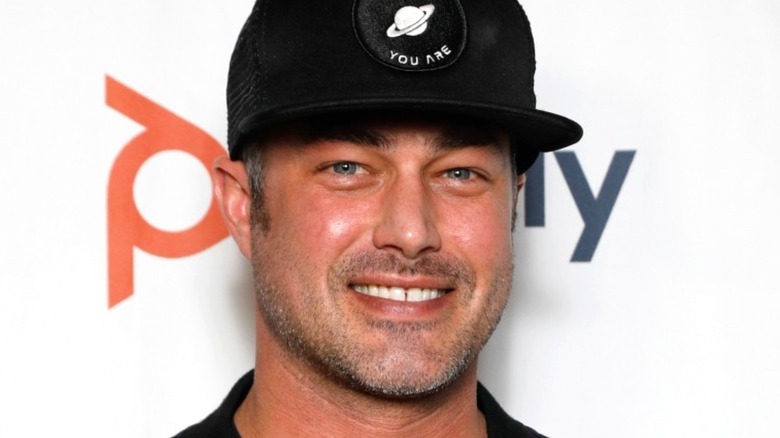 Kim Raff/Getty
Taylor Kinney is best known as Kelly Severide in the "One Chicago" franchise consisting of "Chicago Fire," "Chicago P.D.", and "Chicago Med." But before hitting the jackpot with "Chicago Fire," the popular actor not only guest-starred in many TV shows, but also costarred in four other television series and several movies.
Kinney's first role was in the 2006 series "Fashion House," a soap opera about a famous upscale fashion design company, called the House of Gianni. The series stars Bo Derek as Maria Gianni and Morgan Fairchild as Sophia Blakely, and despite it being Kinney's first foray into television, he was given a sizable role as Luke Gianni, Maria's son. The series didn't last long, but it was a good beginning learning experience for Kinney. "We shot 60 episodes in four months, and we'd have these 20 page days ... it was like acting camp," he recalled in a 2017 interview. After "Fashion House" ended, Kinney started building his resume with guest roles in shows like "What About Brian" and "Bones," and then got another break with the role of Glenn Morrison in the short-lived series "Trauma." When that ended, he joined the popular series "The Vampire Diaries" in Season 2, playing werewolf Mason Lockwood (via IMDb). 
After his character died in the CW show, Kinney went on to have a breakout year in 2012, not only getting the part of Severide but also starring in a film that would go on to win numerous awards, including an Oscar.
Taylor Kinney played Navy SEAL Jared in Zero Dark Thirty
Despite being nominated for five Academy Awards, "Zero Dark Thirty" won just a single one, for best achievement in sound editing (via IMDb). While some filmmakers may feel disappointed, director Kathryn Bigelow was just happy the film was resonating with viewers. "What I'm excited by is the fact the film is performing so well at the box office," she told The Scotsman. "There's such an outpouring of excitement for it, so that's what's incredibly gratifying."
Taylor Kinney's role in the film is DEVGRU (United States Naval Special Warfare Development Group) member Jared, who finally finds Osama Bin Laden and completes their mission to eliminate him. Kinney seemed awestruck at the experience of filming the movie, telling People Magazine that it was "amazing, getting to work with the likes of Kathryn Bigelow, Mark Boal, and some of the other actors. We shot in Jordan and India — Jordan for two months. It was an amazing experience, I'm at a loss for words."
With over 120 speaking roles in "Zero Dark Thirty," it's easy to overlook some of the smaller roles, such as Kinney's character, who is shown in several scenes interacting with the other SEALs while they're waiting on instructions. Most notably, he plays the SEAL who calms the kids down when they enter the house where Bin Laden is, using a glow stick to capture their attention.
Since "Zero Dark Thirty," Kinney has had roles in major projects like "The Other Woman," "The Forest," and "Here and Now" (via IMDb). But as one of the main characters in "Chicago Fire," his plate is pretty full lately, and it could be a while before we see him in any new films.