Brawl In Cell Block 99 Will Feature Vince Vaughn Like 'You've Never Seen Before'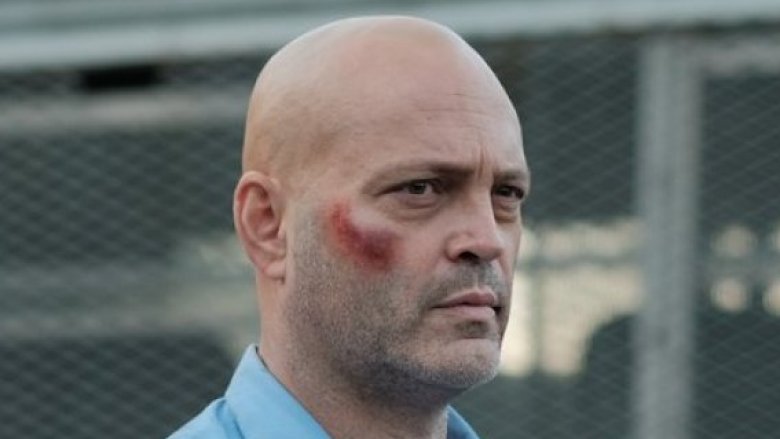 Get ready for a new Vince Vaughn. S. Craig Zahler, who directed the actor in Brawl in Cell Block 99, says that the upcoming thriller will bring out a side of Vaughn that "you've never seen before."
Brawl in Cell Block 99 stars Vaughn as Bradley Thomas, a former boxer who resorts to drug running in an effort to keep on his feet and save his marriage after losing his job as an auto mechanic. However, things quickly go wrong when a drug deal turns deadly, putting him behind bars, where his enemies force him into doing violent deeds that turn the prison into a battleground.
"We see him living a better life, where he's purposefully turning a blind eye to the problems that he facilitates with his job," Zahler told Entertainment Weekly of Thomas at the start of the film. Zahler added that Thomas' life "only gets worse" once he winds up in jail, where there will be "quite a bit" of the titular brawling.
The movie won't be all fighting, though. Zahler said that, like his past feature Bone Tomahawk, there will be a big focus on character in the film. "I'm not in any hurry to get to the brawling, but when you land there, you will know it, and it happens for a fairly sustained period of time," the director said, adding that Vaughn's commitment and training allowed for more realistic fight scenes with fewer cuts.
While Vaughn is mostly known for his comedic persona, the images of him bald and bloodied in the film have already drawn a lot of attention. "I like to show what's in the piece and/or of interest [to] people in the piece," said Zahler of the film's new poster featuring a bald Vaughn with a cross on the back of his head, which you can view at the bottom of this article.  
"I want people to be interested in what this is, and, also, it's very tight on his head, and it should give it a sense of how close-in this movie is," he said. "The cameras are close to these people. You're in it with these people, and so you're in it with that person, but you don't yet know who that person is. This is a Vince Vaughn you've never seen before."
Jennifer Carpenter, Marc Blucas, Udo Kier, Don Johnson, Tom Guiry, Dan Amboyer, Rob Morgan, and Fred Melamed also star in Brawl in Cell Block 99, which was written and directed by Zahler. The movie has an Oct. 6 release date; while we wait, see some of the other films that will blow you away this year.