The Highest-Rated Episode Of Law & Order According To IMDb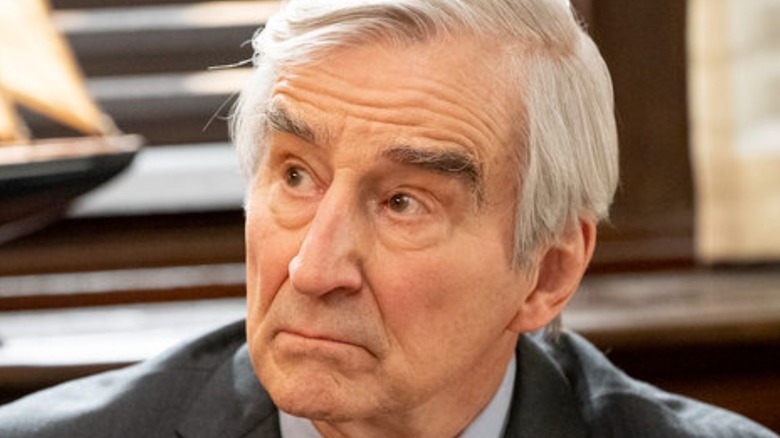 Scott Gries/NBC
There are very few shows out there that can rival the massive scope of the original "Law & Order" series. Beginning in 1990, the show carved out a unique niche for itself with its two-pronged approach to the police procedural genre, featuring the solving of a crime in the first half of each episode and the subsequent trial of the perpetrator in the latter section. The show delved into the most exciting aspects of the criminal justice system and established its compelling dramatic stakes early on, even going so far as to kill off one of the original leads of the show in its 2nd season premiere.
Suffice it to say, "Law & Order" grew into a cultural mainstay over the years, and even though its original run concluded in 2010, it's now back on the airwaves with its 21st season. While it may seem like a fool's errand to try and parse through the literal hundreds of episodes and declare a winner for the best ever installment of "Law & Order," there at least seems to be some consensus among fans on IMDb regarding which episode would win out in such a debate.
Season 6's Aftershock is a tragic masterpiece
According to voters on IMDb, the finale episode of "Law & Order" Season 6, titled "Aftershock," stands as the best-rated episode across the entire series, with an average user score of 9.1 stars out of 10.
"Aftershock" is not a typical episode of the show. Instead of opening with the usual crime-solving segment, the episode instead begins with the lead detectives — McCoy (Sam Waterston), Kincaid (Jill Hennessy), Briscoe (Jerry Orbach), and Curtis (Benjamin Bratt) — watching the execution of a heinous criminal whose conviction they all contributed to. What follows is an unusually somber and introspective hour, featuring each detective as they take a day off in the wake of the execution to reflect on their past, their traumas, and their regrets. As if these ruminations aren't emotional enough, the episode concludes with a sequence that is nothing short of tragic. As Kincaid drives a drunk and sorrowful Briscoe home from the bar, attempting to comfort him about his relationship with his estranged daughter, the pair is struck by a drunk driver, and Kincaid is killed.
Kincaid's death had a lasting impact on Briscoe and the rest of the main cast as the show continued, but the episode itself also stayed in the mind of fans as a thoughtful meditation on life, death, grief, and justice. It was "Law & Order" at its most genuinely vulnerable and stands tall as arguably the best episode of the entire series to this day.