The Characters Fans Think Has Suffered The Most On The Walking Dead
Surviving and thriving in an apocalypse full of animated corpses is hardly a walk in the park, and even the strongest people can suffer immensely. AMC's "The Walking Dead" has had an extensive cast through its 11 seasons, all of whom have experienced trauma in this husk of a world. It's hard enough seeing a loved one die — imagine what it is like having to face them again when they have turned into a feral and deadly walker. 
Considering how long the show has been on and all the trials and tribulations that the characters have gone through, figuring out who has suffered the most on "The Walking Dead" might be a tall order. Most of the characters on the show have had to do questionable things to survive, as well as see things that would shatter most people's grip on reality. Even the main characters on "The Walking Dead" have broken down, like when Rick (Andrew Lincoln) talks to his dead wife on the telephone, Morgan (Lennie James) becomes an unstable recluse with a penchant for traps, or how Father Gabriel (Seth Gilliam) feels immense guilt for the actions he undertook to survive, which causes a recurring crisis of faith. 
However, it seems like intrepid Reddit users are up to the task of figuring out who has suffered the most, and there are definitely several characters they believe fit the bill. 
When it comes to who has suffered the most on The Walking Dead, three names come to mind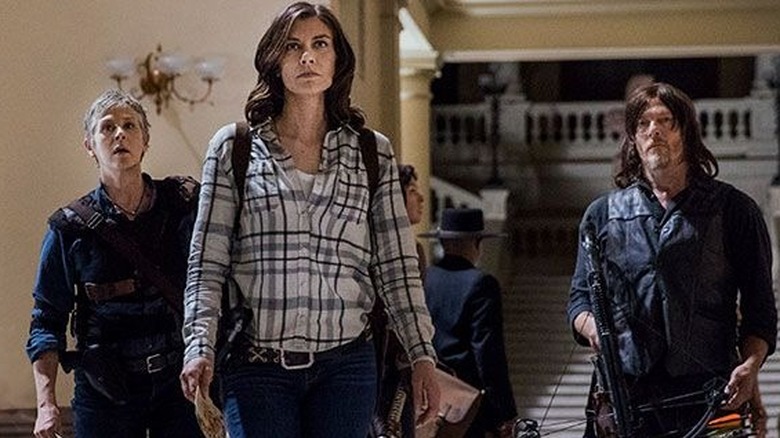 Jackson Lee Davis/AMC
On the popular online forum, Redditor u/T214 started the conversation by stating that they thought Maggie (Lauren Cohen) is the character who has suffered the most on "The Walking Dead." To argue their point, they elaborated on all of the tragic events she had endured, including the deaths of her entire family, and her father and husband being executed in front of her. Redditor u/Bermantor-Turkey127 agreed, and replied, "Maggie also lost countless friends such as Tara Jesus Sasha Enid etc. She also lost her family home with countless memories."
However, fans aren't of one mind when it comes to who suffered the most. Replying to the thread, u/Minimalistmacrophage nominated Daryl (Norman Reedus) as the top contender. They argued, "losing Merle whose last act was redemptive, losing Beth with whom he really bonded, Denise and Glen the latter two for which he feels directly responsible for their deaths. Rick- this one sent him into the woods for six years. Henry-though his assuming guardianship of Lydia offset this, and he wasn't in his care at the time.." Several other users agreed with that sentiment.
And then there is Carol (Melissa McBride), whose name was also brought up multiple times. Redditor u/shadowqueen15 said, "Carol. Losing a child is the most intense emotional pain you could ever experience, from what i hear ... she's lost like 5 kids," to which u/CarmelloLivera agreed, and brought up Carol's tragic life before the apocalypse even began. 
Ultimately, when it comes to who has suffered the most on "The Walking Dead," it is hard to pick just one.