Only One One Actor Appeared In Every Gunsmoke Episode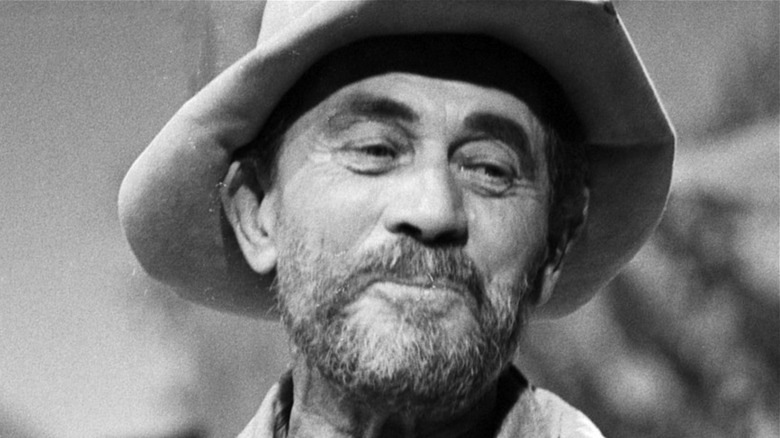 United Archives/Getty
As one of the most enduring genres of the American film landscape, it stands to reason that the Western would come to dominate television in the 1950s. It did just that, spawning dozens of shoot-em-ups by the end of the decade, including "Bonanza," "Wagon Train," and "Rawhide," which launched the career of Clint Eastwood (via IMDb). These "horse operas," as they were known, were able to take the complex Western themes of justice and morality and translate them into digestible, episodic tales for the small screen. Of the many series that cropped up between the 1940s and 1960s, none became so embedded in the TV landscape as "Gunsmoke."
Before making its way to television, "Gunsmoke" originated as a radio program in 1952. Even after "Gunsmoke" was adapted for television in 1955, the radio drama persisted, and the two series overlapped until 1961. Set in Dodge City, Kansas, "Gunsmoke" follows the adventures of stoic lawman Marshal Matt Dillon, played by James Arness. Joining Dillon's efforts to keep the peace in Dodge is his amiable deputy, Chester, played by Dennis Weaver. Other "Gunsmoke" regulars include saloon proprietor Miss Kitty Russell (Amanda Blake) and tough physician Doc Adams (Milburn Stone), as well as appearances from future stars like Burt Reynolds. Over the course of its remarkable 20-year run from 1955 to 1975, only one actor appeared in every episode of "Gunsmoke."
James Arness appeared in all 635 episodes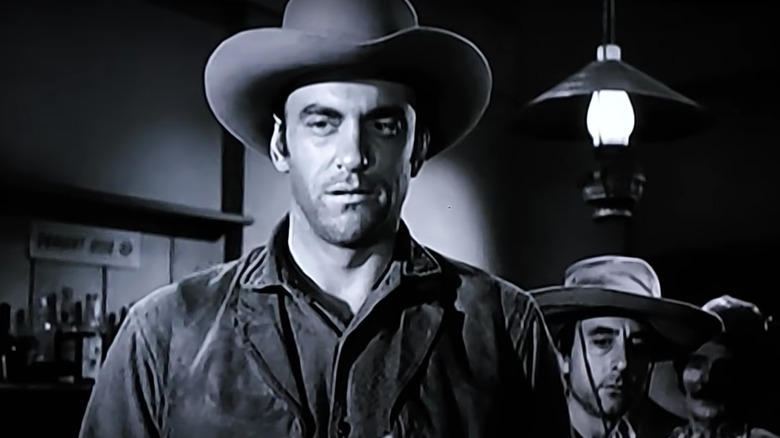 CBS/ Youtube
Arness joined the cast of "Gunsmoke" at the recommendation of his good friend, the Western legend John Wayne (via Outsider). Thanks to Wayne, Arness became the stuff of TV legend, appearing in all 635 episodes of the series' 20-season run. While his cast mates' episode counts were also impressive, none could touch Arness' record. Weaver's fan-favorite character exited in Season 9, and Miss Kitty left the series in 1974. The only cast member to come close was Stone, who portrayed Doc Adams for all 20 seasons. In addition to the 20 years "Gunsmoke" was on the air, Arness would reprise his role as Dillon in five made-for-TV "Gunsmoke" films in the '80s and '90s (via IMDb).
After playing Dillon for two decades, Arness set the record for longest portrayal of a single character, a feat only surpassed by Mariska Hargitay in "Law & Order: Special Victims Unit." If it were up to Arness, however, he would have played the character for a few more years. But in 1975, CBS abruptly canceled the series despite consistent ratings success through the 1970s (via Nielsen Ratings). "We didn't do a final [Gunsmoke] wrap-up show," Arness told the Amarillo Globe-News. "We finished the 20th year, we all expected to go on for another season, or two or three. The [network] never told anybody they were thinking of canceling" (via GunsmokeNet).