Game Of Thrones Director Hints At Violent End For The Stark Sisters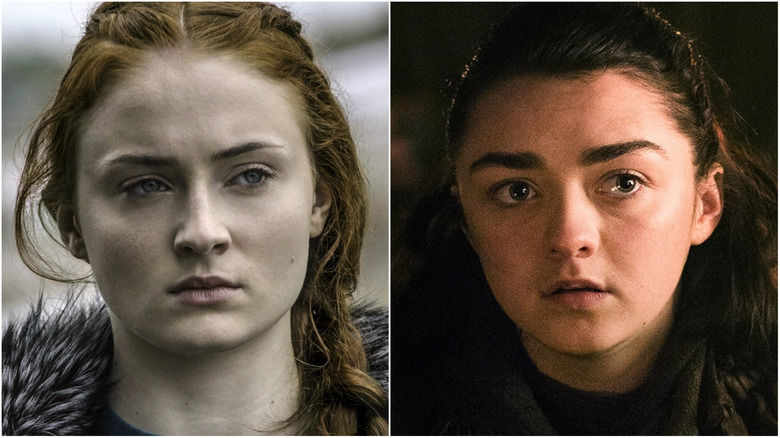 HBO
Contains spoilers for Game of Thrones season 7, episode 6
The long-awaited Stark family reunion hasn't been as joyful as Game of Thrones fans were probably hoping it would be, and it could take a violent turn.
Things have always been a little tense between sisters Sansa (Sophie Turner) and Arya (Maisie Williams), but the penultimate episode of season 7, "Beyond the Wall," took things to another level. In the episode, Arya confronts Sansa with the letter that Cersei forced Sansa to write back in the first season in which she pleads for their brother Robb to bend the knee to Joffrey. That eventually led to Sansa rooting around Arya's room and finding the stash of faces she uses to disguise her appearance. It all came to an unnerving end when Arya threatened to remove Sansa's face with a dagger in hand.
Alan Taylor, director of the sixth episode of the season, "Beyond the Wall," recently told Huffington Post that this will all come to a bloody conclusion. 
"I love the fact that these two come back, they're both lethal, and I just wanted to give the impression, as much as possible, that one of them is going to die," Taylor said. "But you're not sure which one."
If that's still a little too vague for you, Taylor also went on to say that "something is coming very soon between them, and it will be violent but surprising." 
But will it really be one of the Stark sisters who dies? Most of this tension has been engineered by Petyr "Littlefinger" Baelish (Aidan Gillen), and Sansa is well-aware of how diabolical he can be. She turned to him for advice at the end of "Beyond the Wall," but it's possible that the Stark sisters are actually playing him. Of course, he wasn't in Arya's room when the pair had their standoff, so this sibling rivalry really might come to a bloody end. 
Meanwhile, the title of the season finale has reportedly been revealed, and it begs a few interesting questions. While we wait to see how this all plays out, check out our recap of "Beyond the Wall."