What Really Happened To Sarah On Days Of Our Lives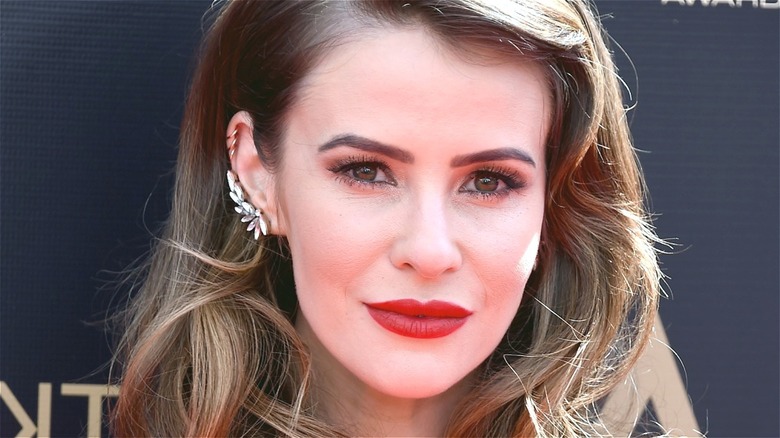 Gregg DeGuire/Getty
This article contains spoilers for recent episodes of "Days of Our Lives."
Sweet-natured doc and "Days of Our Lives" stalwart Sarah Horton (Linsey Godfrey) has been through the wringer because she got a little too close to Kristen DiMera (Stacy Haiduk). Kristen had escaped jail in order to check up on her then-boyfriend Brady Black (Eric Martsolf). Kristen is convinced that Brady might cheat on her with his ex Chloe Lane (Nadia Bjorlin), so she talks her doppelganger Susan Banks (also Haiduk) into taking her place in prison while she poses as Susan on the outside. Afraid that Sarah knows too much, Kristen drugs her, then proceeds to stuff Sarah in a trunk and ship her away to a long-undisclosed location. All of this happens just hours before Sarah and her boyfriend Xander Kiriakis (Paul Telfer) are set to tie the knot. As you can see, Sarah's life is nothing if not highly dramatic.
Kristen proceeds to impersonate Sarah thanks to a very lifelike mask, initiating a break-up with Xander, and then spying nonstop on Brady, who was very confused by (fake) Susan's sudden flirtatiousness. In the meantime, the real Sarah disappears from the show for a good chunk of 2021. If you're a "Days" fan and have been wondering what happened to her, look no further.
Sarah's back...but currently thinks she's Renee
After a long absence from the show, Sarah returned to "Days" in January. Or should we say "Sarah," as her friends and relatives quickly realized the woman's hostility toward Xander and her stiffness around relatives like Maggie Horton (Suzanne Rogers) meant that they were dealing with another imposter. In this case, it's Ava Vitali (Tamara Braun) under the Sarah mask.
With Sarah's family concerned, Steve Johnson (Stephen Nichols) and his wife Kayla (Mary Beth Evans) promptly embark on a search for the real Sarah. Their investigation lead them to be kidnapped by Kristen, who had been hiding out at a nunnery. Kristen whisks them off to a small private island and they are held as prisoners. To their relief, they find out that Sarah is also being held hostage on the island. But Sarah is not herself, and Steve and Kayla realize that she is suffering from amnesia thanks to an injection of a serum created by the mad scientist and DiMera stooge Rolf (William Utay). 
Sarah now thinks she's Reneé DuMonde, the former lover of Tony DiMera (Thaao Penghlis). The real Reneé died in 1982 at the hands of the Salem Slasher. Even though 40 years have passed, "René" still wants to marry Tony, and though she has returned to Salem with Steve, Kayla, and the rest of Kristen's captives, she continues to deny that she is Sarah or recognize her family and friends. Sarah's relatives, Xander, Tony, and his wife Anna (Leann Hunley) are currently trying to figure out a way to jog Sarah's memory and bring the old Sarah back. Fans will have to keep watching "Days" to find out if Sarah regains her memory — or ends up married to Tony.