The Hilarious Advice Steven Spielberg Gave Michael Bay About The Transformers Franchise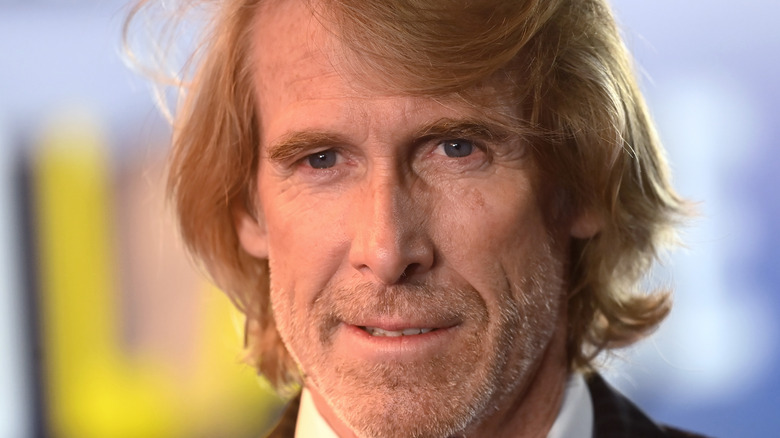 Dave J Hogan/Getty Images
When Steven Spielberg gives you advice on a movie franchise, you sit up and listen. The legendary director is one of the most recognizable and talented people in the industry, and he gave another iconic director a little insight on how to navigate his career.
Michael Bay may be one of the most dynamic and bankable names in Hollywood behind the camera now, but in the mid-90s, he was known in the music industry for his music videos. Per his IMDB page, he directed videos for Richard Marx, Vanilla Ice, Tina Turner, Lionel Richie, and Meat Loaf. That was until 1995 when he was tapped to help the Will Smith/Martin Lawrence buddy-cop action thriller, "Bad Boys." He followed that up with more in-your-face action thrillers, including "Armageddon," "Pearl Harbor," "Bad Boys 2," and "The Island."
With an impressive resume building, Paramount Pictures tapped him to direct the first "Transformers" film, which they hoped would be a massive franchise based on the Hasbro toy line. The film was released in 2007 to a $319.2 million domestic box office and a worldwide box office of over $708 million. The hit spawned five more installments—the grand total coming in at approximately $4.5 billion, with more iterations on the way. However, Spielberg gave Bay a piece of advice that almost changed the entire franchise.
Spielberg told Bay to quit Transformers
During an interview for the UK release of Michael Bay's new action-packed mobile heist, "Ambulance," Bay talked about the advice the legendary "Jaws" director gave him early on in the franchise. "Steven Spielberg said, 'Just stop at three.' And I said I'd stop. The studio begged me to do a fourth, and then that made a billion too. And then I said I'm gonna stop here. And they begged me again. I should have stopped. They were fun to do."
While he might feel he made too many, and they weren't without their controversy, his decision to stay made the studio a lot of money and solidified his place as a Hollywood powerhouse. However, Spielberg appeared to have changed his opinion on the matter at some point. In 2011, in an interview with Slash Film, Speilberg was asked if he thought there would be more Autobots. He said, "I hope so because I think he made the best of the three with this last one. I certainly can't imagine anybody other than Michael being equipped to make another 'Transformers.' He's invented a genre, and he's got the secret formula."
Bay would go on to direct two more in 2014 and 2017. He would stay on to produce the prequel spin-off "Bumblebee" and the 2023 sequel "Transformers: Rise of the Beasts." Love them or hate them, Bay's decision to make more "Transformers" ended up being the most lucrative choice of his career.