James Franco Admits He's Similar To The Room's Tommy Wiseau 'In A Lot Of Ways'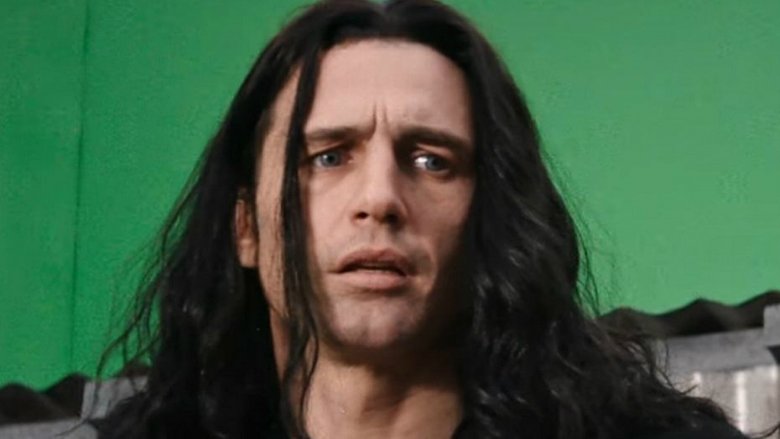 We didn't want to say it, but James Franco said it for us.
Franco directed and stars in The Disaster Artist, a movie about the making of the hilariously awful cult classic The Room. He plays Tommy Wiseau, the enigmatic writer, director, and star of the 2003 film that's often been called the worst movie ever made, and Franco even stayed in character behind the scenes.
In a recent interview with Entertainment Weekly, Franco said that working on The Disaster Artist made him painfully aware of his similarities to Wiseau, who may have bitten off more than he could chew with The Room. "I did a lot of soul-searching, and I did a lot of learning on this project, by playing Tommy, and seeing how similar we were in a lot of ways, I hate to admit," he said. "And then by having Seth [Rogen] and his company produce the movie. Because a lot of the movies I had done before were produced by my production company, and my producer Vince Jolivette and I were just off on our own, just doing whatever, with our strange William Faulkner and Cormac McCarthy adaptations. To have Seth and his company there really taught me how to be a much more responsible and conscious director."
The entire thing also made him re-think how he approaches projects as a multi-hyphenate and caused him to be more selective about what he takes on.
"So, yeah, I do have a bunch of projects that are back-logged, but I've really changed since making the film," Franco said. "I've slowed down a lot. I'm leaving for Sante Fe tomorrow to work on a western anthology series with the Coen brothers (Netflix's The Ballad of Buster Scruggs) for a couple of weeks. But I haven't acted in seven months, you know, so I'm really slowing down, and only working on things that I absolutely love at this point."
The Disaster Artist, which co-stars Seth Rogen, Dave Franco, Josh Hutcherson, Zac Efron, Sharon Stone, and plenty more, arrives Dec. 1. Watch the first trailer, then learn the untold truth of The Room.