How TWD's Jeffrey Dean Morgan Really Feels About Negan's New Wife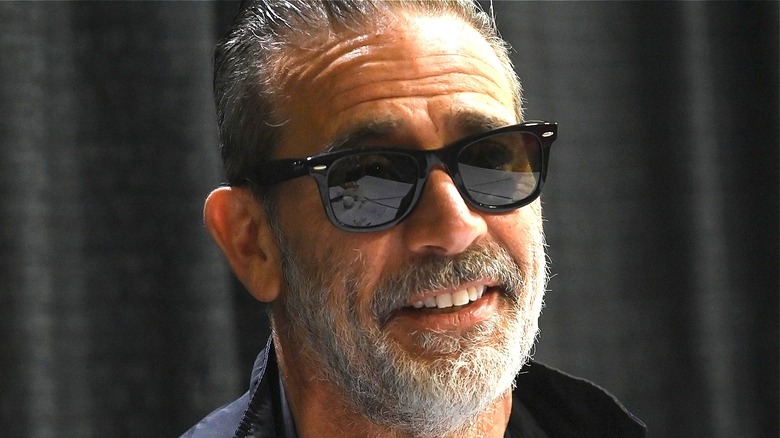 Paras Griffin/Getty
This article contains spoilers for "The Walking Dead" Season 11, Episode 14, "The Rotten Core."
Over on AMC's "The Walking Dead," things are definitely heating up in the Commonwealth. It looks like the program's final episodes might be heading for a showdown between Pamela Milton (Laila Robins), the settlement's governor, and her spoiled son, Sebastian (Teo Rapp-Olsson).
A group of former Commonwealth police officers, including Daryl Dixon (Norman Reedus) and Rosita Espinosa (Christian Serratos), prepare themselves for the war ahead, and to do so they join forces with Carol Peletier (Melissa McBride) and Mercer (Michael James Shaw). The foursome then become a part of Negan's (Jeffrey Dean Morgan) group at Riverbend.
Fans were stunned to learn that since we last saw Negan, he married Annie (Medina Senghore), who is pregnant with his child (as of press time). Viewers might be wondering how Jeffrey Dean Morgan feels about this sudden twist in Negan's plotline. Thanks to a recent interview with the episode's writers, we now know how he feels about his character's offscreen marriage.
Morgan was 'cool' with making Negan a husband and father
According to an interview published on Insider and conducted with Erik Mountain and Jim Barnes — who wrote Season 11, Episode 14, "The Rotten Core" — Jeffrey Dean Morgan was "cool" with the inclusion of Annie in the show's plotline.
"He was cool with everything, just in his texts. He was fine," Barnes stated. Mountain added that both writers didn't speak with Morgan on the topic as, due to the show's COVID-19 restrictions, neither man was on the set at the time of the episode's filming.
Per Insider, Morgan previously expressed concern about his character's behavior on the show. In August of 2021, the website published remarks made by the actor during an appearance on the AMC's post-show discussion program "Talking Dead." During his appearance, he admitted that he called Angela Kang, the showrunner of "The Walking Dead," to argue against the idea of Negan abandoning Maggie Rhee (Lauren Cohan) to die during the Season 11 premiere. 
"I was pretty adamant about it," the actor said. "I was like, 'This is a horrible idea. Any good that we have done is immediately gone." This refers to the newfound trust and respect which had been slowly developing between Maggie and Negan up to that moment. But the actor admits he finally acclimated to the storyline choice. "It makes a lot of sense now, in retrospect."